Reading and Book Signing with Transformational Author Ann White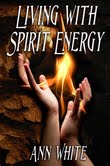 Living with Spirit Energy by transformational author and teacher Ann White
Author and Spiritual Teacher, Ann White to hold Reading and Book Signing June 17, 2012 at 2 p.m. at the Venice Holistic Center, 251 Tamiami Trail on the Island of Venice.

Ann is a transformational author and teacher. Her books are: Living with Spirit Energy, The Sacred Art of Dog Walking, and the new global anthology: Pebbles in the Pond, Transforming the World One Person at a Time. At the event, Ann will share a brief reading from each of the books and be available to autograph books. Refreshments will be served.

Prior to becoming a transformational author, Ann was the rabbi at the Jewish Congregation of Venice and prior to that, she practiced family law in Venice for ten years. She teaches a monthly Interfaith Bible class on the First Thursdays at the Center for women only, and is a radio host on BlogTalkRadio.

Additional information on Ann White and her books may be found at http://creatingcalmwithinchaos.com.

About Host Ann White:
Ann White is one of those rare individuals who is calm within chaos. As a trauma chaplain at a busy trauma center, she works the night shift, where our worst nightmares often become reality. She draws on the serenity she creates with her connection to Spirit and universal energy so she can help those in trauma find comfort, hope and peace. Formerly a trial attorney specializing in domestic and sexual violence, divorce and custody, Ann became a rabbi and then worked in chaplaincy as a way to bring peace into troubled hearts. Her goal as a transformational author and speaker is to teach others how to Create Calm Within Chaos.

The Venice Holistic Center is a non-profit educational and wellness center, run by volunteers and donations, dedicated to bringing the best of programs and practitioners in body, mind and spirit modalities.