The Best Sarasota Restaurants in
and around the Sun Coast
Here's a trip to some Sarasota restaurants you'll enjoy.
Do you like to eat? Me too. We're both in luck because there are more eateries, bistros, diners, restaurants and cafes on the Sarasota Suncoast than banks, real estate offices, and churches combined!
Everyone seems to be a restaurateur these days.
That means there's always something good to eat nearby.
In short, the Sarasota, Florida area has no shortage of independent dining establishments, cafes, bistros and bars.
You won't find any national chains or franchises reviewed here, only local Sarasota independent restaurants.
In this Sarasota Restaurants Guide I'll also cover Anna Maria Island, Longboat Key, Lido Key/St. Armand's Circle, Siesta Key, Casey Key and Osprey, Nokomis, Venice and even Bradenton.
I'll show you some places you might not otherwise know about because they may be outside of the immediate area in which you are staying.
I'll try to help your vacation also be "an adventure in good eating!"

Our Sarasota restaurants cuisine is as diverse as you would find in any major metropolitan city.
Cuisines you'll find at Sarasota Restaurants: American, Amish, British, Chinese, Delis, Eclectic, European, French, Indian, Irish, Italian, Japanese, Latin, Mexican, Peruvian, Scandinavian, Scottish, Sushi and Thai just to mention a few!
What's your favorite Sarasota dining spot? What's the best meal you've had there? Let others know about your recommendations by writing your own Sarasota Dining Review. Click here to share your favorite!

More on the Best Sarasota Restaurants

The Sarasota restaurants here are ones where I feel I've received a good or better experience. If I've had a bad experience, you won't find that restaurant reviewed here among my select Sarasota Restaurants.
There's also a sliding judgment scale for the Sarasota Restaurants reviewed.
I wouldn't necessarily expect the same level of service at a beach side beer and burger "joint" or over-crowded bistro that I'd expect from a gourmet restaurant where I'm paying top dollar.
I've paid for all my meals at the Sarasota restaurants I write about here so I don't owe anyone a good review.
Prices, menus, and service are all subject to change.
OK, enough of the disclaimers. Let's eat. Bon Appetit!

Sara-licious - Top 15 Food City in USA
In April, 2016, Conde Nast Traveler named Sarasota the Number 14 Top dining hot spot in the USA and #1 in Florida in its annual reader's choice survey!

Sarasota Restaurants Reviews
A Dining Guide to Select Sarasota Restaurants in
and Around the Sun Coast.

Price Code: Average cost for an entree
Inexpensive, less than $15 - $
Moderate, between $15-$30 - $$
Expensive, more than $30 - $$$
---
Anna Maria Island

Rod and Reel Pier Restaurant and Bar ($ - $$)
With old Florida charm and a fantastic view of Tampa Bay, the Rod and Reel Pier Restaurant appears on my Sarasota Restaurants Dining Guide for a number of reasons including its unique setting. There's a plentiful menu of delicious food in various price ranges from sandwiches to seafood specialties. You can dine out on the deck or inside and you'll go away not only satisfied but also with a memorable experience. Click here and read more about the experience of dining over this dock on the bay!
The Sandbar Restaurant ($ - $$)
The Sandbar Restaurant on north Anna Maria Island is set right on the beach. At some tables you can even swirl your toes in the sand. With lunch, dinner and deck menus, a bar from which you can order everything from Margaritas to Tropical Breezes, along with a terrific vantage point to keep your eye out on the beach, you'll think you're in paradise. From sandwiches to creative entrees, there's a lot to choose from. Read my review of the Sandbar Restaurant on Anna Maria Island.

Bradenton

The Linger Lodge ($ - $$)
Hidden away off the beaten path and maybe a little hard to find is a 1940s era restaurant and bar that originally started out as just a campground. The Linger Lodge is an old style, old Florida place on the banks of a branch of the Braden River. You won't find gourmet food at ridiculous prices here. You'll find standard fare, decent prices and a fabulous view and fun experience. Read more about this out of the way restaurant and bar called The Linger Lodge.

Casey Key

Casey Key Fish House ($ - $$)
The Casey Key Fish House is a laid back, casual and tasty dining spot with one of the best views of Dryman Bay and the Intercoastal Waterway, along with reasonable prices, friendly staff and good service. Whether you order a beer and burger or a seafood specialty and wine, you'll have a delicious meal and view. Don't miss the Shrimp Scampi and the Tiki Hut Bar here. Read more about some of the tasty meals and treats in my review.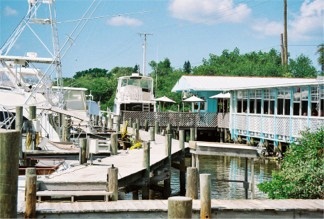 Longboat Key

Mar Vista Restaurant and Bar ($ - $$$)
Mar Vista Restaurant is a delightful old Florida style waterside place for lunch or dinner on northeast Longboat Key. On Sarasota Bay's northwest shore, this is the place to come for seafood specialties and tropical drinks. It's old and rustic but has a covered patio deck and a tree canopy dining area. There are treats in all price ranges from burgers to seafood steam pots. Click here and read more about my dining adventure at Mar Vista Restaurant.
Nokomis

Nokomos Sunset Hut ($ - $$)
A Tiki Hut Style waterfront bar and restaurant featuring tropical drinks and a troipcal menu along with tradtional menu items, you'll find your self getting cozy here quickly. Located south of Sarasota on Route 41 in Nokomis, Nokomos Sunset Hut is right on the water with gorgeous views of Dona Bay. You can come by car or boat and enjoy all this establishement has to offer including tasty food and live music. Read more about my foodie adventure at Nokomos Sunset Hut here.

Mama Leone's ($ - $$)
One of my favorite Sarasota Restaurants is Mama Leone's for their delicious Italian Cuisine. I go there as a special treat from time to time. There are delicious Italian specialties and traditional dishes that will leave you stuffed. Mama's is a sparkling clean Italian-Mediterranean restaurant with good service, great food and reasonable prices, just a few minutes drive south of Sarasota. Click here and make sure you read my mouth-watering review!
Pops Sunset Grill ($ - $$)
One of only a few waterside Sarasota restaurants, Pops Sunset Grill is right on the Intracoastal Waterway and provides gorgeous water and sunset views along with delicious meals. There's a wide ranging menu that includes seafood and steam pots, burgers, steaks, chicken, a grouper Reuben and many other delights and sandwiches. You can get a tasty dish and a taste of what's left of Old Florida. Click here so you don't miss this review.
The Breakfast Cottage ($)
The Breakfast Cottage is a cozy road side stop in Nokomis for a tasty breakfast or lunch. Usually crowded because of its popularity, make sure to allow for waiting time in your plans, just in case there's a waiting line. Delicious food in a cozy setting seems to appeal to many people. There's indoor and outdoor seating. Read more about my breakfast dining experience at The Breakfast Cottage here.

The Waterfront Too Grill and Steakhouse ($ - $$$)
The Waterfront Too Grill and Steakhouse is a cozy place to have a good meal. Steak options run from Prime Rib to Chopped Steak. And there are surprises like Lamb and Duck. Plenty to choose from along with a bar and an outdoor covered deck, you will find the Waterfront Too Grill and Steakhouse a delightful place to have a a meal. Click here for my full yummy review.


Osprey

Rosebuds Steak and Seafood House ($ - $$)
The Rosebud Restaurant serves Angus beef, fresh seafood, and veal, chicken, pasta and more along with homemade, warm, baked bread on your table. Is your mouth watering yet? This is one of my favorite Sarasota restaurants. I like to treat myself to dinner at Rosebuds on special occasions. They offer full bar service, wine, delicious food, excellent service and rose-adorned dining rooms. You won't want to miss this delicious review.
Palmetto
Riverhouse Reef Grill and Bar ($ - $$)
A short road trip from the Sarasota area can take you to lunch or dinner on the northern bank of the Manatee River in Palmetto. With everything from Fish Tacos to specialty burgers, a selection of fresh seafood from Grouper to Red fish, pasta, steaks, sandwiches and more, there's surely something here to please your taste buds. Add to that a spectacular water view with a beautiful Marina for a backdrop and you've got a great combination for a new adventure in dining. Read more about this upscale, casually elegant waterside dining spot.
Sarasota Restaurants

Boatyard Waterfront Grill ($ - $$$)
Located at the Stickney Point drawbridge, the Boatyard Waterfront Grill has a uniquely different view from its perch over the Intracoastal Waterway. Add in a delicious meal from a wide menu of tasty choices, an outdoor patio or an airy and open indoor dining room, all in a casual, fun and friendly environment and you've got the makings of a totally enjoyable experience. Click here to check out the details and see if you can put yourself in the pictures.
Hob Nob Drive In ($)
Step back in time to a 1950's era old fashioned Drive In at The Hob Nob Drive In in Sarasota. With good old fashioned "eats" like burgers and fries, hot dogs, fish & chips, hot and cold sandwiches, hand made milkshakes and even breakfast, this is a fun place to come to. There's a lunch counter and lunch bars through out as well as a seating area with tables and chairs. This is definitely one of the most unique of Sarasota restaurants.Click here and check out more about it.

Mattisons City Grille ($$)
Mattison's City Grille is one of three restuarnats owned by Sarasota executive celebrity Checf Paul Mattison. Mattison's City Grille is right in downtwon Sarasota and offers a varied cuisine which caters to the various nationalities of the area's residents. From Mediterreanena to American you're bound to find something to fancy you. Check out my yummy review of Mattisons City Grille here!

Mi Pueblo Mexican Restaurant & Cantina ($ - $$)
A colorful and traditional Mexican Restaurant and Cantina, Mi Pueblo offers good food, drinks and fun at reasonable prices. If you happen to be there on a night when the Mariachi Band is strolling the restaurant and playing their songs, it's an added bonus, making the atmosphere even more authentic and fun. With 3 area locations there's much to enjoy on this traditional and authentic Mexican menu. Click here to check out my review. Ole'!

New Pass Grill ($)                                                                                               
New Pass Grill on City Island is just one of those places you'll have to experience for yourself. With reasonable prices the food is quite good and the view, sitting waterside, is spectacular. Its menu boasts "The World Famous Award Winning New Pass Burgers" as well as some other tasty treats. It's outdoor dining, no frills, you can come by land or sea, in shorts and t-shirt, swimsuit or 3 piece suit! Friendly people and good food served fast. It's charming. Read my review here!


Olearys Tiki Hut Bar and Grill
Sarasota Restaurants
O'Learys Tiki Bar and Grill ($ - $$)
O'Learys sits on the Sarasota Bayfront right in Bayfront Park. With spectacular views of Sarasota right before your eyes you can settle in for breakfast, lunch or dinner at this popular iconic Sarasota hang out. Live music is featured 7 days a week plus a fairly extensive and yummy menu. Here's more about the tasty treats and drinks you'll find at O'Learys Tiki Bar and grill.

Phillippi Creek Village Restaurant and Oyster Bar ($ - $$)
If you like seafood this longtime Sarasota Florida restaurant has you covered in about any way you can think of. With a large menu of seafood specialties and land lubber's favorites, Phillippi Creek Restaurant and Oyster Bar offers water side dining that you're sure to find enjoyable for lunch or dinner. A family-friendly Sarasota Landmark. Read more about the seafood specialties and see if they make you just a little hungry!
Piccolo Italian Market Deli ($)
A "good find" in a busy little area of Sarasota known as Gulf Gate. With a wonderful selection of fresh, made right on the spot, Italian sandwiches, pizza by the slice and other home made Italian favorites, you'll find something to please your taste buds if you like Italian. Quaint, colorful and cheery with a friendly staff and customers it has become one of my favorite little places for a good lunch. If you're partial to or enjoy Italian food you owe it yourself to check out this Italian Market & Deli! Click here and read more about the experience and Italian treats you'll find.

Simon's Coffee House and Deli under new ownership in 2022 ($)
I found this little coffee and sandwich shop along U.S. Rt. 41 in my travels and went in for a mid afternoon lunch on a Saturday afternoon. I've been back multiple times since. With an outdoor cafe as well as indoor dining, Simon's offers really good fresh hand made sandwiches, salads and homemade soups. Such a popular spot they even had to expand to make more room. Read more about Simon's and see if there's something for your taste.
Walts Fish Market and Restaurant ($ - $$$)
If you're looking for a Sarasota Seafood Restaurant consider checking out Walts Fresh Fish Market and Restaurant. With an impressive menu of traditional and creative seafood specialties you're sure to find it a chore to make just the right selection for your lunch or dinner. From appetizers to soups and salads, seafood baskets or entrée items that you may order either broiled, grilled, blackened or fried you're sure to find something to satisfy your seafood craving. Click here to read more about the delicious findings at Walts Fresh Fish Market and Restaurant.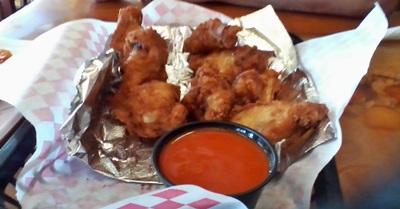 Lunch at Walts Fish Market

St. Armand's Circle

The Columbia Restaurant ($$)
Of Sarasota Restaurants, The Columbia Restaurant on St. Armand's Circle is a favorite; open and airy, with a wide variety of Spanish and Cuban Cuisine to choose from. For lunch or dinner, there will be something to please. And they have a remarkable salad specialty that you must try, especially if you're into salads. Chicken, Steak, Pork, Seafood, Veal and Soup are all on the menu. Don't pass up reading my review about this dining spot!
Cha Cha Coconuts ($)
Cha Cha Coconuts is a fun indoor and outdoor, curb-side cafe, bar and restaurant right on St. Armand's Circle. With a Caribbean - Floribean menu and outdoor umbrella tables, there's a plentiful selection of treats. From ribs and chicken, to burgers, grouper and Cuban sandwiches and more at reasonably inexpensive prices. Sit curbside for lunch or dinner and absorb the atmosphere of St. Armand's Circle. Read more about Cha Cha's right here!
What's your favorite Sarasota dining spot? What's the best meal you've had there? Let others know about your recommendations by writing your own Sarasota Dining Review. Click here to share your favorite!

Siesta Key

Turtle Beach Grill under new ownership in 2015 ($ - $$)
Another of my favorite Sarasota restaurants, Turtle Beach Grill is on the south end of Siesta Key, a stone's throw from Turtle Beach, so you can walk over for a bite or a full meal after spending time at the beach. With an open air patio-deck under a Tiki Hut Roof, hearty pub style food and a fun and light atmosphere, Turtle Beach Grill is a place where you can relax and get a great burger, grouper sandwich, a steak or seafood, even pizza! Click here and read more.
Turtle's on Little Sarasota Bay ($ - $$)
Consistently voted "Best Outdoor and Waterfront Dining," in local popularity polls of Sarasota restaurants, once you visit Turtle's on Little Sarasota Bay you'll easily see why. With the most beautiful bay views, an inside dining room and two outside decks, the views are gorgeous and the food delicious. From seafood specialties to land lover delights, you're bound to find something on the menu to please. Read more about this bay side restaurant in my review.
The Daiquiri Deck ($ - $$$)
The Daiquiri Deck in Siesta Key Village is a fun Key West style restaurant and bar with a large and varied menu. Walk up a few steps from the sidewalk to the open air deck and enjoy a cold drink and view the activity in the village from your table and then enjoy a delicious meal. From burgers to Surf & Turf, the Daiquiri Deck has you covered! Make sure you click here and read more about this popular restaurant and its other three locations in Venice, South Siesta Key and on St. Armand's Circle, here in our Escape-to-Sarasota Dining Guide.
Venice

Dockside Waterfront Grill ($ - $$$)
The Dockside Waterfront Grill in Venice is a charming little cozy piece of Florida snuggled into a small marina at Marker 4 off the Intracoastal Waterway. With a fairly wide and varied menu including numerous seafood dishes and lots of "land lubber" choices as well, this is someplace you may want to try for a tasty lunch or dinner in a picturesque location. You'll find both inside and open air patio seating, a bar and a dining area with large screen TV's. Click here to read more about this adventure in cuisine.

Old Salty Dog ($ - $$)                                                                                               
The Old Salty Dog opened a third suncoast location in Venice in 2015. In a marina at the intracoastal waterway with great nautical scenery, they offer both indoor and outdoor dining. Their varied menu offers everything from Clam Chowder and Fish Gumbo to salads, Traditional Fish n Chips and their famous "Salty Dog" hot dog as seen on TV's "Man vs Food." There are many more tempting treats to choose from. Click here and don't pass by this tasty menu!

Sharkys on the Pier ($ - $$)
Sharkys on the Pier is the only outdoor restaurant and bar on the Gulf of Mexico in Venice, Florida. This hot spot on the beach is popular because of its great views, its good food, service and fun atmosphere, which often times includes live entertainment on the outdoor deck. If you're looking for a place with a Tiki Hut Bar, this is it! Read more about what makes this spot a popular hang-out for both locals and visitors.
Snook Haven ($ - $$)
Off the beaten path and tucked away in a little corner of Sarasota County is a backwoods, on the river restaurant and nature retreat called, "Snook Haven." This is one of those places you might want to put on your list of Sarasota area things to do. It's more than just food. It's an adventure. Food, fun, often times live entertainment and beautiful scenery. Click here and read more about this old time Florida riverside restaurant.
TJ Carney's Irish Pub & Grille ($ - $$)
TJ Carney's Pub & Grille in Historic Downtown Venice offers both outdoor cafe and indoor seating. The cuisine ranges from Irish, with real Irish Lamb Stew, to American and a little bit in between. I've dined here numerous times for lunch and have always enjoyed the experience, whether inside or out. There's a varied menu, reasonable prices and a professional service staff. Read more about some of the menu items I've tried.
I hope that you've found one or two of my Sarasota Restaurant reviews to your liking and that you have a wonderful dining experience. Bon Appetit! 

To Sarasota Bars and Clubs

From Sarasota Restaurants to Escape-To-Sarasota-Florida Home