Yacht Charter to Sarasota!
by Linda
(Venice, Florida)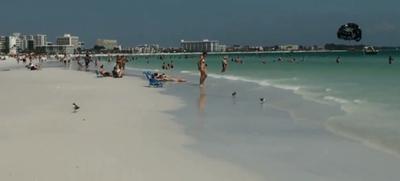 Perfect day at Siesta Key
My parents were having their 50th wedding anniversary and we wanted to do something special for them.

We live in Venice, Florida and decided to do a yacht charter to Siesta Key so we looked online and found a charter tour.

Our journey began by being picked up in a white super stretch limousine.

Our parents were surprised, but they also thought the limo was the surprise, so we were all stoked at what we had in store for their special day.

Less than a half hour later, we arrived at the yacht docked at Chadwick Cove marina in Englewood (on Manasota Key).

There we boarded the 'Reel Keel,' a big 45 foot yacht, and began our cruise.

Lemon Bay was amazing and we enjoyed seeing a variety of wildlife including seabirds, pods of dolphins and manatees!

Soon, we went out in the Gulf through 'Stump Pass.' We rode about two hours up the sun coast, the four of us feeling like royalty.

The Captain and first mate were both very down to earth people and they were also attentive to our needs.

We had brought a wine and cheese basket and also some finger foods and were enjoying it up in the comfortable and very expansive fly bridge of the yacht on the way to Siesta Key.

The Gulf was unbelievably calm that day.

Upon arrival, we dropped the anchor and tendered to shore on the Reel Keel's motorized dinghy.

We spent a few hours on Siesta Key's pristine beach, shelling and swimming then went back to the yacht to relax on the bow and catch some rays.

We were soon cruising up towards Sarasota and stopped at a place called Marina Jacks.

There, we enjoyed live entertainment and ordered some food from the Portside Patio.

After we had our fill of delicious food, we began our cruise from Sarasota back to Manasota Key.

We had a few more things to enjoy and that was the cake we had made for our folks and of course, a dramatic Florida sunset.

The day was perfect and was the ultimate memorable occasion we were hoping to give our parents on their special day, a day along the Sun Coast they will never forget!