!Google Analytics from here>
Good day on Sarasota Bay!
by Jack R
(Sarasota, FL)
I have lived in Sarasota my whole life and I would never think of a better place to live except the keys(haha).

Anyway my dad and I bought a boat 4-5 years ago and it was old and broken (it is a 1957 Lone Star) and we fixed it up with just a few leaks here and there still, but over all it is a nice 14' boat.

We started fishing the waters on our boat but not in the right spots so we found secret honey holes and flats where we love to catch trout and other fish from.

But my favorite memory out on the flats was just a few weeks ago when I caught my first bonnet head and first top water trout! I was so excited. I still can't stop talking about it.

It's always fun to explore new places on the water and vacationing places.

It just happens I live where you (may) vacation! :)

Thanks for reading.
<!-Weather in Sarasota, United States on your site - HTML code - weatherforecastmap.com -- >
Site Sponsors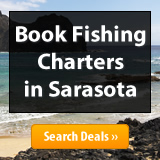 Featured Pages