Fishing Sarasota Florida
If you were just wishin' you could go fishin',
have I've got some places to show you!
Fishing Sarasota Florida: There's nothing like a sunny, blue skied day to be out on the water while inhaling the fresh, clean, warm salty air, fishing offshore on the Gulf of Mexico, or on the Intracoastal Waterway or off one of our famous fishing piers or sandy shores.
I'll show you some great places in and around Sarasota County, plus Anna Maria Island, to drop a line.
I hear there are fish just waiting for you to catch them!
In and around Sarasota, Florida you have almost limitless variations available; any number of locations on the Gulf, numerous bays, a multitude of places on the Intracoastal, a number of pier locations, not to mention the beach shore in numerous spots.

Fishing Sarasota Florida
You can also do a fishing charter.
Sarasota Florida is blessed with many wonderful places to do some fishin'!
I will point out not just the best places for fishing Sarasota Florida, but also some unique spots for catching fish that also have a beautiful view and scenery as well. And there's also Fishing Tournament news here, too, toward the bottom of this page.

I may even toss in a fish story or two...or, on second thought, maybe I won't. I'll leave that up to you.

What might you catch here?
Depends on whether you're fishing the Gulf of Mexico offshore, deep sea, or the Intracoastal waterway.
---
Caught a whopper? Or just have a whopper of a fishing story to tell? Where's your favorite Sarasota area fishing hole? What were they biting on when you caught that trophy fish? Let others know about your best fishing story or fishing recommendations. Click here to share your Sarasota fishing adventure!

---
Fishing Sarasota Florida
In general, depending on seasonal shifts, you'll find:

| | | |
| --- | --- | --- |
| Spanish Mackerel | Mangrove Snapper | Red Snapper |
| Red Fish | Jack Crevalle | Pompano |
| Sheeps Head | Lady Fish | Whiting |
| Flounder | Cobia | Shark |
| Blue Fish | Tarpon | Snook |
There have also been reports of the catching of: Hammerhead Sharks, Bonnet Head Sharks and Nurse Sharks!
Fishing Sarasota Florida: My own adventures fishing Sarasota Florida waters are with my buddy Howard on his 16' fishing boat on the Intracoastal. And though I'm not the fisherman my friend Howard is, we have a great time.
We like to go fishing on the Intracoastal Waterway near the Albee Road Bridge (Nokomis) or Blackburn Road Flying Bridge (Osprey - single lane, rotating/swing bridge that leads to Casey Key.) and at Blackburn Point Park.
We have had fun times anchored off either side of the Flying Bridge catching Jack Crevalle, Lady Fish, Mangrove Snapper and Sheep head.
Here's a local secret: just south of Blackburn Bay on the Intracoastal Waterway is an area called "Snook Alley!"

Jacks are a fun, powerfully aggressive fish to catch and put up a good fight in the ICW. You always know when Jacks are in the vicinity because they start a fish stampede at the water's surface as other fish race away from them so they don't become "fish food," themselves, for the Jacks.
If you're going to be fishing Sarasota Florida, a fishing license is required in all but one spot: the Venice Fishing Pier. Find out about fishing licenses: Click here (opens a new window) to learn more: Florida Fish and Wildlife Department.

You may get a Florida Fishing License almost anywhere here, including the sports department at Walmart.
---
Fishing Sarasota Florida - where to go? Here's my:
Sarasota Florida Fishing Report and
Guide To Great Fishing Along The Sun Coast


Anna Maria Island Florida
Anna Maria Island Fishing adventures come with picturesque old time Florida settings. You'll feel like you're in a Norman Rockwell painting in a couple locations I have here for you. Several pier fishing opportunities await you from south to northeast Anna Maria. Located where the far north of Sarasota Bay meets the far south of Tampa Bay, you never know what you might be able to reel in, but the fishing here is good. Click here and learn more about Anna Maria Island Fishing.
Sarasota County Fishing Locations
from land and shore
Fishing Sarasota Florida? But you don't have a boat? That's not a problem because there are more land and shore locations to fish from in Sarasota County than I can name for you. But I will name and point out more than a few good fishing holes for your Sarasota County Florida Fishing adventures. Just click here for my list of Sarasota County Florida Fishing locations. From the Intracoastal Waterway to Sarasota Bay to fishing the Gulf of Mexico, I've got you covered!

Fishing at the Venice Florida Jetty
Sarasota Florida Fishing Charters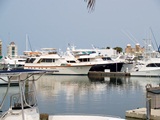 Ever dream of catching the big one and not letting him "get away?" You can make your fishing dreams come true on any of a number of Sarasota Florida fishing charters. These charter captains know where the big ones are and how to land them and will help turn your Fishing Sarasota Florida adventure into a memory. From gag grouper to mako shark to tarpon, barracuda and more, the Gulf of Mexico off of Sarasota Florida is a deep sea fisherman's paradise. Read and learn more about fishing charters in Sarasota Florida.
Venice Fishing Pier / Venice, Florida
The Venice Fishing Pier is a short drive from Sarasota, but well worth it. This experience will give you not only a great fishing venue but one that puts you high over the Gulf of Mexico. Opened in October, 2004, at the Pier you don't need a fishing license; the only place I know of in the area where you can fish license-free. You may even rent a rod and reel at the Pier. And you can get your bait here too. You virtually don't have to bring anything with you. What can you catch from on high over the Gulf of Mexico at "The Pier?" Read more about the Venice Fishing Pier and find out.
Venice Jetty / Venice, Florida
Casting a line at the Venice Jetty puts you on a long piece of pavement jutting out into the Gulf of Mexico along with other sportsmen and women. From here you can fish to your heart's content and view the spectacular Gulf of Mexico at its most beautiful. Bonus: often times you might be almost eyeball-to-nose with bottle-nosed Dolphins which are swimming nearby. Others that are vying for your catch are are Pelicans, Egrets, Herons, Cormorants and Anhingas. The Venice Jetty is quite a mixture of wild nature and a great, scenic place to do some fishing. Find out more about fishing on the Venice Jetty.
---
Other helpful information for
Fishing Sarasota Florida:
Click here for the Florida Marine Forecast

Click here for the NWS Regional Weather
---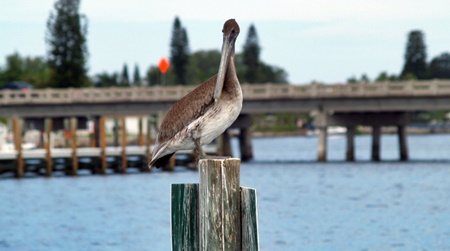 Another Florida "Fisherman" looking for a snack!
Fishing Sarasota Florida - Tournament News

February 17, 2018: The Lakewood Ranch 12th Annual Youth Fishing Tournament happens at Lake Uihlein (behind Town Hall) from 9 a.m. - Noon. This "catch and release" fishing tournament is for those aged 5 - 15. One rod per angler. Awards will be presented for each group. Registration is $5 and only pen to the first 100 children. Free lunch. Lots of free parking. Under 15 must be accompanied by a parent. 9 a.m- 12 p.m. More info here.
April 8, 2018: It's the 14th annual Capt John Breuggeman Memorial Grouper Tournament. It's a one-day offshore tournament with prizes for 1st, 2nd & 3rd place plus a trophy for the biggest catch. Plus there's an after tournament barbeque and raffle for a kayak. Cape Haze Marina, 6950 Placida Road, Englewood, Florida. Click here for registration and more info on the tournament.
May 12, 2018 - June 17, 2018: It's time to drop your hook, line and sinker for the 88th Annual Sarasota Sports Fishing Anglers Club Tarpon Tournament! Entry fee is $125 and proceeds benefit a local charitable organization. Important Dates: There is a Kick-off party that will be held on May 9th at White Buffalo Saloon in Sarasota with registration starting at 6:00 p.m. and the party starting at 7:00 p.m. Your $125 entry into the tournament gets you food and fun and a cash bar will be available. Find out more about this annual tradition. Happy angling and may you catch your share!
May 12, 2018: It's the Spring Youth Fishing Tournament for ages 1 -14 at Nokomis Beach. It's free to enter this "catch and release" contest which runs from 8:30 a.m. - 10:30 a.m. and children must be accompanied by a parent or guardian. Bring your own pole and tackle box, bait and prizes will be provided. Pre-register at 941-486-2780, day of registration begins at 8 a.m. and tournament is from 8:30 a.m. - 10:30 a.m. Fishing Sarasota Florida

June 2 - 3, 2018: It's the 7th Annual Suncoast Tarpon Shootout Tournament with 4 divisions: one pro, one amateur, one individual (kayak, fly, paddle board) and one for selected veterans. Prizes and entry fees vary from division to division. Captain's meeting is June 1 at 7 p.m. at Hooters in Sarasota.The tournament's goal is to raise $30,000 for 4 charities: Valor Service Dogs, Heroes on the Water, All Children's Hospital, and Operation Second Chance.  Click here for entry fees, prizes and more info.
Fishing Sarasota Florida - Tournament News
July 6 - 8, 2018:  Get in on the hunt for the 5th Annual Sarasota Lionfish Derby sponsored by and based at Mote Marine Laboratory. Captain's meeting is July 6, Lionfish hunting derby is July 7 offshore from Collier to Escambia Counties. Weigh-in is July 8 at Mote Marie Laboratory and the public is invited. Derbies are a way to help divers harvest Lionfish, provide public education and opportunities to taste the delicious Lionfish for free. Mote Marine Laboratory & Aquarium, 1600 Ken Thompson Parkway, Sarasota. Click here for registration and more info.
July 31 - August 4, 2018: The Sarasota Slam is taking place with Billfish, Wahoo, Tuna, Grouper, Snapper, Trout, Redfish, Offshore and Inshore Divisions. They're bringing back again this year the billfish and fun fish divisions. Marina Jack is home base for the tournament, Bayfront, downtown Sarasota, FL. More info and sign up here.
September 28 - 30, 2018: It's the 7th Annual Suncoast Spearfishing Challenge. The event is hosted by The Tarpon Bay Grill and Tiki Bar and benefits a new charity each year. Each year, for this exciting underwater hunt and challenge, there is free entry for Military, Fire, EMS and Law Enforcement personnel. The Tarpon Bay Grill and Tiki Bar, 7150 North Tamiami Trail, Sarasota FL.. Get all the details including sign up and registration by clicking here. Fishing Sarasota Florida on Escape-to-Sarasota.com

October 6, 2018: It's the "Fish For United Way" tournament benefiting the region's United Ways and hosted by Florida Power and Light Company. Anglers can cast their lines in the 4,000-acre cooling reservoir, also known as Lake Parrish, that serves the FPL Plant. Home to bass, crappies and catfish, the reservoir is a delight for anglers, who pay $250 per boat (includes 3 anglers, $50 each additional angler), to participate in one of the open tournament days. The reservoir is normally closed to the public, but opens three times a year for the fishing tournament which benefits the surrounding communities. Top prize: $1,000. Tournament is limited to 50 boats. All of the money raised is shared by United Way of South Sarasota County, United Way Suncoast and United Way of Manatee County. Click here for more information and to register for the tournament.

November 24, 2018: It's the Fall Family Fishing Tournament at the Venice Fishing Pier. Registration starts at 7 a.m. at Papa's Bait Shop on the pier. Check in on arrival. Fishing is from 8 a.m. - 11 a.m. Awards: 11 a.m. - 12 p.m. Sign up at Papa's Bait Shop on the pier or at facebook.com/venicefishingpier. Children must be accompanied by an adult. Bring an unwrapped toy donation for Toys for Tots, if you wish. Venice Fishing Pier, 1600 Harbor Drive S., Venice, FL.
Now, you're invited to contribute to our Fishing Sarasota Florida page...
Have A Great Fishing Story, Tip or Favorite Spot To Share?
Do you have a great Fishing Sarasota Florida story about your adventures around the Sarasota Suncoast? Share it! Let others know where you've found the best fishing holes, your best catch and experience..and of course you can always tell about "the one that got away!"
What Other Fisherman Have Said
Click below to see contributions from others to this page...

Good day on Sarasota Bay!

I have lived in Sarasota my whole life and I would never think of a better place to live except the keys(haha). Anyway my dad and I bought a boat 4-5 …
Cracked it!!!!

We stay at the Diplomat on Gulf of Mexico Drive (Longboat Key) most years in February and after 3 years I finally "cracked" it; I just wait until the sun …
Have a great time on the water or from the shore. And be sure to let us know, through the link above, about your big catch!


Back to Sarasota Activities

Fishing Sarasota Florida to Escape-to-Sarasota-Florida Home