Fireworks Light Up the Night Skies
on a Sarasota Fourth of July!
Suncoast and Sarasota Events
July 4, 2019
There's nothing like a Sarasota Fourth of July with a variety of ways in which to celebrate.

There's everything from parades to food to festivals and, of course, fireworks, usually spread out over a few day period at various locations.

This page not only covers the immediate Sarasota Independence Day events but also the greater Sun Coast area spreading from Palmetto at the north all the way to North Port, Englewood and Punta Gorda at the south end.
And we also cover Fourth of July Events on Anna Maria Island, Longboat Key, Siesta Key, Nokomis Beach and Casey Key as well as Venice and everywhere in between if something should pop up.

So surely there's something happening in your neck of the woods for the Fourth of July! And if there is, you can find it here.

Check it all out.
And have a safe and happy Fourth of July!
© Copyright 2007-2019 www.Escape-to-Sarasota.com LLC. All Rights Reserved. This site is protected under U.S. and International Copyright laws. DO NOT COPY FROM THIS SITE.

We make every effort to publish accurate information however events, dates, times and places are all subject to change without notice due to organizers, weather, misinformation, mistakes and circumstances beyond control.

A Sarasota Fourth of July

July 3, 2019: Enjoy a spectacular fireworks show with your family. There will also be a festive 4 Miler Race around the lake at Nathan Benderson Park where you can experience the feel of a major race with crowds cheering you on as you celebrate Independence Day with a patriotic themed race just before sundown. There are also several kids' dashes planned. Bands at the starting and finish line, plus food and beverages at the after party and VIP parking for the fireworks make this race an event not to be missed. Bands performing from 7 p.m. - 9:15 p.m. and live music continues after the fireworks. Personal fireworks prohibited. Do not bring your dog to this event as the fireworks display may frighten it. Free admission. Parking is $5 on Regatta Island and in the "north lot," across North Cattlemen Road from the NBP playground next to the SCAT station at University Town Center. Free parking is in other designated areas at the park. 4 p.m. - 11 p.m. Fireworks to begin at 9:15 p.m. Nathan Benderson Park, 5851 Nathan Benderson Cir, Sarasota, FL. More details and registration here.

July 4, 2019: Join Historic Spanish Point for a special Independence Day Celebration! A Pioneer Fourth recreates the special way that John Webb and his family marked this national holiday. Gather in Mary's Chapel for a special reading of the Declaration of Independence by John Webb (docent: Brian Smith) and additional community leaders. Enjoy a sing-a-long of patriotic songs from the pioneer days, and finish the day with a BYOB picnic lunch on Magnolia Lawn. We'll bring the lemonade, tea, and watermelon! 11 a.m. -1 p.m. Admission: $15. This event is included in standard museum admission. (FREE for Members).  Historic Spanish Point, 337 N. Tamiami Tr., Osprey, FL.

Heading to the Fireworks Spectacular over Sarasota Bay? Find out what traffic is like by calling 511 toll free, visiting FL511.com, or checking the free Florida 511 mobile app. You also can get traffic updates on Twitter by following @FL511_SOUTHWEST.

July 4, 2019: It's  the Sarasota Sailing Squadron's 400 Firecracker race, a pursuit-style race where the slower boats start first in one-design fleets and squadron PHRF sailboats. Registration starts at 1 p.m. Entry fee is $10. Interested parties must have a valid West Florida performance handicap Racing Fleet certificate to race in the PHRF Fleet. sarasota Sailing Squadron, 1717 Ken Thompson Parkway, Sarasota, FL. 941-388-2355.

July 4, 2019: Celebrate the Fourth of July with The Choral Artists of Sarasota as they present Sounds of Independence with rousing songs celebrating America including perennial favorites. A patriotic concert full of choral fireworks celebrating America, the American Dream - liberty and justice for all - forms the cornerstone of this annual sell-out performance. 4:00 p.m. Tickets: $5 - $45. Sarasota Opera House, 61 N. Pineapple St., Sarasota, FL
Other Sun Coast Area & Sarasota
Fourth of July Events
July 4, 2019: Sarasota: Enjoy an All American Barbecue and Independence Day Celebration on the grounds of Selby Gardens. Enjoy All-American favorites from Michael's On East and family activities as part of the celebration plus a family-friendly dance party with DJ Karolina Lira, and enjoy the fireworks over Sarasota Bay from Selby Garden's bay front location. 6 p.m. - 9:30 p.m. $45/members $35, 12 and younger $10,  3 & under are free. No coolers. Blankets and chairs welcome. Selby Gardens, 900 S. Palm Ave., Sarasota, FL. 941-366-5731. Sarasota Fourth of July Events on Escape-to-Sarasota.
July 4, 2019: Sarasota: Night time brings the Fireworks Spectacular over Sarasota Bay. Part of the Sarasota Powerboat Grand Prix Festival, viewing is free from anywhere downtown including Bayfront Park and Island Park. The display is an awesome sight from a boat anchored on Sarasota Bay. Make sure you bring an umbrella just in case of rain. The Sarasota show starts at dusk or around 9:00 p.m. and is privately funded and charity focused and benefits Suncoast Charities for Children. Sarasota Fourth of July Events on Escape-to-Sarasota.
July 4, 2019: Siesta Key: The 29th Annual 4th of July Fireworks Display. The annual community fireworks over the number 1 beach in the nation,Siesta Key, are blasted off just north of the volleyball courts, so viewing is good from anywhere south and along Crescent Beach (south of Siesta Public Beach), out on the Gulf, or from the Intracoastal waterway. Beach spectators are strongly advised to not bring their own fireworks. With so many people, especially small children, individuals using fireworks can be extremely dangerous. Good weather brings estimates of 20,000 to 30,000 to the fireworks on Siesta Key. Fireworks at around 9 p.m. More info: (941) 349-3800. Sarasota Fourth of July Events on Escape-to-Sarasota.
July 4, 2019: Venice: The Venice area fireworks are fired from the south Venice Jetty in the Venice Beach area and there are a number of good vantage points: anywhere along Venice Beach, Nokomis Beach, or from a boat on the Gulf of Mexico or anchored on the Intracoastal waterway, northeast of the Jetty on the water. Fireworks go up after sunset. Beach spectators are strongly advised to not bring their own fireworks. With so many people, especially small children, individuals using fireworks can be extremely dangerous. Arrive early as thousands line the beaches, jetty and surrounding waterways. Sarasota Fourth of July Events on Escape-to-Sarasota.com
Other Sun Coast Area Fourth of July Events
July 4, 2019: Longboat Key:The Annual Freedom Fest and Hot Diggity Dog Parade begins at 9 a.m. at Town Hall, 501 Bay Isles Road. Uncle Sam will be there to greet parade participants. Commissioners, police and fire rescue personnel are in the parade along with children who wish to dress up and walk with their pets. Put on your best red, white and blue and decorate your cars, floats, scooters, strollers, golf carts, bikes or wagons. Cannons Marina is offering a $500 cash prize to the most patriotic business entry in the parade as long as there is a minimum of 10 business entries. Floats may be any motorized vehicle with 4 wheels e.g. golf cart, auto, van, trailer, etc. If you would like to enter your business in the parade, please call the chamber at 383-2466. Registration fee is $25 for business floats and there is no charge for non-profit floats. Parade lineup begins at  8:30 a.m. on Bay Isles Rd. Activities, food and drinks, children's games all in Bicentennial Park, next to Town Hall, after the parade. 9 a.m. - 11 a.m. Longboat Key Chamber of Commerce for more information: 941-383-2466. Sarasota Fourth of July Events on Escape-to-Sarasota.com
July 4, 2019: Venice: Check out the 6th annual Myakka River Kayak Festival and 4th of July Jam Blast with kayaking, live music and craft beers. Live musical entertainment will take place from 11 a.m. – 4 p.m. Performers include Treble Hook, Steve Arvey and Florida Boys and more. Kayak and canoe rentals will be available starting at  8 a.m. or you can bring your own. No cover charge for entrance. 8 a.m. - 4 p.m. Snook Haven, 5000 E. Venice Ave, Venice, FL. Sarasota Fourth of July Events on Escape-to-Sarasota.com
July 4, 2019: Venice: The South Venice Civic Association hosts a community July 4th celebration with burgers and bbq and featuring rock band Bandana. 2 p.m. - 6 p.m. $10, kinds under 12 are free. South Venice Civic Association, 720 Alligator Drive, Venice, FL. 941-493-0006
July 4, 2019: Anna Maria Island: The Anna Maria Island Privateers hold their annual 4th of July Parade from 10 a.m. - 1 p.m. Anna Maria Island from Coquinia Beach (South Entrance) and Ending at the North End of the Island on Pine Ave. in the city of Anna Maria. The 2018 Parade was attended by an estimated 25,000 Parade Watchers along the 7 mile parade route, 95 Parade Entries and over 800 participants. Staging opens at 8 a.m. with the parade stepping off at 10 a.m. SHARP. In addition following the Parade there will be the College Scholarship presentation at the AMI Beach Café  4000 Gulf Dr, Holmes Beach, FL 34217 where the Privateers will announce the Scholarship recipients of  over seventeen thousand dollars. Be in the parade or bring a chair to watch. More info: kb8746@gmail.com or Call (931) 639-0986. Anna Maria Island, FL. Sarasota Fourth of July Events on Escape-to-Sarasota.com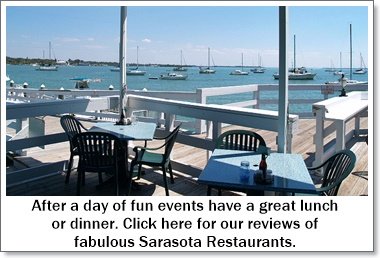 Other Sun Coast Area & Sarasota
Fourth of July Events
July 4, 2019: Palmetto: The City of Palmetto celebrates America's Independence with its 9th annual award winning "Fourth Fest." This year the fest will feature Legendary all-American front man and guitarist Mark Farner, who was the engine that pulled the original Grand Funk Railroad to the top of the charts in the outdoor Pavilion at historic Sutton Park for a free concert. Special Guest is Rare Earth! Family friendly event with food and beer vendors, and a host of fun activities from 3 p.m. - 9 p.m. Entertainment is from 5 p.m. - 9 p.m. Sutton Park is on Old Main Street in Downtown Palmetto. The Manatee River is the site for the fireworks extravaganza starting around 9 p.m. Sutton Park: 1006 6th St W, Palmetto. Free admission. Free and paid parking around the area. Sarasota Fourth of July Events on Escape-to-Sarasota.com
July 4, 2019: Punta Gorda: The Fisherman's Village Independence Day Celebration. The always popular Freedom Swim begins at 2 pm (start location to be determined) and ends at Harpoon Harry's. (call 941 661-5622 for more Freedom Swim details) The Green Hibiscus Trolley will provide transportation between Fishermen's Village and the swim starting point. (no kayaks, and inflatables must be deflated). The trolley ride is free. Other festivities will include: Live Music featuring musician and singer Rita Beach, 12 noon-4 pm near Good 'Ole Days Coffee. Singer/Steel Drum musician John Patti 12 noon-4 pm followed by the "Stray Dogs" featuring Singers Paul Cottrell and Adam Mac in the Center Court overlooking Charlotte Harbor. Harpoon Harry's will be featuring Kids Crafts All Day, Face Painting and food/drink specials. Viewing of annual fireworks display over Charlotte Harbor begins at 9:00 pm. Free admission and parking. Noon - 9 p.m. Fisherman's Village, 1200 W. Retta Esplanade, Punta Gorda, FL. Sarasota Fourth of July Events on Escape-to-Sarasota.com
July 4, 2019: North Port: It's North Port's 15th annual Freedom Festival starting at 4:00 p.m. This family-friendly signature event will include fun activities, great vendors, plenty of food options, and of course, fireworks. Available on the front event lawn of the stadium will be a children's activity section which will include a variety of free activities and much more. Bring your blanket or folding chair for the fireworks. No coolers, pets, personal fireworks, chairs, or sparklers will be permitted in the festival area. 4 p.m. - 9:30 p.m. Cool Today Park, 18800 South W Villages Pkwy, Venice, FL.

July 4, 2019: Anna Maria Island: It's the Sandbar Restaurant's 40th Anniversary and their 33rd annual 4th of July Extravaganza on the north end of the island next to Pine Avenue. Seating at the restaurant is first come, first served. Also, VIP Party Packages are available with prime seating set up on the beach for the fireworks show. Reservations for the VIP Party are required and seating is limited. Festivities will begin at 6:00 p.m. kicking off with a champagne toast in the Sandbar's Grand Pavilion in celebration with delectable food, open bar, and prime viewing for fireworks! Adults: $155.00, Kids: $50.00. There are no refunds for inclement weather. Fireworks after dark, weather permitting. Fireworks show viewing is free. 100 Spring Avenue, Anna Maria Island.  Sarasota Fourth of July Events on Escape-to-Sarasota.com
Other Sun Coast Area & Sarasota
Fourth of July Events
July 4, 2019: Bradenton: There's a fun Fireworks & Buffet event happening in celebration of Fourth of July at Pier 22 on the Manatee River in Palmetto. Pig roast and buffet plus the rockets' red glare with premium riverside viewing during the fireworks show on the Manatee River! This is a single-seating event starting at 6 p.m. and ending with an explosive fireworks finale around 9 p.m. 6 p.m. Children 8 & under $19.95,  Adults $69.95 + tax & tip + Add The Open Bar wristband for $30. Pier 22, 1200 1st Ave West, Bradenton, FL. Reservations suggested: 941-748-8087.

July 4, 2019: Bradenton: There will be a Fireworks display over the Manatee River after dark. The fireworks display is handled by the City of Palmetto. People usually mass along both sides of the Manatee River Riverwalk waterfront in downtown Bradenton and Palmetto. After dark around 9 p.m.
July 4, 2019: Englewood: The Fireworks Display will launch from Middle Beach (Blind Pass Beach) on Manasota Key. Viewing is free from anywhere along the Lemon Bay Intracoastal Waterway, from the Tom Adams Bridge to Englewood Isles and along Manasota Key. Starts about 9 p.m. 

Return to July Sarasota Events

Sarasota Fourth of July to Sarasota Events Calendar Main Page

Escape-to-Sarasota-Florida Home