The Sarasota Boat Races
& Offshore Grand Prix Racing Festival!
June 24 - July 4, 2017
Sarasota Offshore Boat Racing Schedule:
Saturday July 2, 2016: Superstock & AquaX Races 9:00 a.m. -  4:30 p.m, Powerboat Open Practice Noon - 3 p.m. Best Viewing off Lido Beach

(For VIP Race Viewing at The Sandcastle Resort, Ticket Purchase Required - see below)



Sunday July 3, 2016: Powerboat, AquaX, and Superstock Races 9:00 a.m. – 3:45 p.m. Best Viewing off Lido Beach

(For VIP Race Viewing at The Sandcastle Resort, Ticket Purchase Required - see below)





Complete detailed race schedules below




(* Event schedules subject to change without prior notice due to event planners, weather, etc.)
The first Sarasota Boat Races, called the Suncoast Offshore Racing Grand Prix, took place in 1984 and have become an annual event for thrill seekers and offshore boat racing enthusiasts.
2016 marks its 32nd Anniversary.
The Sarasota Boat Races & Offshore Grand Prix Racing Festival are undergoing some adjustments for 2016. According to festival organizers, "Unfortunately due to circumstances beyond our control (due to unexpected local construction & costs) we had to make some changes" (for 2016).(See below). Click here to read and learn more.

The only additional change will be the race format, and because teams are still registering it won't be available until two weeks prior. We hope to have an update from organizers.

Smoke on the Water…This event is not only about offshore power boat racing, but is also a festival with more than a week's worth of activities.
Here are a few of the more popular events during the festival:
June 26, 2016: Suncoast Grand Prix Car Show: 10 a.m. - 3 p.m. on Main Street in Lakewood Ranch
June 28, 2016:  Grand Prix Festival "Grand Prix By The Sea" Kickoff Party  Fundraiser takes place at Sarasota Yacht Club. There will ll be live music, food stations, open bar, valet parking. Cocktail casual attire- no jeans or shorts. Tickets are $100 each. 6 p.m. - 10 p.m., 1100 John Ringling Blvd, Sarasota. For "Kick Off Party" tickets click here.  (See below for more VIP tickets)
June 29, 2016: Flemings Steakhouse "Fan Fest," 2001 Siesta Drive, 5 p.m. - 9 p.m., Free Admission.
July 1, 2016: "Meet & Greet Who's In The Driver's Seat," Hyatt Regency Ballroom, 1000 Boulevard of the Arts, $5.00 Adults/Kids 12 & Under Free. 12 p.m. - 2 p.m.

July 1, 2016: Grand Prix Festival Downtown Block Party from 6 p.m. - 11 p.m downtown Sarasota. Main Street and Lemon Avenue. Live bands, racing boats and racing teams and more. Free admission.
July 1, 2016: Festival Parade of Boats

has been

DISCONTINUED FOR 2016

due to construction projects this year in the downtown area. More than 20 racing boats will be on display during the block party starting at 6 p.m.

Festival Parade of Boats along

Main Street in downtown Sarasota at 6 p.m.



July 2 - 3, 2016: DISCONTINUED FOR 2016 - Powerboats by the Bay

where you can

see the Powerboats up close on display, food and vendors, too. Free Admission. Saturday 10 a.m. - 7 p.m., Sunday 10 a.m. - 5 p.m. Centennial Park - 10th St. & U.S. 41, Sarasota
July 4, 2015: Fireworks over Sarasota Bay, Island Park, Free, 9 p.m.

The Need for speed…The real stars of the Suncoast Race, of course, are the offshore racing boats, some of which reach speeds of over 100 mph on the straight-aways of this six and a half mile long race course off Lido Key Beach.
With two days of on-water events the Sarasota Boat Races schedule for 2016 looks like this:
Saturday, July 2: Superstock & AquaX Races 9 a.m. -  4:30 p.m, Powerboat Open Practice Noon - 3 p.m.
Sunday, July 3: Powerboat, AquaX, and Superstock Races 9 a.m. – 3:45 p.m. Best Viewing off Lido Beach.
CLICK HERE FOR ENTIRE DETAILED RACE SCHEDULES

This Offshore Boat Racing Spectacle is absolutely free to attend and open to the public...you won't find any ticket sellers and ticket takers here!
However, there are VIP tickets available for purchase for Viewing At The Sandcastle Resort from where the race will also be broadcast live. For Saturday VIP Tickets Click here. For Sunday VIP Tickets Click here.

DISCONTINUED FOR 2016 -There's even a "Miss Super Boat Grand Prix" Bikini Contest on Friday July 1, 2016 which was renamed and reformatted in 2015 to the Miss Hooters Swimsuit Pageant. -  DISCONTINUED FOR 2016
The Awards Ceremony will take place at 5 p.m. Sunday, July 3, 2016 at Centennial Park. It is free to attend and open to all.

The Sarasota Boat Races and Offshore Racing Festival is one of the biggest and most high profile annual occasions on my Sarasota Events Calendar.
Feel the Power...And while offshore boat racing is underway it seems there is another race going on overhead, as numerous helicopters swoop over the offshore racing boats, keeping a watchful eye out for marine animals, as well as an eye on the boats and drivers, with emergency divers and medical staff aboard the copters for quick medical response in case of a mishap on the water.
A view to a thrill…The best place to view the sites of the Sarasota Boat Races, The Suncoast Offshore Racing Grand Prix, is from Lido Key Beach, as the race course runs from New Pass (north of Lido Key/south of Longboat Key) to Big Pass (south of Lido Key/north of Siesta Key). Lined up along Lido Public Beach, you'll be able to see every bit of offshore power boat racing at it's finest.
Hear the Roar...Offshore power boat racing is an awesome spectacle to witness and the Sarasota Boat Races can attract crowds numbering 50,000 along Lido Beach. While crowds may be large (as well as enthusiastically estimated!) it is spread out, friendly and quite comfortable, especially in the 90-plus degree heat. And with the water right in front of you, many spectators choose to kill two birds with one stone by staying cool in the water while watching the offshore races from…offshore!
It's a festive atmosphere up and down Lido Beach from as early as 5 a.m. - 6 a.m. when the most die-hard of the fans arrive early for good parking spots and to stake out their position on the beach for what they think will be the best vantage point to see the offshore racing boats. But, despite the crowds, there are plenty of places on the beach or in the water from which to get a great view of the race.
The beach is filled with brightly colored umbrellas and picnic shades, along with offshore boat racing fans that bring grills that fill the beach side with the aromas of hamburgers, hot dogs and other barbecue grilled treats. It all resembles a giant tailgate style party with friendly fans, food, fun and the fastest offshore racing boats on water!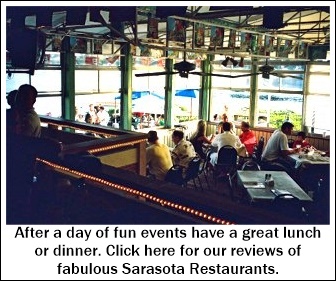 Tips: While parking along Ben Franklin Drive (the beach side street) and at the Lido Beach Public parking lot fills up early and fast, there is still plenty of parking at the free lots around St. Armand's circle. And it's a close enough walk to the Sarasota Boat Races on Lido Key Beach. If you do park at one of St. Armand's free parking lots, be prepared for a walk to the beach, and at the end of June/early July it can be a really hot walk, although it's only a few blocks.
Alternate Idea: (The first year I attended the Sarasota Boat Races a friend and I put our two bikes on a bike carrier on his SUV, parked on the other side of St. Armand's Circle and bicycled to the beach. But we traveled lightly, without coolers and conveniences! Although one could always ride with a backpack on or carry a small portable cooler along.)
More Tips: Bring a cooler (on wheels, if you'll be walking a few blocks) with food and drinks, a sun umbrella and beach chairs, lots of sunscreen and a hat to protect your head and face from the sun's direct rays and a camera and/or binoculars so you can get an even better view of the Suncoast offshore racers. Clothing: Wear light-weight, loose-fitting, light-colored clothes or a swimsuit and t-shirt.
Remember: this is Florida in late June and early July. It's sunny. It's hot. I've seen reports of peoples' hair catching on fire, although I've been unable to personally confirm those reports! Take appropriate precautions for you and your family as far as the heat and sun go.
By the way, over the years, proceeds from the Sarasota Boat Races Offshore Racing Grand Prix Festival have provided over $14 million dollars for the construction of facilities serving physically and mentally challenged individuals. That's a good thing! Here's more on the Sarasota Boat Races including their complete event schedule.
Directions: To get to Lido Key Beach from Sarasota take Rt. 41 through the bay front/downtown area to the John Ringling Bridge. Go over the bridge (southwest) to St. Armand's Circle and bear to the left around the Circle (west) toward Lido Key Beach. Turn left (south) on to Ben Franklin Drive and look for parking spots on the street or at the Lido Key Beach public parking lot, south on Ben Franklin Drive. If no parking is available, double back to St. Armand's Key and look for free parking lots around the rear of the shops on St Armand's Circle (look for the free parking signs around the Circle).
Sarasota Boat Races to Sarasota Events Calendar Main Page.

Escape-to-Sarasota-Florida Home