The Boatyard Waterfront Grill - Fun with a picturesque waterfront view!
The Boatyard Waterfront Grill is located in Sarasota at the Boatyard Boardwalk Shops, which you'll find on the Mainland side of the Siesta Key Bridge on Stickney Point Road that leads over to Siesta Key.
One of only a handful of Sarasota restaurants with a water view, this establishment is unique on my Sarasota Dining Guide because the outside patio/deck and inside dining rooms sit higher above the water, providing a little different vantage point than other waterfront restaurants in Sarasota.
From this perch you can enjoy the boats and yachts making their way up and down the Intracoastal Waterway. Plus, you'll be able to watch the Stickney Point drawbridge raise and lower while you dine.
Indoor there's a Bar (called "The Reef Bar") tucked into a corner of the upper floor dining room at the Boatyard Waterfront Bar and Grill (Happy Hour is daily from 4 - 7 p.m.) The inside dining rooms, on two levels, are bright, open, airy and large enough to accommodate big crowds, during "season," fairly comfortably. The outside patio/deck which features umbrella covered tables fills up fast during "season."
And there's also an indoor dining room you can choose, but we never have. We always like the outside deck or the open air dining rooms with the great views.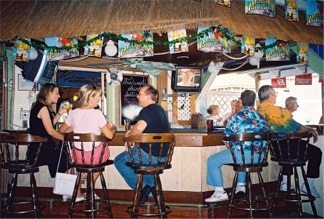 On a recent trip for lunch, (during off season and at about 1:30 on a Sunday afternoon), we found no waiting time at all. We had our choice of where to sit.
All the windows were "open air" and together with the natural breeze and all the ceiling fans you wouldn't know that it was 90 degrees. It was quite comfortable. Plus they had some great island music playing, perhaps Bob Marley. Nice atmosphere.
At the Boatyard Waterfront Grill, the prices are as diverse as the menu. For example, I had a well done ½ lb hamburger for $9.99. It came on a fresh bakery bun, with delicious fries, nice creamy cole slaw and a deli pickle spear.
My lunch companion had Fish and Chips for $13.99. They came with cole slaw as well. You can spend more or spend less depending on your budget.
We had a delicious lunch, plus I had a couple of draft beers and we got away for a total of $41 including tip, for lunch for two.
Plus we had a scenic water view and a great afternoon on which to relax at one of the best restaurants in Sarasota for views of the Intracoastal Waterway and the drawbridge at Stickney Point Road. A really great scenic spot and vantage point!

With a wide selection of menu favorites including everything from fresh seafood with about 10 Oyster dishes, Lobster, to sandwiches, Steaks, Chicken and Pasta, you're sure to find something to please you.
Other menu items you'll find include: a couple of Grouper choices, Mahi-Mahi, Flounder & Trout, along with Jumbo Shrimp, Angel Clams, Crab Legs, Surf & Turf. You can also order a Filet or Ribeye Steak, Ribs, Chicken Alfredo, Pork Tenderloin, Herb Roasted Chicken and Veal Parmesan, and, as I mentioned, sandwiches too, plus there are a number of soups and salads from which to choose.
The service was good and fast (but it was off season and past lunch hour). We had a friendly and chatty waiter with whom we enjoyed trading stories, until our orders were ready, while we sipped on our iced tea and draft beer.

I hope you have the good luck to get a table on the outside patio/deck overlooking the waterway and Stickney Point Bridge. It really is a great view while you dine or relax over a cocktail!

With fantastic waterfront views of the Intracoastal Waterway, dividing the mainland from Siesta Key, the Boatyard Waterfront Grill is another of the Sarasota area's scenic spots in which to enjoy lunch or dinner. It's a light, casual, friendly atmosphere at the Boatyard Waterfront Grill. One you can surely enjoy during your time in Sarasota.
What's your favorite Sarasota dining spot? What's the best meal you've had there? Let others know about your recommendations by writing your own Sarasota Dining Review. Share your favorite here!

All in all, you can have a fine and delicious meal from a wide ranging menu and a memorable and relaxing experience at the Boatyard Waterfront Grill.
Directions: From anywhere in the Sarasota area, you'll have to get to the intersection of U.S. Rt. 41 (Tamiami Trail) and Stickney Point. Head west on Stickney Point and look for the Boatyard Shops on the left before the bridge. There's a parking lot there and the Boatyard Waterfront Grill is at the west end of the Boatyard Shops.

Boatyard Waterfront Grill to Sarasota Restaurants Main Page

Escape-to-Sarasota Florida Home