Myakka River State Park
Explore The Florida Wilderness!

While exploring Myakka River State Park you will get the definite sense that this is a very delicate ecosystem. And it is.
One visit and you'll understand why this wilderness is being preserved in its natural state.
And if you have even the most miniscule appreciation of nature, I predict, you will be awed by the wonder and beauty of Myakka River State Park.
Various forms of wildlife co-exist in this subtropical environment, sometimes peacefully and gracefully, sometimes violently. But there's always something new to learn and witness on a trip through this wilderness.
This just so happens to be one of my favorite places to visit in the Sarasota area and in all of southwest Florida, for that matter. It's not just an attraction.
It's real Florida, real wild!
Myakka State Park sprawls over 58 square miles and 29,000 acres and a real nature lover will take true delight in the tropical plants, animals, trees and exhibits, nature paths and excursions available.
The park, which was created and developed in 1934 by the Civilian Conservation Corps, is comprised of wetlands, acres of prairies, 39 miles of hiking trails and subtropical forests.
This is truly a magnificent place to spend a day. In a word, it's: spectacular.
Creatures of all kinds inhabit the park; From the American Alligator to the Great Blue Heron, to Snakes, Fish, Eagles (yes, the Bald Eagle), Hawks, Armadillos and many more. They coexist and they compete for survival.
From guided tours to rentals for:
biking


canoeing and kayaking (or bring and launch your own)


hiking


nature-walking


bird-watching


fishing
plus 2 campgrounds located alongside hiking trails, 5 Palm Log Cabins for rent, 6 primitive campgrounds located alongside hiking trails and the Upper Myakka Lake, for the true nature lover, it's all here!
One of the best and most convenient ways to see and learn about this nature preserve is by taking one of the Myakka Tram Tours that operate daily at 11:30 a.m, 1 p.m, and 2:30 p.m.
These tours last about an hour and you have a tour guide, along with you and your group, conducting and pointing out areas of interest. They also take you away from the main road and into the back woods areas of the park.
Like the tour of the Myakka River aboard the Myakka Maiden or Gator Gal, the tour guides on the Tram Tours are very informative and knowledgeable about both the history and ecosystem of Myakka River State Park. The Tram Tours are $12 for adults and $6 for children.
A trip through Myakka River State Park can be a full day-long adventure and whatever you might want to do or explore, the "Myakka Outpost" includes a concession stand that features everything from fishing and camping gear to lunch and bicycle, canoe and kayak rentals.

There are also many picnic areas with tables, grills and pavilions throughout the park as well as playgrounds.

6 Tips to help you enjoy
Myakka River State Park:

The level of comfort you will have while in the park depends on the particular weather and season.
Summer months become quite subtropical and it's best to have a cooler along with bottled water or other refreshments, although there is food and drink available at the Myakka Outpost.
Dress for the temperature and conditions you anticipate. I've never gone to Myakka in anything other than shorts and cool t-shirts and a hat to shade the sun. But if you're going to be hiking through brush and prairies you'll want to protect your legs from scratches.
Most of Myakka can be experienced in light weight clothes and shoes during the warmer months. Other times of the year it may pay to take along a sweatshirt or jacket and long pants, especially over the fall and winter season, when it can get chilly at Myakka.
Stop by the visitor center upon entering the park to find out information about special programs, guided tours or activities the park may be sponsoring, such as nature walks, bird watching, campfire programs and more.
Many activities are accessible to visitors with disabilities. If you need assistance you may contact the park office at: (941) 361-6511.
---
Additional details:
Open every day of the year from 8 a.m. - sunset.

Admission: $6.00 per vehicle. Limit 2-8 people per vehicle. $4.00 Single Occupant Vehicle. $2.00 Pedestrians, bicyclists, extra passengers, passengers in vehicle with holder of Annual Individual Entrance Pass. (Fees subject to change)

Location: 13208 State Road 72, Sarasota, FL 34241

---
So, if you'd like, come along with me now on a cyber-tour through Myakka River State Park. Just click on the links below:
Highlights of Myakka River State Park:

The Myakka River State Park Nature Trail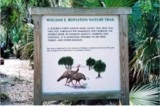 You'll discover a peaceful connection between yourself and nature as you leisurely stroll through the shady oak-palm hammocks that border the Myakka River, along the Nature Trail. With lush greens, light colored sand and sunlight sparkling through the palm fronds, you'll think you're in paradise. It's only about a 40 minute walk through the trail. Click here to see pictures and read more about the Myakka River State Park Nature Trail.
Myakka Canopy Walkway & Observation Tower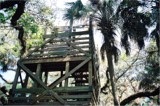 Ever wondered what it would be like to be a bird and live in the tree tops? Well, the next best thing is having the ability to watch the birds and other creatures in the tree tops. This is what you can do when you walk through the Myakka Canopy Walkway, some 25 feet off the ground, high in the tree tops. Then, if you dare, you can walk up to the top of the Observation Tower and look out over one of the most beautiful of Florida State Parks. See more about the Myakka Canopy Walk and Observation Tower.
The Myakka State Park Birdwalk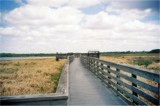 From Eagles to Osprey, to Herons, Northern Harriers, Vultures, Egrets, Red Tail Hawks and many more, don't miss stopping at the Myakka State Park Birdwalk. It's peaceful, quiet and serene, yet you can see all the "live action" of nature right before your eyes. You may enjoy this part of the park so much that it'll be hard to pull yourself away. It is for me. Here's more on the Myakka State Park Birdwalk.
The Myakka Park Airboat Guided Tour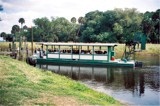 Take a ride and guided tour on one of two of the world's largest airboats, the "Gator Gal" or the "Myakka Maiden." This one-hour guided tour is a great way to see the Myakka Lake and Park right from the water and learn some interesting facts about the Park's history and wildlife. Often times on this tour you'll cross paths with wildlife such as alligators, birds and turtles. Click here and learn more about these guided tours.
The Alligators of Myakka River State Park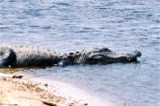 Alligators can be found in all waters of Myakka River State Park therefore you should use extreme caution when near them. The number of gator sightings depends on the time of the year. During summer months higher temperatures keep the alligators under water most of the time. But you can never be sure of where or when you might see a gator, since there are hundreds. Learn more about the American Alligator of Myakka River State Park.
Florida Camping at Myakka River State Park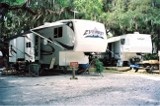 What type of camping do you like to do? Do you prefer the comfort of RV camping or sleeping in a travel trailer or log cabin? Or are you the really rugged type who likes to sleep in a tent, or in primitive camping conditions. Whatever your "camping comfort level" is, a great Florida camping adventure can be had in the outdoors at Myakka River State Park, one of the best camping spots in Florida. Here's more about your next Florida camping adventure.
---

To Sarasota Attractions

To Sarasota Parks

Escape-to-Sarasota Florida Home