Sarasota Parks
From the Serene to the Wild!

Sarasota Parks, Sarasota County Parks and Florida State Parks within the Sun Coast region are beautiful. Some are inland. Some are on the water. Some are real wild.

All are unique in their own way. All are worth exploring.
All are enjoyable places to spend time alone, with someone special, with family or a group of friends; exploring, having fun, walking, jogging, biking, picnicking, fishing, watching people or simply  enjoying being outdoors in beautiful natural surroundings.
These pages will not only take you to Sarasota Parks within the city limits but also to Sarasota County Parks in some of the outlying areas. Parks that I consider to be well worth visiting.

In fact, it's my opinion, from my considerable travels and the number of places I have had the good fortune to have lived, that our parks are some of the top parks in the nation.

This is a tour of some of the more popular parks around our little slice of paradise that we affectionately call the Sun Coast.

Many of our parks are also available for private functions and events where you can hold a family reunion, a birthday party and even a wedding party or other event.
Sarasota Parks

Lots of the parks have amenities like picnic pavilions, outdoor charcoal grills and nearby restroom facilities.
Many of these parks also play host to some of the biggest events of the year on my Sarasota Events Calendar.
And of course, the parks are family friendly, many of them with playground areas, some with volleyball nets and areas for horseshoe games.
Sarasota Parks and Recreation Areas

Sarasota Bayfront Park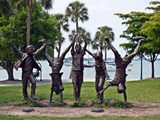 This is one park where you can find peace and serenity, awesome views in which ever direction you turn and the beauty of nature in your midst. Right on Route 41 near downtown Sarasota and right on the bay front, don't pass up a stop at this park. You can sit, walk or jog on the park's fitness trail while taking in the scenic sites, literally, all around you and enjoy the park's natural wonders. Read and see more here about Sarasota Bayfront Park
Sarasota Nathan Benderson Park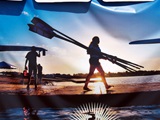 Sarasota's Nathan Benderson Park, already recognized as one of the premier world class rowing and aquatic sports centers in North America, has been selected to be the site of the World Class Rowing Championships in 2017, an International event almost as big as the Olympics. But the park is for more than sculling; it also accommodates all kinds or water sports from canoeing and kayaking to paddle board events and dragon boat races with both local and international events, triathlons, 5K runs and is open for family activities and festivals as well. Click here and learn more about Sarasota's Nathan Benderson Park.

Myakka River State Park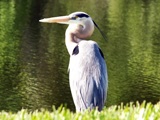 Want to see real Florida real wild? Then this is the place for you; where civilization meets rustic and wild nature. From walking trails to Florida Alligators, to wild birds including Ospreys, Red Tail Hawks and Bald Eagles, this is the place to experience raw Florida nature. You can bike, hike, kayak, fish, site see and take in all of nature's beauty here at one of the most awesome of parks. Read and see more here about Myakka River State Park.
Oscar Scherer State Park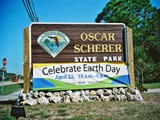 True nature lovers can find their natural place in the sun here at Oscar Scherer State Park near Sarasota, Florida. Whatever adventure you seek you can find it here. Whether it's hiking or biking through the 15 miles of trails, camping out, fishing, kayaking or just coming out to the park for a family picnic, this park is a nature lover's dream. Here's more about how you can commune with nature at Oscar Scherer State Park.
Sarasota Payne Park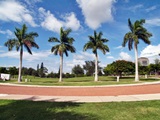 Payne Park is a gorgeous place to spend part of your day. With a rolling greenbelt, tree lined walking paths, plus features that your kids will like, you will find much to enjoy in this, one of our wonderful Sarasota Parks. You can also bring your dog along for a walk. And he'll enjoy it right along with you. Plus there's fabulous history that comes with this recreation area. Click here and learn more about Sarasota's Payne Park.
Casey Key / North Jetty Park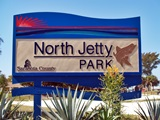 North Jetty Park sits nestled between the sparkling Gulf of Mexico, the Venice Jetty and the Intracoastal waterway on the south end of Casey Key. The sprawling park is set against tall pine trees, sand dunes and tropical foliage that makes for a beautiful view of nature in almost all directions. Sprinkled with amenities for kids and grownups alike, it's a wonderful place to come for a picnic or for just a morning or afternoon of relaxing in the shade and nature. Click here to read more about what makes North Jetty Park unique.
Blackburn Point Park, Osprey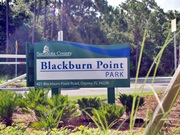 The new, updated, expanded and redesigned Blackburn Point Park had its grand opening ceremony on April 29, 2015. The waterside park is a sparkling picture of nature with numerous amenities and conveniences for all to enjoy. From walking, to fishing, boating, picnicking, kayaking and just enjoying nature, this is a wonderful park in which to spend some time. Launch your boat or pull out your folding chair an enjoy your favorite author under the shade of the Palm trees and Australian pines. Click here to see pictures and read more about the beautiful Blackburn Point Park.


From Sarasota Parks to Escape-to-Sarasota Florida Home Page