Siesta Key Vacation Guide
White Sand Beaches to Waterfront Dining, Shopping
and Fun Festivities...It's All Here!

My Siesta Key Vacation Guide will show you the highlights and suggest some ways to best spend more time "enjoying your time" on Siesta Key, Florida rather than trying to figure out and research what to do after you arrive.
There's a lot to see and do in this Siesta Key Vacation Guide.
There's so much to do that you may have a hard time choosing your activities, but if you're like a lot of people you will definitely want to check out the Siesta Key Beaches including world famous Siesta Key Public Beach, rated as the 2nd best beach in all of Florida by cable-TV's "The Travel Channel."
And Siesta Key Beach was named in 2011 as the #1 beach in the USA in Dr. Beach's annual top 10 list of America's best beaches!

Siesta Key, Sarasota, Florida is about an 8-mile-long barrier island just off the mainland. The population of the key began to grow starting around 1910 when it was known simply as Sarasota Key.
The name changed over time when the key became increasingly well known as a great place in which to rest and relax. And although you may be visiting for only a limited time, about 11,000 people live, work and play on Siesta Key year round.
Ride-RIde-RIde, Hitchin' a Ride!
Free Trolley Service is available on Siesta Key from Siesta Key Village on the north to Turtle Beach on the south. The open-air trolley called "Siesta Key Breeze" will be available every half hour from 10 a.m. to 10 p.m. and Friday and Saturday until midnight.  Service is to be available every 30 minutes.  Passengers can pick up the circulator at all bus stops located along Beach Road. There will be an emblem of a trolley on each bus sign indicating where the service will stop. South of Midnight Pass Road, passengers can flag stop the vehicle and it will stop at the safest location. Three trolley's will be in operation between Siesta Key Village and Turtle Beach in hopes of lightening the amount of traffic on Siesta Key.  Traffic conditions, weather and unforeseen events may impact arrival and departure times Be at the bus stop sign 5 minutes before the bus scheduled time. Click here for a map of the trolley route.

Access to Siesta Key, Florida by car is across either of two drawbridges; the north bridge at Siesta Drive and Rt. 41 or the south bridge at Stickney Point Road and Rt. 41.
In this Siesta Key Vacation Guide you'll find that there are three main beaches including one world-famous beach continually rated in the top 5 of national 'best beach polls;" Siesta Key Public Beach, plus Public Beach Access points along Midnight Pass Road and Beach Road, two shopping districts, and numerous restaurants.
Most of the shopping, dining and night life activity on Siesta Key takes place from mid-key, around Crescent Beach, which is just south of Stickney Point Road where it becomes Midnight Pass Road, north-northwest to Siesta Key Village where there are more shops, boutiques, restaurants, cafes, bars and nightclubs.
There are two grocery stores on the key.
There's one in Siesta Key Village called Morton's Siesta Market at 205 Canal Road which opened in June, 2015 after the original Village Market closed due to the former owners' retirement.
There's also the Crescent Beach Grocery at 1211 Old Stickney Point Road. (The Village Market will be closing during the summer of 2015 and reopening as a Morton's Gourmet Market soon thereafter).

Another attraction on my Siesta Key Vacation Guide is the number of fun events to attend throughout the year on Siesta Key. From Siesta Fiesta to Valentine's Day on the beach to the Annual Siesta Beach Sand Sculpture Contest, there's always something fun to do or watch on Siesta Key.
It's your choice: do a lot, do a little or do nothing but lie around on the world famous white sand Siesta Key Public Beach.
Siesta Key Vacation Guide to Hotels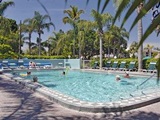 Want to stay right on the beach where you can have your toes wriggling in white, soft, cool sand everyday, just steps from your room? There are hundreds of choices to choose from, but I've provided a short list for you to review and there may be one within my list that meets your accommodation needs perfectly. If not, I have even more.  Click here for my review and summary of Siesta Key Beach Hotels.
Siesta Key Vacation Guide to Beaches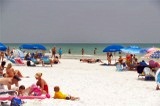 Siesta Key Beach: Pure white sand (99% pure quartz grains!), cool to the feet spreads for miles on the shore of the Gulf of Mexico. This is definitely one beach on Siesta Key that you'll want to see. There are tennis courts, volley ball courts, pavilions for picnics, barbecue grills, children's playgrounds, and lots and lots of sand to stretch out on. On Siesta Key Beach Florida you'll also find Para-sailing high overhead and Kayaks offshore. In 2009 and 2010 it was ranked the number 2 best beach in the nation and our Siesta Key Vacation Guide is proud to announce that in 2011 it was named the Number One Beach in the USA! Click here for more on the World Famous White Sand Siesta Key Public Beach.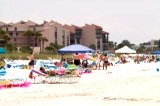 Siesta Key Crescent Beach: Located south of Siesta Key Beach, Crescent Beach is near the intersection of Stickney Point Road, just over the drawbridge and Midnight Pass Road, but you can't see it from the street because of the condos and hotels on the beach. You may want your Siesta Key accommodations here along Crescent Beach. But my Siesta Key Vacation Guide advise is: make your reservations early because whether it's in-season or out of season, Siesta Key Condo Rentals can fill up fast. Click here and read more about Siesta Key Crescent Beach.
Turtle Beach Siesta Key: Located on the far south end of the barrier island, Turtle Beach Siesta Key is a large, comfy beach with lots of room to spread out. Bring a big, fluffy beach blanket, your cooler, beach umbrella, sunscreen and swimsuit. With lots of sand, lots of room, lots of water and lots of sky, the views at Turtle Beach Siesta Key are awesome and it can be less crowded at times. Click here to learn more about Turtle Beach Siesta Key.
Public Beach Access Points: There are an additional 13 public beach access points stretching along the Gulf of Mexico throughout Siesta Key on Midnight Pass Road and Beach Road. One of my favorite places is Public Beach Access Point #7. It's away from the main beaches and great for walks along the shore or just lying in the sun, listening to the birds, the gentle sounds of water lapping to shore and relaxing in paradise. You'll also find small public parking lots tucked in along Midnight Pass Road and Beach Road at Public Access Beach points. Pull in and park. Grab your beach chairs, lotion and towel and head out to the white, sandy strand and relax on the beaches near Sarasota Point and Sandy Cove or your favorite one of the day.
For snorkeling and diving, you'll want to try Point of Rocks, a scenic, shallow beach with rocks jutting up from the water and coral formations hosting marine life all fused together by mineralized water. This happens to be the largest rock formation of its kind on Florida's Gulf Coast. Point of Rocks is located at the far south-western tip of Crescent Beach and it's probably easiest to reach by walking south along Crescent Beach. There's a small Public Beach Access and tight parking lot at Crescent Beach, a few feet south of Stickney Point Road on Midnight Pass Road's west side of the road. By the way, parking and beach access are free at all Sarasota County beaches; A nice bonus from other Florida public beaches. Click here for more on snorkeling. And, here's more on diving in Sarasota.
Siesta Key Vacation Guide to Activities and Events

Looking for fun Siesta Key activities, events and happenings? From street festivals and art fairs to events at the beach, there are numerous fun activities throughout the year. In this Siesta Key Vacation Guide to Activities and Events we highlight the more popular events of the year. Click here for things to do in Siesta Key.
Siesta Key Vacation Guide to Siesta Key Village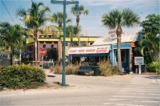 With about 100 stores, cafes, restaurants and bars, Siesta Key Village is one place you'll "need" (want) to explore here in our Siesta Key Vacation Guide! Click here for more on Siesta Key Village.
Siesta Key Vacation Guide to Select Siesta Key Restaurants

The Daiquiri Deck
Daiquiri Deck: After a day at the beach slide on down to Siesta Village and slip into the cozy daiquiri deck for a bite to eat and a tropical drink. During the hottest of summer months they have air conditioning units blowing cool air on the open air deck. Click here and read more about the Daiquiri Deck.

Turtle Beach Grill
Turtle Beach Grill: There's open air patio seating under a Tiki Hut Roof at the Turtle Beach Pub on the far south side of Siesta Key. I like the menu and atmosphere. This is a fun and friendly spot to cool your heels. Click here and read more about the Turtle Beach Grill.

Turtle's on Little Sarasota Bay
Turtles on Little Sarasota Bay: Here you can dine indoor or outdoor on the upper or lower deck, gazing out over both your meal and Little Sarasota Bay. The view is great from inside or out and there's an early bird menu as well. Click here and read more about Turtles on Little Sarasota Bay.
More Siesta Key Restaurants and Bars

The Old Salty Dog - 5023 Ocean Blvd
Cafe Gabbiano - 5104 Ocean Blvd
Village Cafe - 5133 Ocean Blvd
Hub Baja Grill - 5148 Ocean Blvd
Beach Club - 5151 Ocean Blvd
The Lobster Pot - 5157 Ocean Blvd
Big Olaf - 5208 Ocean Blvd
Bonjour French Cafe - 5214 Ocean Blvd
Jo-To Japanese Steak House - 5218 Ocean Blvd
Siesta Key Oyster Bar - 5238 Ocean Blvd
Flavio's Brick Oven - 5239 Ocean Blvd
Bella Roma - 5239 Ocean Blvd
Napoli's Italian Restaurant & Pizzeria - 5242 Ocean Blvd
Gilligan's Island Bar & Grill - 5253 Ocean Blvd
Blase Cafe - 5263 Ocean Blvd
Siesta Smieg's - 5263 Ocean Blvd
Aaron's Fish Camp - 149 Avenida Messina
The Cottage - 153 Avenida Messina
Another Broken Egg - 1140 Avenida Messina
Sun Garden Cafe - 210 Avenida Madera
Solorzano Brothers Pizza - 215 Avenida Madera
Boardwalk Eats & Sweets - 217 Avenida Madera
Sub Zero Ice Cream - 219 Avenida Madera
Eat Here - 240 Avenida Madera
Captain Curt's Crab & Oyster Bar - 1200 Old Stickney Point Road
Clayton's Siesta Grille - 1256 Old Stickney Point Road
Crescent Club - 6519 Midnight Pass Road
Anna's Deli - 6535 Midnight Pass Road
Javier's - 6621 Midnight Pass Road
Big Water Fish Market - 6641 Midnight Pass Road
Miguel's - 6631 Midnight Pass Road
City Pizza - 6645 Midnight Pass Road
Ophelia's on the Bay - 9105 Midnight Pass Road
Meaney's Mini Donuts - 201 Canal Road

Thanks for visiting my Siesta Key Vacation Guide. I hope we see you soon on sunny Siesta Key Beach, the #1 Beach in the USA!


From Siesta Key Vacation Guide to Sarasota Restaurants.
Escape-to-Sarasota Florida Home