Sarasota Attractions
Our Sarasota attractions are some of the best in the state as far as overall Florida tourist attractions go, and there are many, as our Sun Coast area is brimming over with fun things to see and do.
There will be so many choices that it will be hard for you to choose a favorite.

How much time do you have? Well, I predict that you'll run out of time before you run out of all of the area things to see and enjoy.
Some are free. But there are plenty to choose from as you tour around our little slice of paradise here on the Gulf of Mexico.
From shopping to nature to history, there's quite a diversity of things to enjoy. And I'll cover the big attractions and the not so big attractions, too.
So, sit back, relax and scroll down the page and take a look at our Sarasota Attractions.
Surely, there will be something here to tickle your fancy!
Sarasota Attractions
The Ringling Museum of Art / Sarasota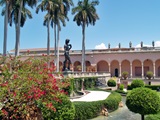 The John and Mable Ringling Museum of Art opened in Sarasota in 1931. John Ringling built the museum starting in 1927 to be a home to his extensive European and Renaissance Art Collection which he wanted to share with the public. One of the highlights of Sarasota attractions, for art lovers the Ringling Art Museum should be on top of your to do list when visiting Sarasota. Here's more, in words and pictures, about the Ringling Museum of Art.
The Ringling Circus Museum / Sarasota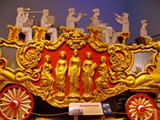 Stepping into the Ringling Circus Museum will whisk you away to another time...perhaps childhood memories, perhaps others. It's one of the Crown Jewels of Sarasota Attractions and also reveals the unique relationship between John Ringling, The Ringling Brothers Circus and the Sarasota and Venice, Florida areas. From the world's largest Circus Miniature to the private Pullman train car of John and Mable Ringling along with clowns and acrobats, high wire acts and famed animal trainers, click here to read and learn more about Sarasota's Ringling Circus Museum.

St. Armand's Circle / Sarasota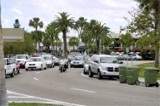 A finer place to spend a day or evening than St Armand's Circle I can not imagine. Located on St Armand's Key, just across the Ringling Bridge from the Bay Front of downtown Sarasota, the sights, sounds and aromas of the open air St Armand's Circle will overtake your senses instantly. Shop, dine and cavort in an outdoor setting. Take a tour of St Armands Circle, one of our Sarasota Florida Attractions.
Ring of Fame / St. Armand's Circle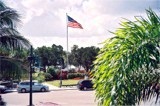 Another of our Sarasota attractions is our very own "Ring of Fame," located in the middle of St Armand's Circle, around Circle Park. What is a "Ring of Fame?" And why is it located on St Armand's Circle? The answers to these and other intriguing questions can be found along with more about the rich history of the "Ring of Fame" and a very special heritage that goes along with it in the Sarasota area. Here's more on the "Ring of Fame," one of our renowned attractions.
Marie Selby Botanical Gardens / Sarasota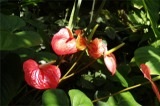 One of the "Crown Jewels" of our Sarasota attractions, Marie Selby Botanical Gardens has "acres of wonder" for you to enjoy along Sarasota Bay. From forests of Bamboo, to a Butterfly Garden, Mangroves and Banyan Groves to Palm Tree Gardens and from more than 6,000 Orchids to over 3,600 Bromeliads on display in living color; if you're a gardener, botanist, just a "green thumb," or a nature lover Here's more about these magnificent gardens.
The Asolo Theater / Sarasota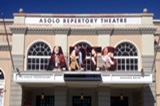 One of the few true repertory companies in the nation, Asolo Theater Sarasota presents a diverse repertoire of newly commissioned plays, bold reinterpretations of contemporary and classical works, and provocative new musical theater experiences each season. With its ambitious theatrical offerings and groundbreaking education, outreach and audience development programming, Asolo Rep is more vibrant and its work more relevant than ever before. Here's more on the Asolo Repertory Theater in Sarasota.
Myakka River State Park / Sarasota County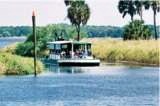 More than just one of another of our Sarasota attractions, Myakka River State Park is a spectacular nature preserve that, if you're a nature lover, is well worth spending a day at in and among the Hammocks, Cabbage Palms, tall grasses, nature trails and the Myakka River. From a Canopy Walk through the tree tops to a Bird Walk, there's much to absorb in this wilderness, one of the highlights of the Sarasota County region. Watch out for the 'gators. Here's more about this delicate yet awesome nature preserve.
Historic Spanish Point / Osprey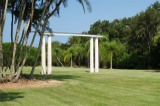 Walk back through 5,000 years of history to the days of pre-Floridians, the days of the pioneers and a modern 20th century visionary, all at Historic Spanish Point. From special exhibits, to a variety of outdoor gardens and houses built of an earlier era, there is much to absorb of historic value and on a walking tour of the beautiful grounds of Historic Spanish Point on Little Sarasota Bay. Read more and see pictures of Florida's past.
Big Cat Habit & Gulf Coast Sanctuary / Sarasota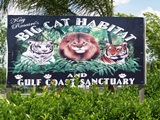 One of the great places to experience around Sarasota is the Big Cat Sanctuary known as the Big Cat Habitat and Gulf Coast Sanctuary. This is your chance to see, up close and personal, everything from big cats to a petting area with goats and pygmy goats. Lions, tigers, bears, monkeys, birds and much more can be found at this safe haven for animals that was started in 1987. Read, see pictures and learn more about the Sarasota Big Cat Habitat and Gulf Coast Sanctuary.
Mote Marine Aquarium / Sarasota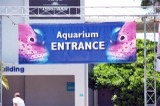 The nice thing about a visit to Mote Aquarium is you don't have to put on a deep sea diving suit or get into a research mini-submarine to see "out of this world sea-life." Mote Aquarium is open 365 days a year and that makes it pretty convenient when trying to plan a vacation schedule. There are some great exhibits including a 25-foot...well, wait... Read and see more about Mote Aquarium.
The Gulf Gate Area, Sarasota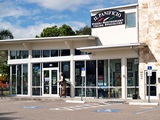 Sarasota's Gulf Gate district is one to explore for a change of pace. The few square block area is loaded with specialty and ethnic shops, restaurants and cafes along with bars and clubs which jump with the nightlife crowd. There's no shortage of pizzeria's here or Italian Restaurants plus several seafood places, steamer bar and Sushi bars. While many of the shops, brew pubs and businesses have been here for years there is enough turnover that makes for new adventures on return trips to this little Mecca. Click here to read more about and see pictures of the Gulf Gate area of Sarasota.

Historic Downtown Venice, Florida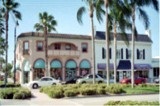 A walk though historic downtown, Venice, Florida is a step back in time and a perfect way to spend a delightful day. With a touch of "Old Florida" style shops to roam through, you'll be browsing for hours. And with plenty of restaurants and outdoor cafes, you're never far from food! There's even free parking in the middle of downtown just off Centennial Park. Here's a tour of Historic Downtown Venice, Florida.
The Downtown Sarasota Farmers Market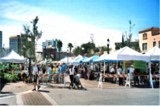 A fun little open air market is a great place to see new faces and meet new friends, purchase fresh foods, take a relaxing stroll and perhaps have your Saturday morning coffee or breakfast outdoors. Well, we just so happen to have such a place and occasion. Quaint? Yes. But it's one of our decades old Sarasota Attractions. It's our Farmers Market. Yes, there are farmers in Florida! Click here to almost smell the aromas and sweetness in the air at The Downtown Sarasota Farmers Market.
The Dome Flea Market / Venice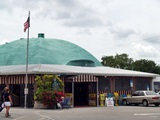 If you're into bargain hunting, browsing and shopping for everything from traditional to unique odds and ends, check out The Dome Flea Market. A landmark of Sarasota County for over 30 years, it features various and sundry booth vendors selling all kinds of wares from trinkets and knick-knacks to golf clubs and guns, jewelry, hats, clothes, home décor items and more. After 43 years The Dome CLOSED on July 16, 2017. Click here to see historic pictures and read more about The Dome Flea Market!
More Sarasota Attractions for Your
Entertainment and Delight!

Oscar Scherer State Park -

1843 S. Tamiami Trail, Osprey (941) 483-5956

 Phillippi Estate Park

- 5500 S. Tamiami Trail, Sarasota (941) 316-1309

Sarasota Classic Car Museum

- 5500 N. Tamiami Trail, Sarasota (941) 355-6228

Sarasota Jungle Gardens

- 3701 Bayshore Rd, Sarasota (941) 355-5305

Save our Seabirds

- 1708 Ken Thompson Pkwy, Sarasota (941) 388-3010

Historic Venice Train Depot

- 303 E. Venice Ave, Venice (941) 412-0151

The Bishop Museum of Science and Nature, 201 10th St W, Bradenton (941) 746-4131


Sarasota Attractions to Escape-to-Sarasota-Florida Home