Sarasota

Activities

Do a lot or a little...
Your level of adventure is up to you!
There are plenty of Sarasota activities to occupy your leisure time while you are here.
If you've never been on a Sarasota vacation before you may be asking, "wow, the sun coast is beautiful, but what is there to do?"
There's plenty to do! In fact, there's probably more to do than you'll have time for if you're on only a week vacation.
But, you can fill up your time quite nicely no matter what the length of your stay.
Shelling, swimming or sun worshiping on a chaise lounge, while cooling off with a tantalizing tropical rum punch drink with a little umbrella in it while on one of our sparkling beaches is one way.
And then finishing off a gorgeous day at the beach with a burger, grilled grouper sandwich and fries or a hearty steak or other culinary treat, is definitely one of the Sarasota activities that make a memorable day.
That may be all you want to do. And that's great. It's why you've come.
There's no better time than sitting down at the Casey Key Fish House enjoying a burger and beer while looking out over the marina at the intra-coastal waterway happenings.
But you may want to "get physical" and "de-laze" by getting involved in fun, adventurous, blood pumping, heart thumping activities.
If so, here are some of the Sarasota activities that should be on your list:

---
Sarasota Activities - Land
Beach Volleyball: One of the most fun Sarasota activities to participate in is a lively, action packed, fun-filled game of beach volleyball on our Sarasota Beaches. While most area beaches have at least one court, Siesta Key has multiple courts. Bring your friends and a cooler of cold drinks and start a game or be "bold" and ask if you can join in on one. Siesta Key also plays host to numerous tournaments though the year, from collegiate to professional. Click here and check out pictures and more about this fun pastime under the warm Sarasota sun.
Biking: The premiere spot to go biking in Sarasota is the Legacy Trail. This trail, which stretches from the north in a Sarasota area known as Palmer Ranch all the way south to Venice, also accommodates hikers, walkers and man's best friend. It's a long, scenic bike ride that winds through a Florida State Park, over a bay and over a bridge. Click here to pick up my best tips and read and see more about Sarasota Biking on The Legacy Trail.
The other place of scenic natural beauty in which to go biking is at Myakka River State Park, about 30 minutes east of Sarasota on US Rt. 72/Clark road. You can rent a bike at the Myakka Outpost or bring your own and then meander throughout the park, which should be on your Sarasota activities list anyway. Here's more on Myakka River State Park.
Other scenic bike rides worth considering:
Longboat Key: At about 11 miles long, you can ride and see both mansions and water at certain points along your path on Gulf of Mexico Drive.
Casey Key: With lots of twists and turns and a narrow roadway, you'll have spectacular gulf side views as well as beautiful real estate to observe on Casey Key Road; about 8 miles long.

Golf: With the great year round weather, you can golf almost anytime here in Sarasota. With county courses, public courses and private and semi-private courses, the choices are many for your Sarasota golfing adventures. Here's a listing of the courses and locations where you can hit the links. The bonus in coming to golf in Sarasota in off season is that the greens fees are lower, although the temperatures are higher. But, if you're not afraid of hot weather most all of the courses and clubs offer summer specials. Read and see more about Sarasota Golf.
Hiking: The best spot to hike in Sarasota County is by far Myakka River State Park. There are numerous trails that are of varying degrees of difficulty. Smack dab in the middle of nature, you can even take a hike through a sub-tropical forest, one of the easiest strolls in the park and also walk among the tree tops and climb an observation tower. While there are many fabulous beaches on which you can walk also, it's really not the same. And besides, if you're walking on a shore, we call it beach combing! Read and see more about hiking in Myakka River State Park and its nature trail.
Cigars: Looking for a unique experience that's not for everyone, only a select few? If you are the type who enjoys a fine cigar, a fine drink and fine atmosphere you might want to carve out a couple of hours to relax at the Corona Cigar Company Lounge in downtown Sarasota. It's not for everyone but if it floats your boat this can make for a fine experiencec There's nothing but the finest and widest selection of indulgenses here: cigars, libations, cozy lounges and like minded cigar afficianados. Check out my reveiw here of the Corona Cigar Company Lounge in Sarasota, Florida
Sarasota Activities - Land and Water
Fishing: One of the most widespread of Sarasota activities is fishing. With an abundance of fishing holes, almost as many as there are fish in the ocean, you shouldn't have a difficult time finding a place to drop a line. Whether from shore, from pier or from boat, fishing Sarasota and the surrounding sun coast area is truly a sportsman's or sportswoman's paradise. Many of the locations are also very picturesque settings of natural beauty, whether from Anna Maria Island to the Venice Fishing Pier. Click here to read and see more about fishing in Sarasota, a tropical paradise.

Sarasota Activities - Water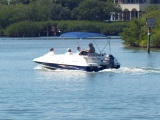 Boating: One of the best ways to relax is out on the open water and one of the best ways to be out on the open water is in a boat. If you don't have one or didn't bring one, don't worry. There are plenty of marinas located up and down the sun coast that will be happy to rent one to you for a full or half day. Then you can go out on your own adventure, whether on the intra-coastal waterway, the Gulf of Mexico or another special spot you may know of. Click here to find out more about getting out on the water in your own Sarasota Boat Rental.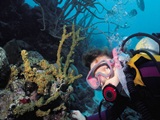 Diving: If you want to go scuba diving in Sarasota there are a multitude of wrecks, natural and artificial reefs and coral formations as well as an abundant variety of sea life for you to explore. Whether you rent your own dive boat or charter one, you will find the undersea offshore world of Sarasota a wonder to behold. The Sarasota area has plenty of dive shops and charters available to the avid diver or the beginner. Click here to read and learn more about diving in Sarasota waters!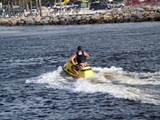 Jet Skis: Are you looking for some high throttle, high energy fun out on the waves? Jet skiing may be just what the doctor ordered; it's one of those close to the water, wet in the face, adrenaline-pumping, adventuresome water sports. Whether racing your personal watercraft parallel along the beach, wave hopping through the Venice Jetty, taking a slow ride through the intra coastal waterway or revving your way through New Pass, you're bound to rev up some fun exploring the coastal waters of the Sarasota area. Click here and read and see more about zipping around the Sarasota waters on a jet ski.
Kayaking: One reason for going on holiday, or vacation, is to relax and take the edge off. One way to accomplish this is by paddling your troubles away in a kayak. Sarasota is a haven for great places in nature in which to go kayaking. You can be right on the water and in some cases, if you get lucky, face to face with dolphins, manatees, sea birds and tropical birds. The options are yours: Paddle through a placid lagoon and a mangrove canopy, out on the gulf or wherever there is water. Read and see more about the variety of Sarasota kayak tours or adventures you may want to partake of.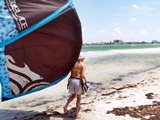 Kite Boarding: Want to ride the waves and the wind at the same time? Then you may be up for a little extreme sport known as kite boarding or kite surfing. As this sport becomes more popular we find more kite boarders around the suncoast. If you're just starting out, you'll find some tips here as well as how to find a professional to help you learn kite surfing. For more including tips and pictures check out this "extreme" page for this "extreme sport" called Kite Boarding.
Parasailing: A Sarasota activity that you should probably experience once, this is not as dare devilish as you might think. There's nothing like drifting high over the Gulf of Mexico some 600' to 1,000' in the air. The sites and shore and landscape are beautiful from this height and once you try it and get the parasail "high," you may want to "fly" a few more times. If you're the fearless sort you won't have any trouble the first time. If not so fearless, it's still worth talking yourself into it. One of the most unique and fun experiences you may ever have. Click here for more about parasailing fun off of Sarasota Florida.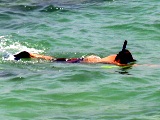 Snorkeling: If you've yet to try this water activity we have some great places for you to experience Florida snorkeling around Sarasota area waters. You can bring your own gear, buy it here or rent it at any number of outfitters. There's more than one place along the Sarasota coast to go snorkeling but only one that is the stuff of pirate legends. Click here to read more and see pictures about Florida snorkeling around Sarasota and her Keys.


From Sarasota Activities to Escape-to-Sarasota-Florida Home