Mama Leones
Every visit is a special treat!

Mama Leones is one of my favorite Sarasota restaurants around the entire Suncoast. One of a number of good Italian and Mediterranean style restaurants, it's a short drive from south Sarasota.
A sparkling clean, open and airy atmosphere with 4 dining rooms, a bar and lots of windows, "Mama's" will be a restaurant and meal that you'll remember.
The service here is usually top notch. The food is delicious. For a fine Sarasota dining experience such as this, the menu prices are reasonable and the servings generous, in my opinion.
I have dined at Mama Leones frequently over the years and have sampled a number of their Italian specialties, which have become personal favorites.
The menu is wide ranging enough to make it hard to decide on what to order.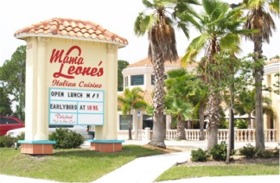 The Mama Leones Experience

Let me give you a rundown of my experiences: upon being seated, your server will take your drink order. (If you get seated before 6 p.m. you can take advantage of 2 for 1 happy hour drinks.)
In the meantime you'll receive a basket of fresh, warm Italian bread and olive oil dipping sauce, so you can dip and munch while you peruse the bill of fare.

A nice touch at Mama Leones is that with a number of dinner entrées from the regular menu (not the "early bird" menu), not only do you receive a fresh, cold and crisp green garden salad, but also an order of Mama's Bruschetta, an Italian appetizer bread, topped with olive oil, garlic, plum tomatoes, basil and oregano. It's their own recipe and it's very yummy.
Another appetizer that I have enjoyed is Mozzarella Caprese, which is fresh mozzarella cheese with tomatoes, basil and olive oil. The mozzarella is so fresh, rich and milky that it melts in your mouth. Mmm..
Those were the easy choices; the appetizers. But the really big job is ordering the main course because there's so much to choose from.
More on Mama Leones in Nokomis

My personal favorites for the main course are the Veal Parmigiana or Chicken Parmigiana.
Both entrées are large servings that come on a platter along with a side of your choice of pasta.
The veal and chicken are perfectly cooked, topped with Mama's homemade marinara sauce, mozzarella and parmigiana cheese.
Did I mention that you can get full on a meal such as this? You really can.
Another delicious dinner I have ordered several times is Mama Leones Pollo Scarpariello. This dish is a combination of roasted chunks of boneless chicken breast with red, green and yellow peppers, mushrooms, onions and herbs.
It's served in a large pasta bowl and you also get a side dish of your choice of pasta with this dinner entrée. This is truly not only a delicious meal, but a filling one as well.
Other recommendations from those I've dined with include: "Penne Aurora" which is made with chopped asparagus, baby shrimp, shallots, and garlic in a pink sauce, over penne pasta and "Rigatoni alla Vodka" (yes Vodka), which is made with imported prosciutto, onions and fresh tomatoes in a creamy vodka sauce. Friends rave about that one!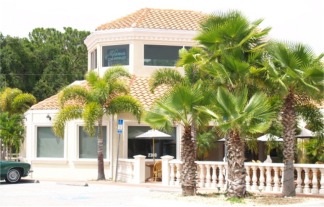 The menu also covers other traditional Italian specialties like: Ravioli, Manicotti, Stuffed Shells, Lasagna and Pizza, with the sauce, toppings and dough prepared fresh daily.
You'll also find Filet Mignon, Rack of Lamb and Mama's Seafood on the menu at "market price."
Desserts? They have all the Italian specialties on the menu that you would expect, from Cannoli to Spumoni.
There's even a nice selection of grinders on the menu, which are 10" New England style subs, served hot or cold on an Italian sub roll, that are priced from $6 - $6.75. They're served from 11 a.m. to 5 p.m. Here's an idea: Order ahead and pick them up to take along with you to Nokomis Beach for a picnic lunch at the seashore!
In any case, make sure you come here hungry; after all, that's how Mama would want it! There's full bar service as well as an extensive wine list.
For its sparkling clean Italian-Mediterranean atmosphere, top notch service, delicious food and reasonable prices, Mama Leones, in Nokomis, is one of my favorites of all Sarasota Restaurants and my overall favorite Italian Restaurant in the area.
What's your favorite Sarasota dining spot? What's the best meal you've had there? Let others know about your recommendations by writing your own Sarasota Dining Review. Share your favorite now!

Reservations are accepted only for parties of 8 or more.
Hours: Open daily for lunch and dinner and the "Early Bird" and Happy Hour are from 4 p.m. - 6 p.m.
Directions to Mama Leones in Nokomis: From Sarasota drive south on U.S. Rt. 41 to Nokomis. Mama's is on the east side of Rt. 41 at 2300 Tamiami Trail North. You can also take I-75 to the Osprey/Nokomis exit, S.R. 681, and get off 681 and on to U.S. Rt. 41 at the Osprey exit. The restaurant is a couple blocks north on the right. (941) 918-9799 (941) 918-9889.

From Mama Leones to Sarasota Restaurants Main Page

Escape-to-Sarasota-Florida Home