Mar Vista Restaurant
A Waterside and Picturesque Taste of Old Florida!

Mar Vista Restaurant and Pub, dockside, on north Longboat Key sits right on the northwest shore of Sarasota Bay, almost to Anna Maria Island.
This dockside waterfront restaurant, a true slice of old Florida, is rustic, woody and quaint.
Old Florida? Yes. In fact, Mar Vista Dockside Restaurant and Pub goes back a while, to 1912 when it was first constructed.
I had been trying to get here for quite a while and as it turned out, it was a Saturday afternoon in Early October when I finally made it there.
My dining companion and I chose the outdoor covered, open air deck at Mar Vista. You can also have lunch or dinner under the tree canopy closer to the water.
Mar Vista Restaurant and Pub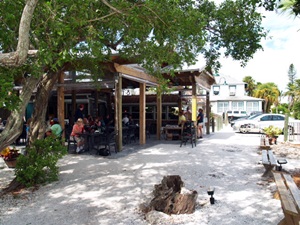 All in all it's a lovely waterfront setting.
You may also dine indoors, although I didn't stick my head inside to see the dining room's size or the rest of its rustic appearance.
The day we were here just so happened to be the windiest day of the year.
In fact the wind blew the menus right off our table. So being the smart folks we were, we placed our tall tumblers of iced tea on the menus to keep them from blowing away again.
The wind simply lifted the menus off the table and over turned the large tumblers. Iced tea all over the place!
Fortunately, our waiter, Caleb, was nearby, saw the mini-disaster and was quickly table-side with towels to mop up. No damage.
During a much calmer day, Mar Vista Dockside Restaurant is a very special locale in which to have an outdoor lunch or dinner.
Longboat Key Waterfront Restaurant Dining

But we were here for lunch and after we dried off my order of the day was from the seafood portion of the lunch menu.
You may also choose from appetizers, salads and sandwiches with overall prices running from a cup/bowl of Lobster Bisque or New England Clam Chowder at $3.50/$5.50 to a Seafood Steamer Pot with 1 Snow Crab Cluster, Dungeness Crab, 6 Mussels, 6 Shrimp and a Maine Lobster Tail in Old Bay for $32.99.
Sandwiches at Mar Vista Restaurant are in the $7.99 to $10.99 range for a Maryland Style Crab Cake Sandwich.
My decision from the menu was going to be a hard choice between a Turkey Bacon Club for $9.99 or Shrimp Scampi for $13.99.
Because we were sitting right at water's edge in such a beautiful seaside location I opted for the Shrimp Scampi.
Shrimp Scampi at Mar Vista Restaurant and Pub is their own version and is as different as every other time I've ordered this dish anyplace else. There's no one style or recipe.
Mar Vista Restaurant's Shrimp Scampi came with a half dozen large gulf shrimp, sautéed along with tomatoes and herbs in white wine and garlic butter and a light tomato sauce over linguine pasta. And it was delicious. Mild and delicate with a light, tasty sauce.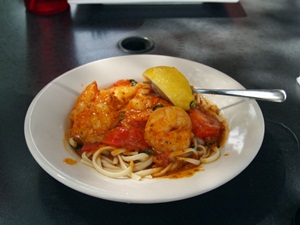 The only thing I would add is that the sauce was so delicious I wish it was of a thicker consistency. That's just my preference. I like sauces with a little more body.

And it would have made a nicer lunch if the entrée had come with a small green salad and a slice of garlic bread or toast.

But all in all, Mar Vista Restaurant's Shrimp Scampi hit the spot and was a tasty lunchtime meal.
And it was original; different from everyplace else around the sun coast where I have had the dish.
Each restaurant has its own version and it's a culinary adventure to sample each chef's creation. From my experience I have found that there are no two versions alike.
My lunch companion enjoyed her Chicken Salad ($9.99) which was a pretty standard recipe of chicken, herbs, mayo, celery and onion served on a nice bed of lettuce alongside a nice size serving portion of fresh tropical fruit. Nice and colorful.
The Mar Vista Restaurant lunch menu also features Grouper in two forms; as a Quesadilla ($13.99) or as a sandwich (market price).
There is also a half-pound angus beef Mar Vista Burger ($8.99 with choice of fries, coleslaw or chips) along with Chicken Sandwiches, Crab Pasta Salad, a large Appetizer menu with everything from Buffalo Wings to Seared Tuna, Peal and Eat Shrimp, Oysters, Mussels, Calamari and more.
The dinner menu is more substantial and pricier, featuring Steaks ($19.99 - $23.99), Caribbean Grilled Chicken ($15.99) and Chicken Alfredo ($16.99).
There are more Steamer Pot choices (up to $36.99 at this writing) and a much wider variety of Seafood dishes including Chilean Sea Bass ($28.99) along with lesser priced soups, salads, sandwiches, and burgers.
Dinner menu prices at this writing range from: Lobster Bisque or New England Clam Chowder at $3.50/$5.50 cup/bowl to the Mar Vista Seafood Platter ($22.99) featuring Golden Fried Fish, Shrimp, Scallops, and a Crab Cake, served with Hushpuppies to a Red King Crab Legs 1½ lb Pot ($36.99).
They also feature a gluten free dinner menu option.
Mar Vista Dockside Restaurant has a full bar and you can enjoy everything from beer to rum runners, wine and your favorite tropical specialty drinks.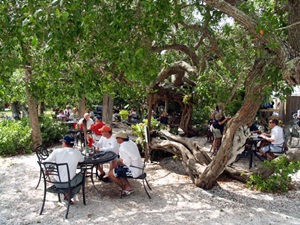 If you've been looking for Margaritaville this is about as close as you're going to get to it.
Nighttime dining must be gorgeous with lights throughout the trees and outdoor patio-deck. Maybe we'll try dinnertime next trip.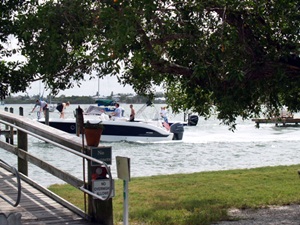 For its beautiful Sarasota Bay side setting, fast, friendly service and staff we experienced and a very good afternoon lunch, I suggest you put this old Florida restaurant on your list of places to dine for lunch or dinner.
Of Sarasota Restaurants in the larger sun coast region, it's definitely worth a drive to this Longboat Key waterfront restaurant.
One word of caution: Check a wind sock before you go!
Hours: Mar Vista Restaurant and Bar: 11:30 a.m. - 10:00 p.m. - Happy Hour: 4:00 p.m. – 7:00 p.m.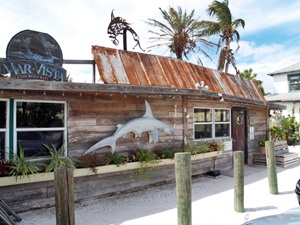 What's your favorite Sarasota dining spot? What's the best meal you've had there? Let others know about your recommendations by writing your own Sarasota Dining Review. Click here to share your favorite!

Directions from downtown Sarasota: Drive over the Ringling Bridge and onto St. Armand's Circle. As you come on to the Circle bear to the right and follow Rt 789 across the bridge on to Longboat Key. Continue north on Gulf of Mexico Drive all the way to the north end of Longboat Key and the area of Whitney Beach. At Broadway Street turn right and follow to Mar Vista, almost to the end of the street. There's free parking in back, in front and on a side street. During high season, finding a parking spot could be a challenge, so allow extra time. If you're coming by water look for ICW Marker 39. Mar Vista Restaurant is at 760 Broadway Street, Longboat Key, 941-383-2391.

From Mar Vista Restaurant to Sarasota Restaurants

Escape-to-Sarasota-Florida Home