Mi Pueblo Restaurant...Ole!
Good Mexican food in a fun atmosphere...
Mi Pueblo Restaurant serves authentic Mexican food in a fun, friendly, fast paced atmosphere, much like a Mexican fiesta!
I've dined here many times and have always found it enjoyable and one of the more entertaining places in my Sarasota dining guide.
Good food, fast and friendly service are the bywords here.
There are three locations around the Sarasota-Venice area, so there's probably one close to you.
I like Mi Pueblo because the food is delicious and reasonably priced.
And, if you happen to be there on an evening when the live Mariachi Band is strolling through the main aisle of El Restaurante it's an added bonus.
They have 3 or 4 in the band, are talented and entertaining. If there's someone in your dinner party who's having a birthday the Mariachis will gladly sing "Happy Birthday." In Spanish it's known as "Feliz Cumpleaños." They do other fun, traditional Mexican songs as well.
Few Sarasota Restaurants have that! It's a lot of fun.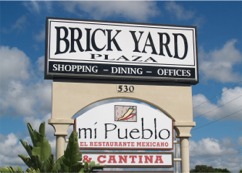 One thing you might take note of is that I am writing about the Venice location of Mi Pueblo Restaurant. At this location there is usually a waiting line forming even before doors open for dinner at 5 p.m.
Once you are seated your server will bring you a basket of complimentary Tortilla Chips and Salsa for dipping and take your drink order.
The chips are served warm and hit the spot while waiting for your drink, which, in my experience, comes pretty quickly, as service is one of the things they excel at here at Mi Pueblo Restaurant.
Are you going to pass up ordering a Margarita in a place like this? I hope not! They go terrifically with the Tortilla Chips and Salsa dip. Tangy meets Tangy! Or should I say Tangy meets Tango?!
Mi Pueblo Restaurant & Cantina

The menu is large and varied with everything from appetizers, soups and salads to specialties of the house like Steak!
This one, in particular, is called: Carne Asada Chihuahua Style: which is actually a sirloin steak, specially prepared and seasoned as it would be in Chihuahua, Mexico.
It's then grilled to your taste and served with some spicy pico de gallo, (Spanish) rice and re-fried beans. I've had this dinner and it is very yummy. Now there's a specialty!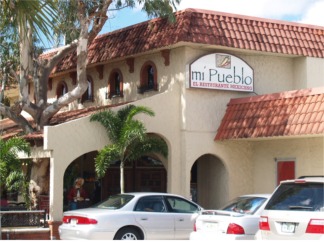 Other specialties of the house at Mi Pueblo Mexican Restaurant include Monterrey Chicken (Pollo Monterey) and Fajitas, which you can order with your choice of steak, chicken, shrimp or veggies.
I like ordering the Fajitas because I like hearing the sizzle that comes with them as well as smelling the delicious aroma of this dish. Don't touch the platter - HOT!
Now, there are usually so many tempting things to order on a menu like this that it makes it a little hard to decide on what to have, especially if you'd really like to try more than just one menu item without looking like -- how shall I say it delicately…hmmmm...like a pig! (Oh, well: there, I said it!).
So, what I do is I order the Platos De Combinaciones (Combination Platters) and this solves the "looking like a pig" problem for me!
With the Combination Platters at Mi Pueblo Restaurant you can choose any two or three menu items to make your combination platter and Mi Pueblo Restaurant also serves sides of Mexican Rice and Refried Beans with your entrée.
I like the combination platter that I design for myself consisting of a delicious hard shell Taco and a Chicken Chimichanga, made with shredded chicken.
I'm not big on the beans so I unusually ask for a double order of rice and they have always accommodated my request.
So, this combination platter along with the side dishes usually do the job and satisfy the hunger.
Other Mexican specialties on the menu at Mi Pueblo Restaurant include Burritos, Quesadillas, soups and salads, including their Taco salad which comes served in a large deep friend tortilla shell filled with all your favorite salad fixin's. The ladies seem to adore this salad. With beef or chicken it's only $8.95.
There's definitely enough here on which to fill yourself, without looking like...(well, you know what!)… at prices that won't break your wallet.
You should be able to walk out of Mi Pueblo Restaurant happy and full.
Two things about Mi Pueblo Restaurant: their service is muy pronto (very fast) and they are one of the top Sarasota restaurants for traditional Mexican food.
For a fun Sarasota dining experience along with a happy, traditional Mexican atmosphere, good service and reasonable prices, delicious Mexican food, a wide variety on the menu, sometime strolling Mariachis and the Margaritas, check out Mi Pueblo restaurant - it all makes for a fine dining and entertainment experience - your own little fiesta!
By the way, at the Venice location there's also outdoor seating in a picturesque courtyard setting, weather permitting.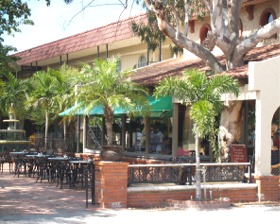 I've only dined at the Mi Pueblo Restaurant location at the Brickyard Plaza in Venice and I found it to be very good on numerous occasions. I would be surprised if the other two locations didn't live up to my experiences there.
Tips: If someone in your party is celebrating a birthday and the Mariachi Band is on hand, make sure they sing their version of Happy Birthday! Ole'
If the Mariachi Band comes and plays at your table and takes your request it's always a nice gesture to tip them.
What's your favorite Sarasota dining spot? What's the best meal you've had there? Let others know about your recommendations by writing your own Sarasota Dining Review. Click here to share your favorite!

Hours: They open for lunch weekdays at 11 a.m, weekends at noon and for dinner at 5 p.m. At their Palm Plaza location they don't close between lunch and dinner as at the other two locations.

Locations: Mi Pueblo, El Restaurante Mexicano and Cantina, University Walk, 8405 Tuttle, Sarasota (941) 359-9303 and Palm Plaza, 4436 Bee Ridge, Sarasota (941) 379-2880, In Venice: Brickyard Plaza location on the U.S. Rt. 41 Bypass South (941) 486-0005.
Directions to Venice Mi Pueblo: From north of Venice simply take Rt 41 south and then the Rt 41 south Venice Bypass. Stay on the By Pass until you come to the Brickyard Shops. Turn right. Find parking.

From Mi Pueblo Restaurant to Sarasota Restaurants Main Page

Escape-to-Sarasota-Florida Home