Nokomos Sunset Hut in Nokomis

Food, Drinks, Live Music & Fun with a Great Water View!

The Nokomos Sunset Hut in Nokomis is a Tiki hut waterfront bar and restaurant off the beaten path of being "right on the beach " or "just off the beach" but it's still right on the water with beautiful views of Dona Bay.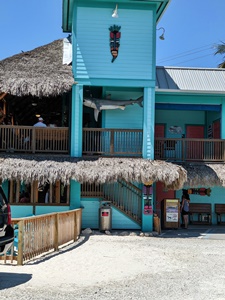 Nokomos Sunset Hut Nokomis, FL
A Tiki Hut styled bar and grill snuggled in directly alongside Route 41 south in Nokomis, it has that tropical vibe going for it with 2 floors of beautiful waterfront views.
There's easy boat access, too. After marker 1, just follow the buoys! WAYPOINT: N27 07.055, W82 27.040 and there are 2 parking lots with an over flow parking lot right next door, an easy walk to the entryway.
Pull up a chair at the bar, or be seated at a table, kick back and relax to the light breeze provided by the numerous ceiling fans. Caribbean or Floribbean, the look, sound and feel will put you at ease as you order your first Margarita or other tropical drink.
Live music, being played on the ground level, can be heard throughout. You can definitely get the vibe when the Jimmy Buffet tunes are played.

Nokomos Sunset Hut Tiki Bar, Nokomis, FL
I was surprised at the large, varied, and extensive menu of both food and tropical drinks. So many choices. (So little time!). From appetizing Shrimp Cocktail, Clam Chowder, Nachos or Fish Dip to Flat Breads, Fresh Salads, Tacos, Steamer Bar (Peel & East Shrimp, Clams and more), Hand helds (Philly Cheese Steaks to Lobster Roll and Salmon BLT0s and more), Burgers & Sliders and Entrees like Pulled Pork Luau, Land & Sea Luau, Aloha Salmon and Caribbean Shrimp Luau, not to mention others.

Accompanied by a buddy for lunch about 3 p.m. on a Sunday afternoon after coming back from Nokomis Beach, we found the establishment's tables full with a half hour wait, so we walked upstairs and sat down at the bar without a problem.
An alert and attentive bar tender brought us our drinks right away, a Land Shark Beer (draft $4.95) for my friend and an Amber Bock (draft $4.95) for me.
Nokomos Sunset Hut in Nokomis
Nokomos Sunset Hut upper floor, Nokomis, FL
We perused the menu while sipping on our cold, frosty beers. What would it be for this late lunch? I didn't feel like having a burger or a hand held sandwich this time out, but something more creative.
I opted for a delicious sounding dish from the menu; the Caribbean Shrimp Luau ($18.95)! The description reads: "Delicious seasoned shrimp on a bed of seasoned yellow Spanish rice, sazon black beans, sautéed sweet onions, sautéed red & green peppers & island sauce; surrounded by crunchy tortilla chips."
And, it was delicious. Exactly as described, featuring a dozen cooked shrimp on top of the bed of rice and beans with the peppers and onions and chips made for a tasty treat. They included a salsa type dip and a hot pepper sort of flavoring to sprinkle over the shrimp.
What's your favorite Sarasota dining spot? What's the best meal you've had there? Let others know about your recommendations by writing your own Sarasota Dining Review. Share your favorite now!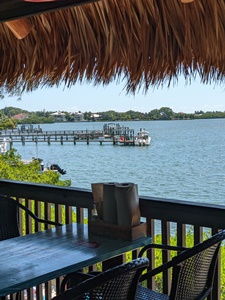 Nomomos Sunset Hut on Dona bay, Nokomis, FL
My buddy, Steve, ordered Fish Tacos; they were Mahi Tacos ($16.95); 2 toasted soft shell tacos, lightly blackened Mahi Mahi, lettuce, tomato, homemade creamy lemon & lime sauce, accented with purple cabbage strips and a lime wheel. He said it was filled with a lot of Mahi and delicious.
Despite the fact that the Nokomos Sunset Hut was packed the food we ordered came to our seats at the bar in short order, surprisingly quickly, probably not more than 10 minutes. Impressive for the size crowd on the 2nd floor along with us.
It was a delightful time with an open air atmosphere and live music below that was not so over powering loud that you couldn't have a conversation over your lunch. Fast bar service. Fast food service. You can't beat that. Food prices are mostly in the mid to upper teens at the Nokomos Sunset Hut on Dona Bay.
Check it out.
Hours: Mon - Thurs: 11 a.m. - 10 p.m., Fri - Sat: 11 a.m. - 11 p.m. Sun: 11 a.m. - 10 p.m.

Nokomos Sunset Hut is right along side Rt 41 south in Nokomis on Dona bay at 690 S. Tamiami Trail, Nokomis, FL 34275.
Directions: From Sarasota follow U.S. Rt. 41 south to Nokomis. Nokomos Sunset Hut is just south of Albee Road on your right hand side (west).


From Nokomos Sunset Hut to Sarasota Restaurants

Escape-to-Sarasota-Florida Home