A Sarasota Boat Rental - The Freedom to Find Your Own Adventure on the Water!
As an option a Sarasota boat rental is one of the best ways to see the Sarasota and sun coast area from the water.
If you don't own a boat the next best thing is a Sarasota boat rental which you can rent from any number of marinas along the Sarasota and intra-coastal waterway, islands and keys from Casey Key to Siesta Key to Longboat Key and Anna Maria Island.
There are many places from which to rent.
There are also many places to explore and sites to see from on the water, whether it is on the Gulf of Mexico, while navigating the intra-coastal or exploring the Sarasota Bay area, which is an estuary.
An estuary is a body of water that is connected to both a river and the sea. (By the way, nearby Tampa Bay is also an estuary.)
A Sarasota Boat Rental can provide the mobility on the open water to get you into places you might not otherwise be able to get to so you may site see from a different perspective and you might see wildlife that you might not otherwise get to see.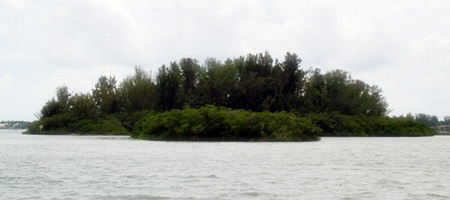 Where to explore with your Sarasota Boat Rental
Here are a few suggestions as to places you might want to try for exploring, adventure, site seeing and fun:

Edwards Island off of Siesta Key's Robert's Bay near the intra-coastal, close to the North Siesta Key Bridge - you can explore nature and the Eco-environment.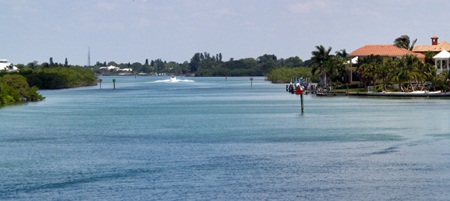 Cruising around Sarasota Bay and taking in the wild life from the bird life to sea life including manatees and the dolphins that make Sarasota Bay their home

The various "party coves" on the water; at the Venice Jetty on the intra-coastal waterway; at New Pass, the waterway leading to the Gulf from the intra-coastal waterway between Longboat Key and City Island/Lido Key; at Beer Can Island just off north Longboat Key and various other spots where friendly boaters gather.
A scenic ride around the luxury waterfront homes on Bird Key on Sarasota Bay.

Where south Tampa Bay meets north Sarasota Bay off of Anna Maria Island.
Just off of Lido Key's south Lido Park where you can drop anchor and survey the scenery and jump ashore and have a picnic lunch in the shade of the trees.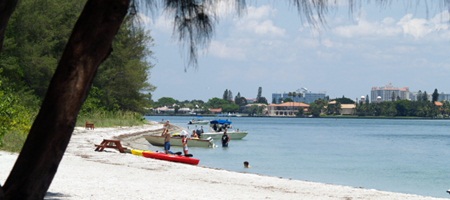 Drop anchor at a special spot you find and wade ashore to do some exploring and shelling on your own.
Wind your way through and alongside the mangrove forests and islands on the intra-coastal waterway that are bird sanctuaries for everything from pelicans and herons to egrets and osprey.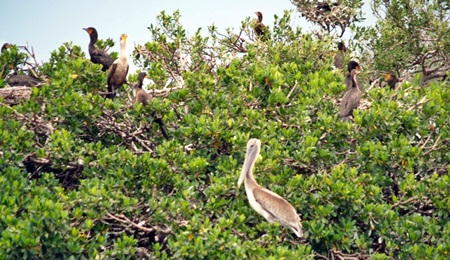 An up close site seeing visit to the John Ringling Causeway Bridge.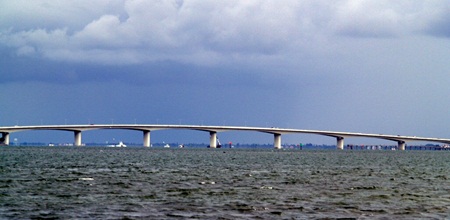 A day on the water can provide pretty much whatever you desire: whether it's fun, peace and quiet, excitement and adventure, communing up close with nature, or just the "experience" of being on the open water while taking in the sun shine and the fresh salty sea air.
Sarasota Boat Rental Rates Vary

Full day boat rental rates can range from around $200 - $400 depending on the size of the boat and how many people it will accommodate. Half day rates can range from around $150 - $300 depending, again, on the size of the boat and how many it will accommodate. These rates are just some general guidelines. You may be able to find lesser rates.
If you've never piloted a boat you might want to check out this U.S. Coast Guard site for safe boating tips.
All in all, it can be a wonderful and memorable experience to be out on the water. I always enjoy it and as you can see from this page you can also get some wonderful scenic and nature pictures. That makes it doubly worthwhile for me.

And feel free to share your story, adventure and pictures with us here on my page for "your Magic Moments!"
So, enjoy and be safe! 


Sarasota Boat Rentals to Sarasota Activities 
Escape-to-Sarasota Florida Home