The Breakfast Cottage in Nokomis

The Breakfast Cottage in Nokomis is a quaint, colorful, and cozy place to have breakfast or lunch, indoors or outdoors on the deck under the trees, with a delicious menu of treats and favorites that look, smell and taste great.
My visit here was on a Labor Day Holiday Weekend morning when I was the first hungry customer in the door to be seated in the bright-with-Florida-colors dining room. It didn't take long for more diners to show up. One of their past regular customers was celebrity Rosie O'Donnell, when she lived on nearby Casey Key. Local lore tells of numerous diners having pleasant and friendly encounters with Rosie at The Breakfast Cottage.

The attentive waitress brought me that first early morning cup of hot coffee fast. With that cup of coffee in hand it was now time to survey their board of fare but I knew what I would order before even opening the menu. You see, I'm a pushover for Eggs Benedict, especially since I don't often get a chance to go out for breakfast due to a full time work schedule. But I thought I would take a look at their menu anyway to see, if possibly, it could entice me into something other than the Eggs Benedict I was craving.

What's your favorite Sarasota dining spot? What's the best meal you've had there? Let others know about your recommendations by writing your own Sarasota Dining Review. Share your favorite now!
The breakfast menu has all the favorites you might imagine. From a selection of 7 different big fluffy omelets including western and Greek, Tuscan and Key West to their house originals like biscuits and gravy to fluffy pancakes like their Bacon Crumble Chocolate Chip Cakes and french toast to their signature oatmeal, Quiche of the Day: served with potatoes or grits, Sweet or Spicy Shrimp and Grits.

There's something here for the pickiest eater with healthy menu item options as well like their Signature Oatmeal topped with granola, homemade blackberry compote, fruit and caramelized sugar choice of toast or freshly baked biscuit. ($8.49).
My favorite breakfast dish, Eggs Benedict ($11.99) comes in 6 variations at the Breakfast Cottage including my favorite version, the traditional, but you can order the dish Country-style with bacon or turkey-bacon. I ordered it with bacon. For the well healed they also offer the Eggs Benedict Key West ($16.99), a classic Lobster and Shrimp Benedict.
The Breakfast Cottage in Nokomis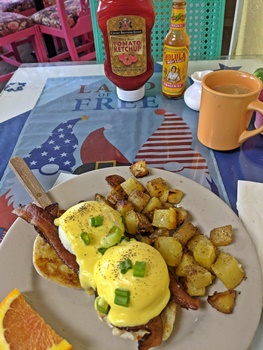 My Traditional Eggs Benedict Breakfast, with bacon, was outstanding. The eggs were poached just right and everything came together from there, served with your choice of potatoes or grits, it's a can't miss, delicious and filling breakfast.
The Breakfast Cottage also has a tasty lunch menu of favorites like,from the lighter side, fresh salads plus soup and sandwich selections that include a BLT with smoked apple-wood bacon, lettuce, tomato and mayo on choice of bread (make it a turkey BLT for +$2.00.) ($8.99), Grilled Vegetable Focaccia Baguette: grilled vegetables with melted provolone and lemon-herb Aioli. ($8.59), French Dip: thinly sliced roast beef on a Focaccia baguette with melted provolone served with a side of house au jus for sipping and dipping. ($11.99) and more.
With delicious breakfasts, good hot coffee, fast and friendly service and a colorful and fresh atmosphere, try the Breakfast Cottage in Nokomis.
Note: They are especially busy on special days like Mother's Day.
Hours: 7:30 a.m. - 2 p.m. everyday
The Breakfast Cottage in Nokomis, 2301 N Tamiami Trail, Nokomis, FL 34275
Directions: From Sarasota follow U.S. Rt. 41 south to Nokomis. The Breakfast Cottage is on your right hand side (west).

From The Breakfast Cottage back to Sarasota Restaurants

Escape-to-Sarasota-Florida Home