2019 August Sarasota Events Calendar
The August Sarasota Events Calendar - A listing of fun, free or inexpensive, Sarasota happenings around the sun coast.
August 1 - 3, 2019: The Ringling Museum presents their Summer Circus Spectacular. It's presented in collaboration with The Circus Arts Conservatory of Sarasota. The Summer Circus Spectacular highlights some of the finest circus acts from around the world .Various show days and times. Tickets are $16 Adults/ $12 Children 12 and under. The Historic Asolo Theater, 5401 Bay Shore Road, Sarasota, FL. 941-358-3180. Click here for show days, times and more info.
August 1 - 3, 2019: Enjoy watching the Florida State DanceSport Championships. Celebrate their 47th Anniversary of the Triple Crown Dance Sport Event, the first and longest running DanceSport series in the world. The event also features country & western, 2-step, cha cha, waltz, east coast swing and much more in 2 age categories and all levels.The venue remains the Ritz-Carlton,  1111 Ritz-Carlton, Sarasota, FL (941) 753-7940. More details and tickets here.
© Copyright 2007-2019 www.Escape-to-Sarasota.com LLC. All Rights Reserved. Protected by U.S. and International Copyright Laws. DO NOT COPY FROM THIS SITE


August 2, 2019: The Lakewood Ranch sponsored Music on Main Street free monthly street party is from 6 p.m. - 9 p.m. There will be beer, wine and food sales. Bring your chairs, but leave coolers at home. Dogs are welcome, but must be kept on a short leash. Overflow parking is available at the Lakewood Ranch Medical Center. Lakewood Ranch is off University Parkway east of I-75.
August 2, 2019: Join Venice Institute for Performing Arts and Venice MainStreet, Inc. for  the Gazebo Starlight Cinema series with the showing of Mrs. Doubtfire. Movies start at sundown in downtown Venice's Centennial Park. Bring blankets, chairs, and the whole family to kick off your weekend and enjoy these FREE monthly movies in the park! 7:30 p.m. - 10:30 p.m. 200 W Venice Ave, Venice, FL

August Sarasota Events
August 2 - 4, 2019: It's the Tampa Bay Comic Con, a huge event for fans and aficionados of everything comic books! The weekend will be filled with celebrity guests and appearances. Friday: noon - 12 a.m., Sat: 9 a.m. - 12 a.m., Sun: 9 a.m. - 5 p.m. 3 Day Weekend pass: $60, Single day: $30 for Friday, $40 for Saturday only and $30 for Sunday only. Tampa Convention Center, 333 S. Franklin St., Tampa, FL. Click here for more info.
August 3, 2019: It's the 5th Annual Manatee County Pet Adopt-A-Palooza, Manatee County's Largest One Day Adoption and Pet Expo and will feature over 100 adoptable puppies, dogs, cats and kittens from Manatee County Animal Services (MCAS), local shelters and animal rescues - all under one roof. Manatee County license tags will be for sale and specialty retailers and fun pet vendors will offer pet related products. Food, drinks and lots of family fun. Pet toy donations welcome. 11 a.m. - 4 p.m. Admission and parking are free. Bradenton Area Convention Center, One Haben Boulevard, Palmetto, FL. More info: 941-713-3105. August Sarasota Events on Escape-to-Sarasota.com
August 3 - 4, 2019: You're invited to Repticon Sarasota 2019, a two-day expo highlighting reptile shows, events, activities and sales. You'll have a chance to see live reptiles from around the world plus the chance to purchase pets and supplies direct from experts. Saturday: 10:00 a.m. - 5:00 p.m. (VIP Entry at 9:00 am). Sunday: 10:00 a.m. - 4:00 p.m. (No VIP Early Entry). Various ticket prices on line and at the door. Sarasota County Fairgrounds, Robarts Arena, 3000 Ringling Blvd., Sarasota, FL.   August Sarasota Events on Escape-to-Sarasota
August 4 - 10, 2019: Real Sharks, Real Science! Celebrate the 5th annual Shark Days at Mote Aquarium with a full slate of education and entertainment along with real sharks and real science. Learn about the science behind these incredible animals and ask questions of Mote shark experts. The celebration will include jaw-some fun for the whole family. Mote Aquarium, 1600 Ken Thompson Parkway, Sarasota. (941) 388-4441. Click here for more info.
There are numerous recurring, fun things to do in Sarasota throughout the year. Click here for my list of recurring Events in Sarasota!
August Sarasota Events
August 5, 2019: It finally got too hot in August  – so they've moved Very Merry Jerry Day to November 3, 2019. - There's a party going on called Very Merry Jerry Day, the 10th annual, in fact, to celebrate and remember the late Jerry Garcia of the band The Grateful Dead. Community radio station WSLR sponsors the annual commemoration with live bands performing. Musicians honoring the Dead this year will include the Stumble Creek and Ship of Fools. Admission: $12 in advance/$15 door. 5 p.m. - 10 p.m. Doors open at 4 p.m. Fogartyville Community Media and Arts Center Patio, 525 Kumquat Court, Sarasota. August Sarasota Events on Escape-to-Sarasota.com
August 8 - 10, 2019: The 2019 Sarasota Slam is taking place with Wahoo, Tuna, Grouper, Snapper, Trout, Redfish, Offshore and Inshore Divisions. There's a dockside bbq and party after the tournament. They're bringing back again this year the fun fish divisions. Marina Jack is home base for the tournament, Bayfront, downtown Sarasota, FL. Some of the proceeds will benefit the Cystic Fibrosis Foundation. August Sarasota Events on Escape-to-Sarasota.com
August 10, 2019: It's Celebrate Venice Day. Venice Newcomers and the Newcomers of Venice Alumni are hosting a day to celebrate downtown Venice, and you're invited! There will be kids activities, afternoon tea services, wine tastings, extended happy hours & more! 11 a.m. - 7 p.m. Downtown Venice, FL.

August 10, 2019: Enjoy a short road trip and the 4th Annual Tiki Fest 2019. Tiki Fest features Hula Dancers, Live trop rock and steel drum music by the JP Island Duo, Sunny Jim White and Tiki Tom and LA Daniels!  Fun family friendly activities including Finest Painting by MaryRose, balloon creations and juggling by Jeff the Juggler,  tiki toss and tiki bowling games, scavenger hunt,  photo op's, tiki carvings, Hawaiian leis giveaways, drink and food specials, tiki merchandise and exhibitors! Free admission/free parking!. Noon - 4 p.m. Fisherman's Village, 1200 W. Retta Esplanade, Punta Gorda, FL.

August Sarasota Events
August 10 - 11, 2019: Here's your chance to audition for this year's Sarasota Medieval Fair. Auditions will be Saturday and Sunday at the Sarasota Fairgrounds, off Fruitville Road, site of the Fair during 4 November weekends. All ages welcome for General Cast and other categories of players. 3000 Ringling Blvd., Sarasota, FL. Ringling Woods behind Robarts Arena. August Sarasota Events on Escape-to-Sarasota.com

August 12, 2019: The Jazz Club of Sarasota summer concert series continues at the Florida Studio Theatre Court Cabaret with - Nate Najar Trio with Daniela Soledade. Daniela Soledade is a new and compelling voice on the Brazilian musical landscape- one both fresh on the ears and blessed with authentically deep roots. Nate Najar is a multi-talented American jazz guitarist-composer-producer and international recording and touring artist. Swinging jazz sounds, blues, and Brazilian styles are all at home under Nate's hands. Nate has performed with such notable jazz artists as Clark Terry, Ken Peplowski, Ray Kennedy, Gene Bertoncini, Harry Allen and many others. Jazz Club members $35; non members $39. A full series subscription is $165 for the five concerts. All concerts begin at 7:30 p.m. in the Court Cabaret Room at FST located at First St and Cocoanut Ave, Sarasota, FL.

August 15, 2019: Get ready to Sip, Shop and Stroll the Avenues in The Downtown Venice Wine Walk. This event features wine from all over the world.  A $10 wristband can be purchased prior to the event online or at Venice Wine and Coffee. Wristbands can be purchased the day of at the Kiosk in Centennial Park or at the Breezeway in the Burgundy Square Building.  Pick up your wristband and a list of participating downtown businesses offering discounts and specials. A novel way to approach shopping! 5 p.m - 8 p.m. downtown Venice, FL. August Sarasota Events on Escape-to-Sarasota.com

August 16, 2019:  Enjoy an evening on the bayfront and some free live music at the 18th annual summer music fest, "Friday Fest", at the Van Wezel with Reverend Barry & The Funk, featuring 3 Grammy®-nominated musicians, this 8-piece band plays a high-energy set of originals and covers of funk & soul music including Earth, Wind & Fire, Commodores, Kool & the Gang and Prince. Bring your lawn chair or blanket, take in the music along with the beautiful Sarasota sunset and enjoy food from food trucks and drinks from local vendors. Outside food and drink is prohibited. This free concert series takes place rain or shine, it moves indoors in case of inclement weather. 5 p.m. - 9 p.m. The Bayfront Lawn, Van Wezel Performing Arts Hall, 777 N Tamiami Trail, Sarasota, FL. August Sarasota Events on Escape-to-Sarasota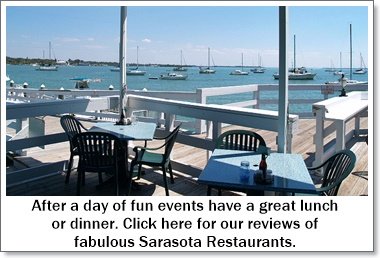 August Sarasota Events
August 16, 2019: You are invited to explore Historic Spanish Point in the moonlight! On their Full Moon walking ghost tour you will hear stories of intrigue and mystery about Sarasota and Florida history as you visit the historic houses, prehistoric burial mound and pioneer cemetery of Historic Spanish Point. Each full moon there will be two tours a night starting at the white Gazebo lasting about 90 minutes. 8:30 p.m. or 9:30 p.m. $20. Historic Spanish Point, 337 North Tamiami Trail, Osprey, FL. Click here for tickets and more info.

August 16 - 18, 2019: There's a Gem, Jewelry & Bead Show with lots on display to see from dealers from around the country selling gems, jewelry, beads, crystals and more. Adults $5. 10 a.m. - 5 p.m. Sarasota Municipal Auditorium, 801 N. Tamiami Trail, Sarasota.

August 17, 2019 - September 2, 2019: The annual Englewood Pioneer Festival is a family-friendly occasion filled with fun events including: Aug. 17: Little Miss & Mr. Englewood Pageant, Aug. 24: Chalkfest 8.0, Aug. 24: Kids Shipwreck Dance (14 - 18 y.o), Aug. 25: Kids Fish-a-Thon, Aug. 31: Cardboard Boat Race, Adult Shipwreck Dance Party, Sept 1. The Festival at Pioneer Park 12 p.m. - 8 p.m. Sept 1: Diaper Derby 2 p.m., Sept. 1 Open Car Show on Dearborn St 12 p.m. - 6 p.m., Sept 2: Englewood Pioneer Days Parade 9 a.m. on Dearborn St & Festival in Pioneer park  8 a.m. - 3 p.m. Sept. 2 Largest Corvette Car Show in SW Florida 11 a.m. - 2 p.m. Click here for more details.

August 24, 2019: The Bradenton Marauders will take on Daytona and will also host Fan Appreciation Night. Every fan in attendance will receive complimentary raffle tickets for big prizes. Fireworks will follow the last out in the ninth inning. Tickets are $6 - $10. Gates open at 4:30 p.m. with first pitch at 6:30 p.m. LECOM Park, 1611 9th St W, Bradenton, FL. August Sarasota Events on Escape-to-Sarasota.com
August 28, 2019: It's the 3rd Summer Foodie Fest, A taste of Venice. 15+ Restaurants Serving up all the Tastes You Can Eat! Attendees must be at least 21 years of age. 5 p.m. - 8 p.m. "Early Bird" Tickets are $12 until they are sold out. Tickets include all Food Tastings. Beverages are available at the Cash Bar. Hotel Venezia, 425 US 41 Bypass N, Venice FL.


August 31 - September 1, 2019: It's time to enjoy The 11th annual Downtown Venice Craft Festival. Art and craft vendors will be displaying their works. Everything from functional art to gift items including a wide variety of ceramics, jewelry, stained glass, metal works and much more, to a green market with plants and things! Miami Ave. W.,in downtown Venice, Florida. 10 a.m. - 4 p.m. Free admission and parking.  August Sarasota Events on Escape-to-Sarasota.com

August Sarasota Events to Sarasota Events Calendar Main Page
Escape-to-Sarasota-Florida Home