2021 August Sarasota Events Calendar
The August Sarasota Events Calendar - A listing of fun, free or inexpensive, Sarasota happenings around the sun coast.
(*Every effort is made to provide as accurate of information as possible, however dates, times, places and event schedules are subject to change without notice due to weather conditions, last minute changes or cancellations made by event organizers, mistakes, misinformation from sources and/or events beyond anyone's control, etc.  Before making any major plans check with event organizers to confirm date of event. This Calendar is updated as information is made available.)
August 1 - 14, 2021: The Ringling Museum presents their Summer Circus Spectacular. It's presented in collaboration with The Circus Arts Conservatory of Sarasota. The Summer Circus Spectacular highlights some of the finest circus acts from around the world .Various show days and times. Tickets are $18 Adults/ $12 Children 12 and under. The Historic Asolo Theater, 5401 Bay Shore Road, Sarasota, FL. 941-358-3180. August Sarasota Events on Escape-to-Sarasota.com
August 3, 2021:  The Manatee Community Concert Band is performing a free outdoor summer concert. Bring your lawn chairs, picnic blankets, friends and family, and enjoy an evening of live music to close out the summer with a variety of toe-tapping music. Free. 6 p.m. Sutton Park, 1036 6th St W, Palmetto, FL

© Copyright 2007-2022 www.Escape-to-Sarasota.com LLC. All Rights Reserved. Protected by U.S. and International Copyright Laws. DO NOT COPY FROM THIS SITE


August 3 - 7, 2022: It's the Florida State Dance Sport Championships' 50th Anniversary. Formerly known as  the "Brakers competiition."  Every day and night is filled with dancers competing from all over the world. Traditionally morning and afternoons are dedicated for all level Pro/Am dancers and this year we expect biggest participation in 50 years. Evenings will be set for Professional Championships, and every night will have different divisions and styles where professionals will try to win and be crowned as the new 2022 Champions. Additional events include seminars with dancesport legends (open to public), gourmet dinners, general dancing and awards ceremony. Various sessions and ticket proices. The Ritz Carlton, 1111 Ritz Carlton Dr, Sarasota, FL.
August 6, 2021: Canceled til TFN. The Lakewood Ranch sponsored Music on Main Street free monthly street party is from 6 p.m. - 9 p.m. There will be beer, wine and food sales. Bring your chairs, but leave coolers at home. Dogs are welcome, but must be kept on a short leash. Overflow parking is available at the Lakewood Ranch Medical Center. Lakewood Ranch is off University Parkway east of I-75.
August Sarasota Events
August 6 - 7, 2022: Here's your chance to audition for this year's Sarasota Medieval Fair. Auditions will be Saturday and Sunday at the Woods of Mallaranny The auditions will start promptly at 9 a.m. each audition day (you only need to come one day, not both), site of the Fair during November weekends. All ages welcome for General Cast and other categories of players but children 12 and under must have a parent present at the time of auditioning.. Woods of Mallaranny. 29847 FL-70 E, Myakka City, FL 34251.
August 6 - 8, 2021: It's the AMI Privateers' Return to Tortuga! They are planning a weekend Pirate invasion of Anna Maria Island and the surrounding areas. Sponsored by the Anna Maria Island Privateers, you can help The Privateers with their mission of "Kids & Community" through their scholarship programs and other child focused activities. Events for the weekend include the Bilge Rat Derby, Invasion Kick-Off Party, Island Pub Crawl, Island Scavenger Hunt, the Pirate Gathering at Seafood Shack's Neptune Room, Breakfast with the Pirates and an afternoon leisure cruise around the Island. You'll still have some personal time to pillage and plunder the Island shops and businesses or relax by the pool.  You could also charter a boat for some fishing or a floating tiki bar for a group party. The Invasion is set for August 5 - August 8th, 2021 and the Pirates' Cove headquarters is the Compass Margaritaville Hotel on Anna Maria Sound. August Sarasota Events on Escape-to-Sarasota.com
August 6 - 8, 2021: Check out the Summer Sports Collectors Show. Dealers will be buying & selling sports cards & memorabilia from the 19th century to present. 100 dealer tables. "Free Appraisals" for your pre-1975 material. Friday, Aug. 6th (2pm-8pm) / Saturday, Aug. 7th (9am-5pm) / Sunday, Aug. 8th (9am-4pm). $3 Admission & Free Parking. Manatee County Fairgrounds, 1402 14th Ave. W., Palmetto, FL

August 7, 2021: Enjoy a short road trip and the 6th Annual Tiki Fest 2021. Enjoy live music, dance, specialty vendors, family friendly activities (juggling acts, magic show, festival glitter/tattoos artists) shopping and dining! Featured performances include: Napua Polynesian Dance Troupe, Steel drum and Caribbean vocals by musicians Ragady Lapsey and Jimi Pappas, Hula Connection, and the Hawaiian Band of Orlando. Free admission / Free parking! Free admission/free parking!. Noon - 4 p.m. Fisherman's Village, 1200 W. Retta Esplanade, Punta Gorda, FL.

There are numerous recurring, fun things to do in Sarasota throughout the year. Click here for my list of recurring Events in Sarasota!
August Sarasota Events
August 8, 2021: This event is being moved to spring time 2022. It's the 5th Annual Manatee County Pet Adopt-A-Palooza, Manatee County's Largest One Day Adoption and Pet Expo and will feature over 100 adoptable puppies, dogs, cats and kittens from Manatee County Animal Services (MCAS), local shelters and animal rescues - all under one roof. Manatee County license tags will be for sale and specialty retailers and fun pet vendors will offer pet related products. Food, drinks and lots of family fun. Pet toy donations welcome. 11 a.m. - 4 p.m. Admission and parking are free. Bradenton Area Convention Center, One Haben Boulevard, Palmetto, FL. More info: 941-713-3105. August Sarasota Events on Escape-to-Sarasota.com
August 11, 2021: It's CoolToday Park's Summer Movie Nights at the ballpark on the 2nd and 4th Wednesdays at 6 p.m. in July & August. Be sure to check out all the fun with Tom and Jerry. Tickets: 3 & under free, 4 - 9 $3, and 10+ & adults $7. Beach Club Members are free. Get your tickets by calling: 941-413-5004 or visit their ticket office at CoolToday Park Monday-Friday from 10 a.m. - 5 p.m. Beach Club Members can attend for free!  CoolToday Park, 18800 W Villages Pkwy, Venice, FL.

August 12, 2022: After being canceled for 2 summers because of Covid-19 The Van Wezel's Friday Fest has returned this summer! This Friday Fest will feature Big Night Out, a variety dance band which performs Latin, R&B and island dance music. A powerful horn section and grooving conga add to the commanding vocals of Joni Adno. Big Night Out, over the past 17 years, has become one of southwest Florida's most in demand dance bands. Free admission. Bring blankets or lawn chairs, take in the music and the sunset, and enjoy food and beverage from local vendors. Friday Fest takes place in "rain or shine." In the event of inclement weather, the festival will move indoors to our grand foyer or main stage of the Van Wezel Performing Arts Hall. Bringing in food, beverages and coolers from outside Friday Fest is prohibited. 5 p.m. - 9 p.m. The Van Wezel Performing Arts Hall lawn, 777 N Tamiami Trail, Sarasota, FL. August Sarasota Events on Escape-to-Sarasota.com
August 13, 2021: It's the Free Music Friday Night Concert. Enjoy the music of Robert Garcia in downtown's Centennial Park. Free and open to the public.7 p.m. - 9 p.m. Family and friend groups are asked to limit to 6 people sitting together, to remain socially distanced from other seated groups, and to follow current CDC guidelines. Attendees are asked to bring their own chairs and blankets. No alcohol is permitted in Centennial Park. Centennial Park, downtown Venice, FL.

August Sarasota Events
August 14, 2021: It's NBP Rec Days! A great way to get on the water, family-style! Participants will have the opportunity to try stand-up paddle boarding, kayaking, canoes, fishing and more. Fee is $10 per person. $5 per adult with accompanying child. Free for children ages 6 and younger  Family maximum: $35 (for households of five or more). All must complete the waiver forms.  Fishing licenses are required for all participants 14 and older who choose to fish. NBP Rec Days! are held at the base of the finish tower on Regatta Island. Depending on events, however, they may move to the west shore, near the playground. Signs will be in place to direct you, either way. 10 a.m. - 2 p.m. Nathan Benderson Park, 5851 Nathan Benderson Circle, Sarasota FL.
August 19 - 21, 2022: There's a Gem, Jewelry & Bead Show with lots on display to see from dealers from around the country selling gems, jewelry, beads, crystals and more. Adults $5. 10 a.m. - 5 p.m. Sarasota Municipal Auditorium, 801 N. Tamiami Trail, Sarasota, FL. August Sarasota Events on Escape-to-Sarasota.com
August 19 to September 3, 2021: Enjoy Selby Gardens' 41st Annual Virtual Juried Photographic Exhibition now on display. Last year more than 500 submissions were received and, to Celebrate Selby Gardens, all photos were taken at their Downtown Sarasota or Historic Spanish Point campuses. There are five categories. They begin accepting photos on Sunday, August 1, 2021. In-person submissions will not be accepted, all photos must be submitted digitally. August Sarasota Events on Escape-to-Sarasota.com
August 21, 2021: Postponed for 2021. New date pending. It's the Special Olympics Florida Stand-Up Paddle Competition with opening ceremonies at 7:30 a.m. and competition from 8 a.m. - 4 p.m. among 150 athletes. Nathan Benderson Park, 5851 Nathan Benderson Circle, Sarasota FL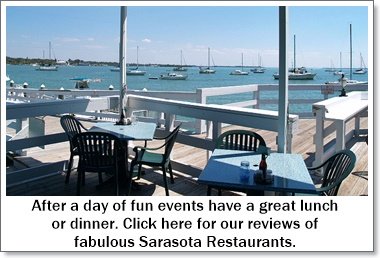 August Sarasota Events
August 21, 2021: Check out the Back to School Bash at The Music Compound. There will be live music, a bounce house, food trucks, beer samples, crafts and face paintiing, Chill Mobile and more. 10 a.m. - 2 p.m. Music Compound, 1751 Cattleman Rd., Sarasota, FL. 941-379-9100

August 21, 2021: It's the Majesty of Rock Concert at Cool Today Park. Majesty of Rock is a talented group of musicians who banded together for the express purpose of faithfully re-creating the look and sounds of the two American super groups: Journey and Styx. Fronted by the amazing John D'Agostino, this band boasts the exceptional musical talents of five highly experienced musicians who not only capture every nuance of Journey in their iconic Steve Perry days, but also the vocal essence of Dennis DeYoung and Tommy Shaw of Styx. General admission $12. Gates open at 6 p.m. Music begins at 8 p.m. CoolToday Park, 18800 W Villages Pkwy, Venice, FL.

August 21, 2021 - September 6, 2021: Canceled for 2021. The annual Englewood Pioneer Festival is a family-friendly occasion filled with fun events. Englewood Pioneer Days Committee statement, in part: "After talks with Sarasota County, the Committee has been made aware of the construction and improvements scheduled to start at the end of June or beginning of July. The revamping of Dearborn Street is to take place all summer; the next phase: the Pioneer Park amphitheater to begin September 1. Unfortunately, the timing is not in line with Pioneer Days Events. The Committee has looked into other options and avenues - quite literally - but there is not another safe option as far as the festival and parade are concerned. It's difficult to imagine missing yet another year of Pioneer Days Events; we will miss everyone but with safety concerns and the construction - it just isn't possible. We look forward to planning the 2022 events and using the brand new park for our festival."

August 21 - 22, 2021: Selby Gardens has an opportunity for you to purchase landscape paintings by several "Florida Highwaymen," African American landscape painters. The Art Fair and Sale Weekend will take place at the Downtown Sarasota campus. 10 a.m. to 5 p.m. Access to the Art Fair and Sale Weekend is included with daily admission and is FREE to Selby Gardens' members.  Marie Selby Botanical Gardens Downtown Sarasota campus, 1534 Mound St, Sarasota, FL

August Sarasota Events

August 22, 2021: It's the Siesta Sprint Triathlon with numerous events you can sign up for. All race events start at 7 a.m. Helmets are mandatory! USA Triathlon rules apply. Registration fees: $35 - $115 for various races/events. Siesta Key Beach, 948 Beach Rd, Siesta Key, FL

August 23 - 27, 2022: The 2022 Sarasota Slam with Billfish, Offshore, Inshore and Junior Angler Divisions. The Weigh In is open to the general public on August 27th and will be from 11a.m. - 4 p.m. at Marina Jacks in downtown Sarasota, with a 3:00 p.m. Dockside BBQ & Party. Immediately following the Weigh In will be the Awards Ceremony. Marina Jack is home base for the tournament, Bayfront, downtown Sarasota, FL. August Sarasota Events on Escape-to-Sarasota.com
August 23 -  September 19, 2021: Manatee County Animal Services hosts Clear the Shelters, the 7th annual nationwide pet adoption drive. For the entire month, all adoption fees will be waived for all pets. MCAS is participating in the nationwide Clear the Shelters initiative that seeks to help families find and adopt homeless pets. Since 2015, Clear the Shelters has resulted in more than half a million pet adoptions nationwide.The Palmetto Adoption Center and Shelter, located at 305 25th Street West in Palmetto, and Manatee County Cat Town, located at 216 6th Avenue East, Bradenton, are available to visit by appointment only. For information about Manatee County Animal Services: 941-417-9592. August Sarasota Events on Escape-to-Sarasota.com
August 25, 2021: It's CoolToday Park's Summer Movie Nights at the ballpark on the 2nd and 4th Wednesdays at 6 p.m. in July & August. Be sure to check out all the fun with Jumanji. Tickets: 3 & under free, 4 - 9 $3, and 10+ & adults $7. Beach Club Members are free. Get your tickets by calling: 941-413-5004 or visit their ticket office at CoolToday Park Monday-Friday from 10 a.m. - 5 p.m. Beach Club Members can attend for free! CoolToday Park, 18800 W Villages Pkwy, Venice, FL. August Sarasota Events on Escape-to-Sarasota.com
August Sarasota Events

August 27, 2021: It's the Free Music Friday Night Concert. Grab a mask and enjoy the music of Joe Mullan & Chris Smith in downtown's Centennial Park. Free and open to the public.7 p.m. - 9 p.m. Bring your lawn chair or blanket for seating. Family and friend groups are asked to limit to 6 people sitting together, to remain socially distanced from other seated groups, and to follow current CDC guidelines. Attendees are asked to bring their own chairs and blankets. No alcohol is permitted in Centennial Park. Centennial Park, downtown Venice, FL. August Sarasota Events on Escape-to-Sarasota.com
August 27, 2020: Moved to October 27, 2021. Check out the Business Showcase (formerly Consumer Expo) with more than 100 businesses participating along with door prizes, health screenings and more. Free admission and parking. 9 a.m. - 3 p.m. Venice Community Center, 326 S. Nokomis Ave., Venice. August Sarasota Events on Escape-to-Sarasota.com
August 28, 2021: It's NBP Rec Days! A great way to get on the water, family-style! Participants will have the opportunity to try stand-up paddle boarding, kayaking, canoes, fishing and more. Fee is $10 per person. $5 per adult with accompanying child. Free for children ages 6 and younger  Family maximum: $35 (for households of five or more). All must complete the waiver forms.  Fishing licenses are required for all participants 14 and older who choose to fish. NBP Rec Days! are held at the base of the finish tower on Regatta Island. Depending on events, however, they may move to the west shore, near the playground. Signs will be in place to direct you, either way. 10 a.m. - 2 p.m. Nathan Benderson Park, 5851 Nathan Benderson Circle, Sarasota FL. August Sarasota Events on Escape-to-Sarasota.com

August Sarasota Events to Sarasota Events Calendar Main Page
Escape-to-Sarasota-Florida Home