Beach Volleyball is fun under the Florida sun!
Beach volleyball is one of those fun activities that can just spontaneously develop out on Siesta Key Beach on a glorious, blue sky, sunlit, beach side day.
Just bring a few friends, or meet some new ones, and pretty soon you've gotten together a couple of teams for a hot game of fun under the Florida sun.
Or ask if you may join in on a game already in progress. Siesta Key Beach is a friendly, happy place.
After all, how could you not be happy playing sand volleyball on the Number 1 rated beach in the USA?
With a number of sand courts on Siesta Key this is one of the best locations to play because of the sheer beauty; blue skies, blue water nearby and white sand that's baby powder fine and cool to the feet.
Men's Beach Volleyball
Women's Beach Volleyball

The players on Siesta Key Beach run the gamut from serious to "just out for a fun time."
While I have also seen volleyball nets on Nokomis Beach, South Lido Beach Park, Manasota Beach, North Jetty Park and Venice Beach, Siesta Key beach is "the place" to play beach volleyball.
The Siesta Key courts also play host to state, regional and national tournaments, both collegiate and commercial, throughout the year.
Some of the tournaments that have been held on here have been: the "Fiesta on Siesta Key," a match between 17 south and south east college teams, The "Dig the Beach Volleyball Series - Corona Light Wide Open Siesta Key" tournament, The "East End Volleyball Tournament," the "College Women's Sand volleyball Tournament."
We have also hosted, the "Bud Light Big Shot Tournament" and many more through the years.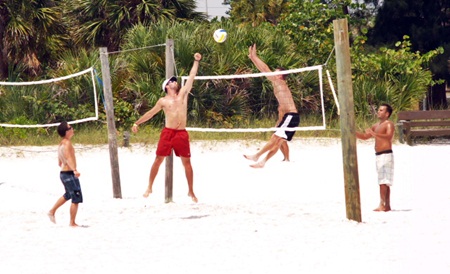 In case you're interested in beach or sand volleyball, it's similar to indoor volleyball. The main adjustments between sand and indoor are:
Playing surface
Team size
Scoring system
Overhead touches and tips
Block counts as a team touch
Coaching is not allowed
Also, beach players incorporate the use of hand signals, or "block signals," to clue in their team mates as to the type of block they want to use.
"Block signals" are hidden behind the player's back to keep them out of site of their opponents.
The signals are given by both hands by the serving player's partner before serving to the opposing team, with each hand signaling the kind of block that should be used against a players' corresponding opponent.
A player indicating that she will block "line" on both sides.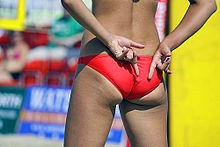 Here are some Common block signals you may see during a collegiate or professional tournament on Siesta Key Beach:
Closed fist: No block should be attempted for the opponent on that side of the court, also known as "pull-off"
One finger: The blocker should block an opponent's "line" attack, or a ball hit perpendicularly from the net and parallel to the sideline
Two fingers: The blocker should block an opponent's "angle" attack, or a ball hit diagonally from the net and across the court
Open hand: The blocker should block "ball," deciding how to block based upon the opposing team's set, and the hitter's approach and arm-swing technique.
So there's just a little bit of "inside baseball" for you! But if you're a player, you probably already know this stuff and much more than I.
Bring your cooler of cold drinks and snacks, sunscreen, some athletic (or non-athletic) friends, a volleyball and your smile! And have a great time on our beach volleyball courts on the best beach in America, Siesta Key Beach.
And don't forget to spike one for me!
Maybe I'll see you out there at an upcoming tournament.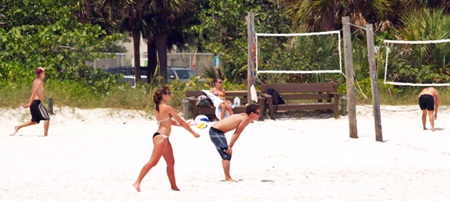 Directions From downtown Sarasota follow Rt. 41 south to Stickney Point Road and go west over the bridge on to Siesta Key. Turn right at Midnight Pass Road and follow until it splits off at the stop light. At the stop light continue straight ahead, now Beach Road, to the entrance to Siesta Key Beach parking on the left. Courts are on the beach south of the concessions area.

From Beach Volleyball to Sarasota Activities main page.

Escape-To-Sarasota-Florida Home