The Casey Key Fish House
Restaurant & Tiki Bar
Good Food and a Million Dollar Water View!
My Sarasota Dining Guide takes you to the Casey Key Fish House Restaurant, a waterfront Bar and Grill and one of only a handful of waterfront restaurants left in Sarasota County after the development boom of the early 2000's.
Located right on the water, it has both an indoor, but open and airy dining room and an outdoor patio, where you can view yachts anchored at dock and watch boats pass by on the Intracoastal Waterway and Dryman Bay.
The water view from the "Fish House" is spectacular. While dining you'll also be able to watch the wildlife as it passes by.
You'll perhaps spot pelicans, snowy egrets, an occasional heron and you might even be witness to Mullets (a species of fish) jumping out of the water.
And on occasion there are some nosy Egrets that will drop by just to see if there are any "generous" diners!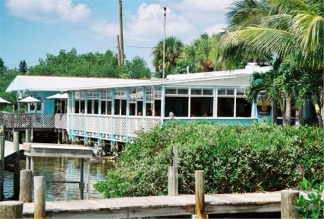 The Casey Key Fish House Restaurant is a fun little place with an old Florida appeal and atmosphere, tucked away in Sarasota County.
It's friendly and you'll usually find Jimmy, the owner, taking care of business or customers, making you feel welcome and always having a good time.
Out of all the restaurants in Sarasota County I've spent the most time here. Once you get there you'll see why.
The atmosphere is very laid back as diners arrive both by boat and car. The menu is laid back and easy, as well.
There are really two menus, plus daily specials; there's a lunch menu with daily specials and the dinner menu which adds to your meal choices in the evening.
For lunch, the Casey Key Fish House menu has a nice selection and specializes in chicken, burgers, grouper sandwiches, fish and chips, battered shrimp, crab cakes and more as well as daily specials for both lunch and dinner.
For lunch I will usually have a burger, well done; fries, cole slaw (their cole slaw has tiny bits of pineapple in it!) and a pickle come along with your order. The burger basket is a sizable enough lunch that I usually don't have to eat dinner. Yum!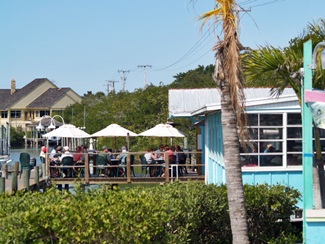 If you're lucky enough to be here in the "off season," often times the Casey Key Fish House will offer as one of their daily specials a Chicken Wrap.

This is one great lunch: tender grilled white chicken breast, lettuce and pico de guillo sauce to give the wrap a little zing, all wrapped up in a flour tortilla, then lightly grilled and served with fries and cole slaw. It may be more than you can eat. But it is delicious and a real winner of a lunch.

If they have it as a special of the day, I highly recommend it, but only if you don't mind a little "zing" in your lunch. It's not overly spicy or hot, just tangy. Very delicious.
For dinner, one of my favorite meals is their Fresh Grilled Salmon ($15.95 at this writing) with cucumber dill sauce, rice and fresh veggies. I've had this delicious meal a number of times and it's excellent. I don't know which I like more: the grilled salmon or the cucumber dill sauce it's served with. But it is tasty.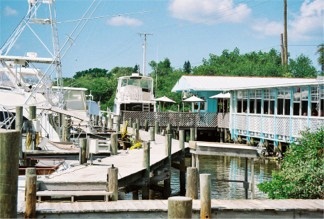 More on The Casey Key Fish House

Also has on its menu as one of their specialties: Shrimp Scampi ($15.95); another fantastic dish.
The way the Scampi is prepared here is different from other restaurants in Sarasota and the surrounding area; here they sauté the shrimp in butter and garlic and then add white wine and let it reduce so that it thickens just a little bit. It forms a mild, tasty sauce. Then the shrimp, garlic and white wine sauce are served over fresh angel hair pasta. Plus you get a couple slices of garlic toast and some fresh vegetables to round out the dinner.
This "style" of Shrimp Scampi is one of my two favorite recipes for this dish out of all the Sarasota restaurants where I've ordered this specialty.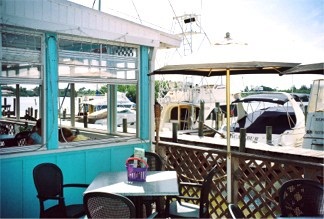 You can also order, as I have on occasion, a delicious, done-to-your-liking Angus Beef New York Strip Steak ($17.95). This hand-cut steak comes grilled the way you like it (I like mine medium) and is served with a wild mushroom Cabernet demi-glaze, along with rice or potato and vegetable.

I like to treat myself to a steak every once in a while at the Casey Key Fish House. They've always been deliciously flavored, grilled and the meal very filling.

The dinner menu is rounded out with additional seafood treats like: Seafood Pasta, Sea Scallops Provencal, Fresh Grilled Mahi-Mahi and Sautéed Chicken Breast.
There are also delicious appetizers on the menu at a very reasonable $4.25 - $6.75, from Clam Strips to Peel n Eat Shrimp, Buffalo wings and more.
By the way, try the home made New England Clam Chowder.

There's full bar service along with a wine list to help round out your meal at the Casey Key Fish House Bar and Grill.
What's your favorite Sarasota dining spot? What's the best meal you've had there? Let others know about your recommendations by writing your own Sarasota Dining Review. Share your favorite now!

And, across the parking lot from the restaurant is the Casey Key Fish House Tiki Bar. This is one of the highlights in Sarasota County.
Sitting at the bar or one of the side tables gives you the perfect water view and "summer in paradise" feeling, no matter what time of year you're there.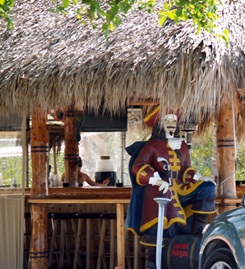 This is the perfect place to sip a tropical cocktail like a margarita or other favorite specialty drink of yours. The bartender, "Skeeter," can make em all!
At the Tiki Bar you'll also find live music in the late afternoon through early evening on weekends and holidays, as has been my experience.
It's fun to hang out here and just kick back, listen to some tunes and forget about your troubles while you mingle with the others. No stress here.
For laid back, casual dining with one of the best views of Dryman Bay and the Intracoastal Waterway, along with reasonably inexpensive prices, friendly staff and good service, you can't beat an afternoon or evening at The Casey Key Fish House Bar and Grill and at the Tropical Tiki Bar.
This is the kind of place you come to Florida for!
Hours: Open 7 days a week 11:30 a.m. – 9:00 p.m. (Note: The restaurant usually closes right after Labor Day, through the end of September, for end of summer vacation).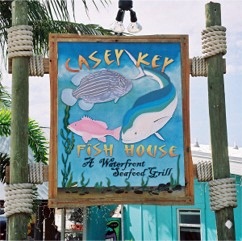 Directions: From Sarasota follow U.S. Rt. 41 south to Osprey. At Blackburn Point Road, turn right (west) and follow it until just past the "flying bridge," (a one lane bridge that rotates). Turn left after the flying bridge into the Casey Key Fish House parking lot, or try parking across the road at the park.
Coming by water? The Fish House is located at Marker 32 at the Blackburn Point Marina.

From Casey Key Fish House to Sarasota Restaurants

Sarasota Activities
Escape-to-Sarasota-Florida Home