Cheap Flights to Sarasota - Bradenton
International Airport
Getting cheap flights to Sarasota-Bradenton International Airport may make more sense for you than Tampa International Airport from a convenience standpoint, even though flights into Tampa may be less pricey, dollar-wise.
Remember, if you have to drive from Tampa, "time is money." So it may be worth a few dollars more to you to fly into the Sarasota Bradenton Airport.
Plus, unless someone is picking you up in Tampa, gratis, then you'll have to reserve a rental vehicle, pay for it and drive it from Tampa.
Once you land in Sarasota, you simply get off the plane, walk through the exit hall ramp, take the escalator downstairs, pick up your luggage and walk out the door into the parking lot to a waiting ride. Or pick up your rental car if you've reserved one.
It's pretty easy and convenient. Flights to Sarasota are easier, quicker and more convenient, but prices are usually higher and availability is tighter than air travel to Tampa. So this is where it pays to plan ahead if you're really looking for cheap flights to Sarasota.
Also, you may have to plan further ahead during "off season" as some of the airlines only fly into Sarasota-Bradenton International Airport during high season and cut back on their flights during off-season.
The mantra remains: book early rather than late if you want to get those cheap Florida flights.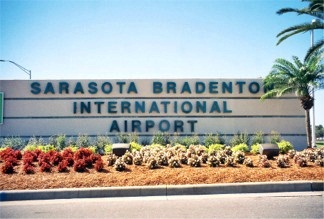 One of the airlines that serves SRQ is Jet Blue, which offers service to New York's JFK airport.

A complete list of airlines that serve the Sarasota Bradenton International Airport is listed below.
The Sarasota-Bradenton International Airport is quite easy to navigate and undergoes periodic upgrades.
The SRQ International airport includes a Dewar's Clubhouse Bar & Grille and a Starbucks for the concourse.
As with major airports, SRQ has a bevy of souvenir shops, news stands and places to eat while you're awaiting your flight.
Airlines Serving Sarasota-Bradenton International Airport:
Air Canada

American Airlines


Delta

Elite Airways


Jet Blue

United Airlines


Frontier Airlines


Allegiant

The above list changes over time and sometimes with the season. For more information from SRQ International Airport Click Here.

Parking at SRQ Airport: There's long term parking ($14 per day), shaded parking ($15 per day). short term parking ($18 per day). The airport also suggests that for short term parking you use the free cellphone lot on Rental Car Road. (Rates subject to change over time. Last updated October, 2021). Click here for more on parking.

The entrance and exit to Sarasota-Bradenton International Airport is located on University Parkway under a mile from the intersection of U.S. Rt. 41, making it a short drive to Bradenton, downtown Sarasota, and Longboat Key hotels and resorts.

From Cheap Flights to Sarasota to Cheap Airline Tickets to Florida.

Escape-to-Sarasota-Florida Home