Cheap Flights to Tampa
International Airport
Are you looking for cheap flights to Tampa International Airport?
You can usually get a better priced airfare into Tampa than flying into Sarasota, if that's your final destination.
That's because flying into Sarasota, not always, but usually, means a stop and plane change along the way, depending upon from where you're departing.
Then from Tampa you can drive on to Sarasota.
But you still have to do your research and compare among all the airlines the length of your travel time, not just flight time, as well as departure and arrival times along with your intended travel days.
Is it a non-stop or multiple stop? If it is, will it add to your travel time?
My "mantra" is: do your research early and book your flight early.
But, this is not a bad thing since cheap flights to Tampa are regularly available if you book early enough.
There are a couple of bonuses to driving to Sarasota: First: you get a very beautiful and scenic drive across Tampa Bay.
Second: at five and a half miles in length, you get to motor over the world's longest cable-stayed concrete bridge, the Sunshine Skyway Bridge (there's a one dollar toll to cross).

Driving across the Sunshine Skyway Bridge
is a very cool experience!

More On Getting Cheap Flights to Tampa
Tampa International Airport, while a large metropolitan airport is still quite easy to find your way around.
Upon your arrival in the Airside of the airport you will shuttle to the transfer level, level 3, on a tram, where you may meet those who may be awaiting your arrival or simply proceed to the baggage claim area one level below. (Non-ticketed guests are not allowed to the Airsides. Visitors meeting incoming passengers may wait on the Transfer Level at the shuttle exit). From there, you simply pick up your luggage.
If you have a rental car reservation awaiting you, the rental counters are situated nearby across the walkway in the Red Baggage Claim Area and across the walkway in the Blue Baggage Claim Area.
Once on the road, it's off to Sarasota.
Simply follow the signs out of the airport and then follow I-275 south through the Tampa and then the St. Pete area, over the bridge and until you merge into I-75 south.
Your four Sarasota exits are: University Parkway, Fruitville Road, Bee Ridge Road and Clark Road.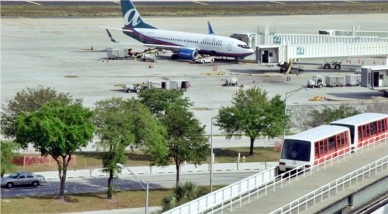 Here's a Cheap Flights to TPA Bonus:
Conde Nast Traveler Magazine reported results of a survey in which their business travel readers voted Tampa International Airport their second favorite airport in the United States.
In this survey U.S. Airports were ranked on such things as: location and access, ease of connections, customs and baggage handling, food, shops and other amenities, comfort and design and safety and security. In the survey, TPA ranked above all others in the categories of "ease of connections, comfort and design."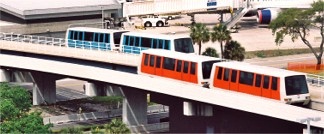 Florida Flights: Airlines that fly to Tampa International Airport:
Air Canada
Air Tran
American Airlines
British Airways
Cayman Airways
Copa Airlines
Delta
Edelweiss
Fly Frontier


Jet Blue
Silver Airways
Southwest
Spirit
Sun Country
United
US Airways
West Jet
World Atlantic

Tampa International Airport has conveniently located restrooms and places to grab a bite to eat both Airside and at transfer level 3 as well as shops and magazine stands.
There's also a Marriott Hotel at TPA in case you have a late arrival, want to stay near by and then drive on to Sarasota in the morning.

From Cheap Flights to Tampa to Cheap Airline Tickets to Florida.

Escape-to-Sarasota-Florida