The Columbia Restaurant
A Gem of Spanish and Sarasota Restaurants!

The Columbia Restaurant is where you may relax and enjoy a delicious lunch or dinner at one of the best Sarasota restaurants.
The Columbia, Gem of Spanish Restaurants, sits amidst more than 150 boutique and specialty shops on St. Armand's Circle.
You have the option of being able to choose indoor or open-air seating at a patio table in this beautiful Mediterranean style restaurant, where your place setting comes complete with a white linen napkin.
I've had many delicious lunches here on St. Armand's Circle on numerous occasions, too many to count, and at the original Columbia Restaurant in Ybor City, Florida.
There is an extensive menu, which makes it difficult to choose your Spanish style meal. The menu includes: Tapas, Sopas (Soups), Ensaladas (Salads), Carnes (Meat), Mariscos (Seafood), Pollo (Chicken) and Paella, "The National Dish of Spain."
Each lunch or dinner comes with freshly baked, warm Cuban bread and butter.
Let me give you some tips on what to order so you don't miss the really "good stuff!"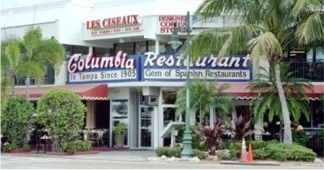 The Columbia Restaurant's 1905 Salad
Now, if you're into salads, you are definitely not going to want to pass up ordering the official salad of the Columbia Restaurant: the "1905 Salad."
Of all Sarasota restaurants, The Columbia Restaurant is the only one with this delicious salad. This is the salad to end all salads!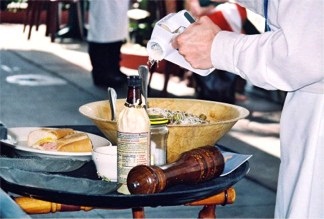 The "1905 Salad" is prepared fresh, table-side, by your waitress or waiter, who is eminently skilled at "crafting" this tasty salad.
Your waitress or waiter will arrive at your table, decked out in white long sleeve shirt (even in the steamiest of weather), black slacks and a white apron.
He'll put down his tray containing all the magical ingredients along side your table and start performing culinary wizardry before your eyes.

You'll be able to witness the "1905 Salad" come to life.
With crisp iceberg lettuce, julienne of baked ham, fresh lemon juice, natural Swiss cheese, tomato, olives, grated Romano cheese, and a 100 year old family garlic dressing recipe, this is one great salad and it's a "must order."
It's large enough so that there's enough, for the $9.95 price, to be a first course for 3-4 diners. Or, a meal all by itself! You can also get a smaller version in combination with a meal.
Other recommendations include the "Salteado," with your choice of either chicken, beef or shrimp ($12.95/lunch). I like the chicken version of this Cuban stir fry dish, inspired by the Chinese who lived in Cuba in the 19th Century.

The ingredients are sautéed in olive oil in a hot skillet: onions, green peppers, mushrooms, diced fried potatoes, chorizo (Cuban sausage which tastes like smoked bacon to me); all splashed with a little red wine. This is one good meal. It's a big enough serving that you may have to take some home with you.
Another delicious menu item I've enjoyed is the Cannelloni de Langosta "Setes Portes," which came to the Columbia after one of their visits to Barcelona.
This delicate creation comes with two tender Cannelloni pastas that are filled with Maine lobster meat, shrimp, pan seared scallops and sautéed shallots in a lobster cherry cream reduction, then covered with a lobster cherry Mornay Sauce. This was an outstanding meal; delicious, tender, delicate and flavorful. The sauce was…mmm!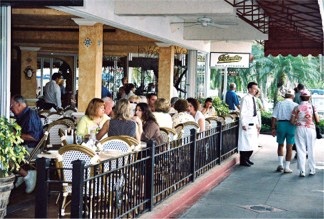 There was only one problem with this lunch menu selection for me: it was so good but there just wasn't enough!
But it's not their fault!
When you're ordering pricier menu items like: lobster, shrimp and scallops all in one dish, to keep the entrée reasonably priced ($14.95/lunch - $20.95 dinner), you don't get as large of a serving as you might like, or as would be on a more expensive dinner menu.
But it is delicious and I would have paid $20.95 to get a little more. I guess I'll just have to order it again on my next dining experience there.

If you'd like a little less pricey experience, for lunch, you might want to consider ordering the Columbia Restaurant's "Half and Half Combo." This is what I order frequently.
You get your choice of either a cup of soup or a half Cuban Sandwich along with half of a "1905 Salad." It's only $9.95 and it's a real winner of a combination.
I've never experienced bad service here, in fact, quite the contrary.
But it can get very busy during lunch and dinner hours. The experienced and professional wait staff have always provided me with the best service.
---
The Columbia Restaurant and
their Annual Anniversary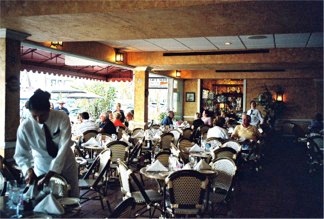 Speaking of "busy," if you happen to be in the Sarasota and Suncoast area in September of each year, the Columbia Restaurant celebrates it's annual anniversary with rolled back prices on a few of their specials.
Traditionally this event takes place on the third Sunday in September.
How far do they roll back the prices? To 1905, when the first Columbia Restaurant opened as a small cafe in Ybor City, Florida.
Now, let me advise you that this is definitely the MOST popular day of the year here.   

If you don't like crowds or waiting for a table, this is not the occasion for you. BUT it can be a blast if you have some time.

I arrived with our party of four, picked up our reservation ticket number from the hostess, (#833) at about 2:45 pm and we were informed that the wait at the then current pace was 2 - 2.5 hours.
So, we said, "fine," and took off for a walking, shopping and sight-seeing tour around St. Armand's Circle for the next two hours, arriving back at the front door of the Columbia Restaurant with about a half hour to spare.
While the crowds waiting outside and in the restaurant lobby are large, it's not out of control. Just a lot of happy, hungry group of friendly people milling around and waiting for their table number to be called!
We were seated at 5:15 p.m. and when you do get seated in one of the two dining rooms or at a sidewalk-side table, things settle down and become orderly quickly when your waiter or waitress takes over.
There's nothing like getting that first pitcher of Sangria on a hot, late September afternoon!
At 1905 prices, the top price on the menu is $4.95, for a pitcher of Sangria!
There were three Columbia Restaurant, specially selected, menu items on this day from which to choose, all of which were priced at $2.95! (not a typo - yes $2.95)
The entree choices were: Chicken and Yellow Rice "Ybor," (delicious baked one-quarter chicken with yellow rice); Merluza "Russian Style," a delicate white fish, grilled and seasoned with Cuban bread crumbs, which one of our party said was delicious; and Boliche; stuffed eye round of beef with chorizo (cuban sausage - delicious), roasted in a delicious gravy. And for only $1.95 we all took advantage of ordering the Columbia Restaurant's famed 1905 Salad (as described above).
Other 1905 prices on the menu for this special anniversary day were: Coffee, .05, Coca Cola, .10. Iced Tea, .10.
Everyone in our party agreed that this was a fun and delicious experience and were glad to have taken advantage of it.
Plus, while waiting for a table we had a chance to shop and site-see around St. Armand's Circle. A bonus!

What's your favorite Sarasota dining spot? What's the best meal you've had there? Let others know about your recommendations by writing your own Sarasota Dining Review. Share your favorite now!

---
More on The Columbia Restaurant on
Sarasota's St. Armand's Circle

The Columbia Restaurant's dinner entrees are moderately priced from about $18.95 - $33.00 if you order their famous and specially seasoned and prepared 14 ounce New York Strip steak called, "the Bambino."
Yes, it's named after legendary New York Yankee Babe Ruth, who in the 1920's and 30's dined at the original Columbia in Ybor City!
The lunch menu offers equally good variety, value and food and is less expensive than the dinner menu. I like to go to lunch. Same great food and service with lower menu prices! The lunch menu also features soups, sandwiches and salads.
There's also full bar service and Sangria, a delightful, refreshing wine cooler, originally from Spain.
With a reputation and tradition for fine food that dates back to 1905, one of my favorite Sarasota restaurants, The Columbia Restaurant will provide you a fine culinary memory.
As far as Sarasota restaurants, the Columbia Restaurant is a gem! Include it in your day of shopping and site seeing on St. Armand's Circle!

Hours: Open for both lunch and dinner.
Directions: From Sarasota, take Rt. 41 through the Bay front/downtown area of Sarasota over the John Ringling Bridge (southwest) to St. Armand's Circle. Park in one of the free lots behind the shops on St. Armand's Circle. (941) 388-3987

From Columbia Restaurant to Sarasota Restaurants Main Page

Escape-to-Sarasota-Florida Home