The Hob Nob Drive In Restaurant
A fun trip back to an earlier time!
The Hob Nob Drive In Restaurant, one of the most unique of Sarasota restaurants, will take you back to an earlier and sweeter time.
It will also give you a little taste of both the old Florida and the Americana of the 50's & 60's. This old time drive in goes back to 1957.
Here they have all the classics: Hamburgers, Cheese Burgers, Patty Melts, Fish & Chips, Hot Dogs, Chili Dogs, Kraut Dogs, both hot and cold sandwiches.
Plus there's Chicken and Fish sandwiches, Steak and Cheese, Ham and Cheese subs along with Turkey and Swiss sandwiches.

And you can get all of these delightful sandwiches in basket form with either Fries and Coleslaw or Onion Rings and Cole Slaw for a couple bucks more.
Prices range from $2.65 for a hot dog to $4.50 for a Patty Melt (prices subject to change over time, but you get the idea). The highest price item on the lunch-dinner menu is a Shrimp Basket for $8.50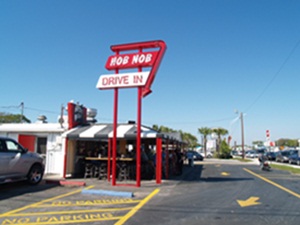 Now, we're really not talking gourmet food, but my lunch partner and I were pleasantly surprised by the deliciousness and quality of what we ordered.
She had a Patty Melt ($4.50), which she more than once commented that it was "melt in your mouth good."

I had the Hamburger ($3.70) and a basket (add $2.05) with fries and coleslaw.
All were very tasty but what really struck me about this "old fashioned" Hamburger that comes with lettuce, tomato and onion, was the outstanding freshness and softness of the Hamburger bun. It was like it was just freshly baked in the oven for me, but I can't imagine they are baking their Hamburger buns here.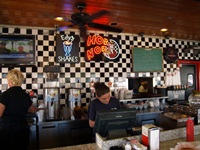 This is a fun experience; sitting at the main lunch counter, plus there are numerous lunch counter tops spread throughout the Hob Nob Drive In Restaurant and a dining area with tables and chairs too.

Surprisingly, it can accommodate more diners than it looks like from a drive by on the street.

We saw families, couples, singles, young, old, bikers and tykes while we were enjoying our afternoon dining experience at this old fashioned Drive In Sarasota restaurant.
The Hob Nob Drive In Restaurant

We pulled into the parking lot about 1:30 on a beautiful, almost 80 degree, Saturday afternoon, walked right in and sat down at the main lunch counter! I asked one of the servers how rare it was to be able to do that and she said that we were indeed lucky since the lunch crowd had just cleared out. She said that the crowds come in waves, so our timing couldn't have been better.

By the time we were leaving about 3 p.m. The Hob Nob Drive In Restaurant was filling up again. So it's just "hit & miss" when it comes to timing the crowds. Obviously peak hours are traditional lunchtime and dinnertime hours.
Another cool thing is that The Hob Nob Drive In Restaurant is sitting just a few feet off a main highway, U.S. 301!
You can hear and watch the cars zipping by while you have your lunch or dinner, or even breakfast! Yes, the Hob Nob Drive In serves breakfast, too; everything from Eggs and Omelets to Pancakes and more.

You can't help but hearken back to memories of an earlier and simpler time while enjoying your time here, wondering what it was like watching the cars of an earlier era drive by on a narrower street just out front; or seeing the servers, on roller skates in those days, delivering meals to car windows.

Too bad they don't do that anymore, but with the expansion and widening of U.S. Rt. 301 over the years, I bet it became too hazardous to have "car hops" on roller skates any longer out of fear that one would lose control and wind up skating into oncoming traffic with a tray full of burgers and fries!
What's your favorite Sarasota dining spot? What's the best meal you've had there? Let others know about your recommendations by writing your own Sarasota Dining Review. Click here to share your favorite!

Something else I just had to try while we were at the Hob Nob Drive In Restaurant was one of their hand-made milk shakes ($4.29). It had been so long since I had had one and if there was ever a place that looked like the place to have one – this was it.

So I put my order in for a Chocolate Shake and about 5 minutes later it was served to me topped off with whipped cream and a cherry. I slurped it down in nothing flat! Icy cold, chocolaty & delicious! The only thing that would have made it better was if it had been served in a real milkshake glass instead of a Styrofoam glass. They serve Ice Cream Floats and cones too.

By the way The Hob Nob Drive In also serves beer and wine. So you can "belly" up to the lunch counter and have a burger and a beer!

Another thing we noticed while sitting at the lunch counter was that the servers work the lunch counter as a team. It's not just one server "assigned" to you. Whomever happens to be behind the lunch counter will refill your drink (soda refills are free), or add to your order if you want something else, or come around and smile and say hi and check on you and your party. Very cool.
So, if you'd like to have some fun and experience a "by gone era" you ought to check out the Hob Nob Drive In Restaurant, one of the most unique of Sarasota restaurants.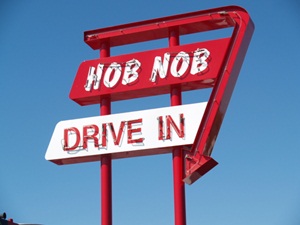 Hours: The Hob Nob is open 7 days a week at 6 a.m. They close nightly at 8:30 and at 9:00 p.m. on Friday and Saturday.

The Hob Nob Drive In is located at the busy intersection of U.S. Rt. 301 and 17th street in Sarasota on the northwest corner.
Directions: From Sarasota take U.S. Rt 41 to U.S. Rt. 301. Follow Rt. 301 north to 17th street.

From The Hob Nob Drive In Restaurant to Sarasota Restaurants Main Page

Escape-to-Sarasota-Florida Home