The New Pass Grill (and bait shop!) -  
Don't pass it by for a delicious bite
with a million dollar view...
The New Pass Grill and Bait Shop is right at water's edge on Sarasota's City Island and is one of those "Old Florida" experiences.
This is a no-frills, but fun place to grab not only a bite to eat and a drink to wet your whistle but also one of the most picturesque Jimmy Buffett-esque type places you'll find around the sun coast.
It's not Key West style but "Old Florida" done Sarasota style. And the bait & tackle shop right next door goes back to 1929. Owned by the Wallace family of Sarasota since the 1990s the landmark establishment changed hands in summer 2020 to Jonathon & Janean Sisler of Sarasota.
The Sislers said they will be "keeping the charm and character that has made it such a special place for generations."

The New Pass Grill is the kind of place that attracts casual and friendly folks from all walks of life, in all styles of dress, from swim suits and bikinis to shorts and t-shirts, to polo shirts.
And folks come by both land and sea as there are numerous places to dock up and tie up. And there's free parking out front.


You'll be amazed at the people-watching and meeting opportunities here. I was; just good friendly patrons from far and near.
One of the unique Sarasota Restaurants - Old Florida Style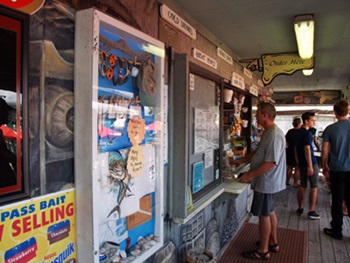 And while this is a no-frills restaurant, which means there is no table service; you place your order at the window and leave your name, find a place on a bench or pull up a stool and plant yourself with a cold drink or brew.
Then from your vantage point you can enjoy the water views, in every direction in front of you, until your name is called to pick up your order. And it's not a long wait. In my case it wasn't. And that was a good thing because I was ready for lunch!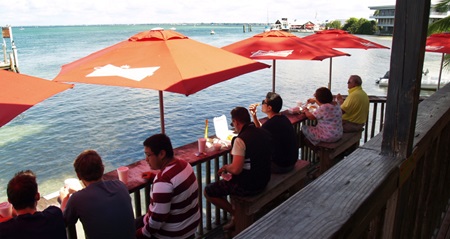 And when I first visited the New Pass Grill and Bait Shop it was in late September. It was busy but not crowded so I was able to find a first class location to sit at and dine waterside. I suspect that during the height of snow bird season, spring break time and vacation season it can get pretty tight and crowded here.
Did I mention the view is spectacular in every direction here?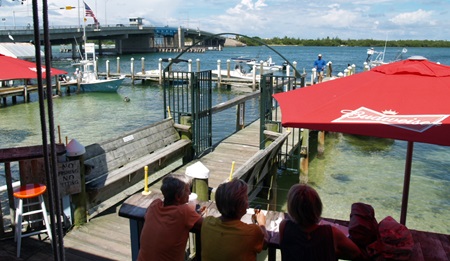 My first time here was such an easy going experience. The menu, on the wall of the New Pass Grill, covers breakfast, lunch and dinner but I was here for lunch this particular day. (It will have to be an early dinner as they close at 5 p.m.)

I asked one of the ladies at the ordering window what was good here and she said they are most known for their burgers. I asked about their Fish and Chips. She said that was the second most popular order. So that's what I went with; the Fish and Chips ($8.99).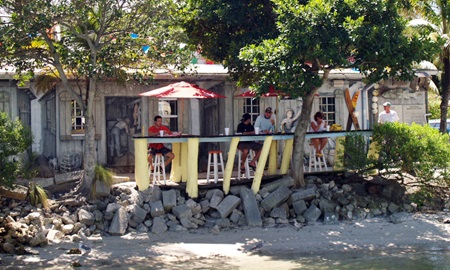 I also ordered a cold beer, took it with me and walked down to the front deck, a few steps below, where I found a bench with some free space and sat down alongside other patrons at the table, more like a narrow bar, which spans the entire length of this deck, to wait for my order to be ready.

What a great atmosphere here; being outdoors in the breezy air, sun shining, boats docked right in front of you, more boats coming and going on the nearby waterway known as "New Pass;" the waterway between City Island/Lido Key and Longboat Key.
In fact the location is right off the bridge to Longboat Key. From this vantage point it's also possible to spot dolphins and sea birds of all kinds and the water near the shore is clear and shallow here, too, so you can spot the occasional fish swimming by as well.

It wasn't long, perhaps 5 – 10 minutes or less before they called my name for me to pick up my order. As I said before, there's no table service and it's no frills. The Fish and Chips lunch came in an open and close Styrofoam container. And off to the side of the pick-up window is a corner with shelves full of condiments, napkins and whatever you might need to take along with you to your table for your meal.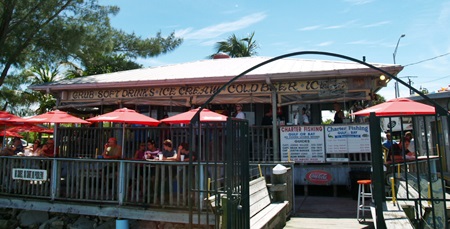 Sarasota Florida Restaurants
How was the meal? These Fish and Chips were fantastic! Cod fillets, lightly battered and golden-brown fried along with really nice, mildly seasoned and crispy fries (chips).
The four cod fish fillets were so light, tasty and delicious that this was the best Fish & Chips I've had in a long time.
I've had Fish and Chips made with Pollock and Haddock fillets, but I prefer Fish and Chips with cod fillets. I think they taste better. But I guess it's just personal taste. But these cod fillets were very lightly battered and cooked perfectly; not overdone, with thick batter and cooked too long, like I've had occasionally in the past.
And the fish fillets were delicious with or without the accompanying tartar sauce. The amount of batter was not over done; just right for my taste; light.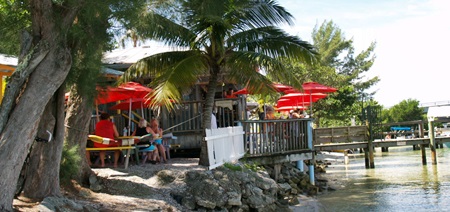 The lunch "basket" also came along with a nice serving of coleslaw which was also tasty; not overly sweet, but again, just right for my taste.
In fact the Fish and Chips lunch looked so good when I sat down under a red table umbrella that I dug right in, forgetting to take a picture of the entire serving as it was first presented.
It was only after I had eaten most of the delicious lunch that I remembered to snap a picture! Oh well! (Here's what was left when I remembered to take a picture! There's a slightly red hue to this picture because of the red umbrella over head.)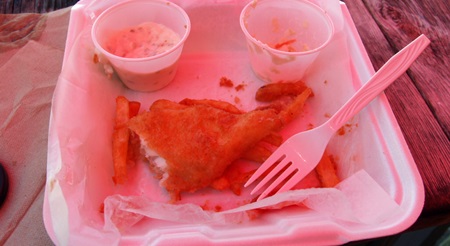 Next time I'll have to try their famous New Pass Burger, which looked pretty good as numerous other patrons in the establishment at nearby seats had ordered the cheeseburger and bacon cheeseburger and they looked terrific.
Again, while not gourmet, I was thoroughly pleased, I thought it was pretty darn good food for a quickly prepared hot lunch.

Restaurants in Sarasota
Other items on the New Pass Grill menu that you might like to try: a fried or grilled chicken sandwich, both $6.29 and a chicken fingers basket ($6.79). There's also a fish sandwich with battered cod ($6.49) plus a shrimp and clam basket, both $8.69.
They also have a selection of Hot Dogs on the New Pass Grill menu including a Chili Dog ($3.99) and a Chili Cheese Dog ($4.39) and there's Polish Sausage ($3.39).
You'll also find on the menu a selection of fresh, cold sandwiches; everything from a Tuna Sub ($7.29) to a BLT ($5.99) to the New Pass Stuffed Tomato ($7.29) which is your choice of homemade chicken or tuna salad stuffed in a fresh ripe tomato, served on a bed of lettuce, onions, pickles and green peppers. That sounds tempting, doesn't it?
You can get cold fountain drinks and beer and wine to go along with your food, too.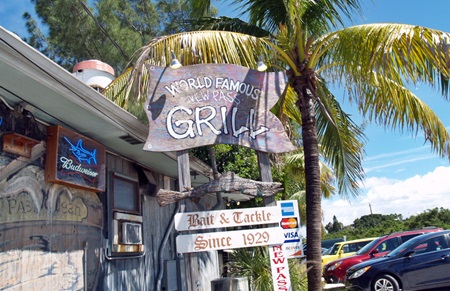 All in all, I would say the New Pass Grill is a winner, with menu items for lunch or early dinner (they close at 5 p.m.) ranging in price from $2.69 to $8.99 and a million dollar water view to enjoy your food over.
The only thing that could have improved the entire experience was if they had been playing the Jimmy Buffet Channel on Sirius/XM radio instead of the 80s music channel; it would have been the icing on the cake for a picturesque waterside dining spot like this one. 
What's your favorite Sarasota dining spot? What's the best meal you've had there? Let others know about your recommendations by writing your own Sarasota Dining Review. Share your favorite here!

By the way, if you're an early riser they also serve standard breakfast menu items from 7:00 a.m. – 10:30 a.m.
Hours: The New Pass Grill is open 7 a.m. – 5 p.m.
Address: 1505 Ken Thompson Parkway, Sarasota.
Directions from downtown Sarasota: Drive over the Ringling Bridge onto St. Armand's Key, bear right around St. Armand's Circle on Rt. 789, turn right before the bridge to Longboat Key onto Ken Thompson Parkway. New Pass Grill will be directly on your left after your turn onto Ken Thomson Parkway – New Pass Grill and Bait Shop is on City Island at the south end of the bridge to Longboat Key.

New Pass Grill to Sarasota Restaurants Main Page
Escape-to-Sarasota Florida Home