Pittsburgh Pirates Spring Training 2021
Pittsburgh Pirates Spring Training Reporting Dates 2021
Pitchers & Catchers First Work Out
Thursday, February 17, 2021
 
Full Squad First Work Out
Tuesday, February 22, 2021
2021 Pittsburgh Pirates Spring Training Fan Events: TBA

In coordination with Major League Baseball, the Pittsburgh Pirates on February 12, 2021 announced their updated schedule for the 2021 Grapefruit League Spring  Training  season.
The  revisions  were  made  in  accordance with all updated health and safety protocols implemented by MLB.
The schedule was moved back one day from the original schedule. The Pirates are planning for approximately 25-percent capacity throughout the ballpark, with tickets being made available in seating pod allotments of two and four per transaction.  All seating arrangements are being made in accordance with health and safety protocols with the recommended six feet distance between pods throughout the ballpark.

The schedule, which has moved back one day from the original schedule, will now feature 29 games in a 31 -day span. The Pirates Grapefruit League schedule will  now  begin on Sunday, February 28 as the Pirates visit the Baltimore Orioles in Sarasota at 1:05 p.m. The Pirates home portion of the schedule at LECOM Park will now include 15 games, down from the original 17 planned.  The Home Opener at LECOM Park will now be Tuesday, March 2, as the Pirates host the Detroit Tigers.  All  home  games will begin at 1:05 p.m., with the exception of the only scheduled home night game  scheduled on Friday, March 19, at 6:05 p.m.
This Spring Training, per MLB health and safety protocols, length of play for all  games may be shortened, subject to agreement by both Club managers.

Canceled for 2021: It's the Pittsburgh Pirates Annual Pep Rally. Activities at the Pep Rally include a photo booth, autograph sessions with current and former Pirates players, and games operated by the Pirates, team sponsors, and community organizations. 1960's cover band Yesterdayze headlines the live entertainment at the event. The Manatee High School drumline will also make an appearance. Pirates VIPs will address the Pep Rally from the main stage during the event. The Pep Rally serves as an annual launch of Spring Training festivities in Bradenton. Show your spirit and wear your best Pirates colors or costume. Free to attend. 5 p.m. - 9 p.m. Old Main Street between 3rd Avenue and Manatee Avenue in downtown Bradenton, FL
Canceled for 2021: The 13th annual Pirates Charities Spring Training Golf Classic, presented by TLI Sports, will take place at the River Wilderness Golf and Country Club in Parrish, Florida. Participants will have the opportunity to enjoy a round of golf with a Pirates celebrity while supporting the efforts of Pirates Charities in Manatee County. For more information contact Mary Lanzino at Pirate City in Bradenton at Mary.Lanzino@pirates.com
---
The Pittsburgh Pirates Spring Training Headquarters in Bradenton, Florida is known as "Pirate City." And there's no better place to spend a sunny Florida day in February or March!
Pirate City is a great place to watch baseball spring training, Florida style: That means outdoors in the late winter and early spring sunshine amid warming temperatures.
The Pittsburgh Pirate practice sessions are free and open to the public at Pirate City.
Pirate City is a unique place because of the close proximity between the work-out fields and the fans. It's also a place in which you can "feel" baseball history while you watch the beginnings of another new year of baseball.
Baseball Spring Training Florida Style

Pittsburgh Pirates Spring Training
Click here for the 2021 Pirates Spring Training Game Schedule and Spring Training Tickets.
While "Pirate City" is the site of the Pittsburgh Pirates Spring Training workouts, McKechnie Field is the site of the games during spring training season.
McKechnie Field, now called LECOM Park, and Pirate City have been the spring training home to the Pittsburgh Pirates since 1969.
A little history on McKechnie field: it was renamed from "City Park" in 1962 in honor of Bill McKechnie, who was a Pirates player and manager who retired to Bradenton.
The field was built in 1923 to hold more than 6,500 fans; the later grandstand addition was built as part of a renovation in 1993.
Up until renovations in 2008 night games had never been played at McKechnie Field during its more than 80 year history.

The Pirates signed a new 30 year lease in 2008 which should keep Bradenton and McKechnie Field the Pittsburgh Pirates spring training home through 2037.

And Pittsburgh Pirates spring training opened the 2013 season to a freshly renovated and made-over McKechnie Field; a $10 Million make-over!
The renovations included new and more comfortable fan seating, new restrooms and concession stands, plus a boardwalk around the park and a bar area over looking right-center field.
Plus, with it being Florida and all, renovators threw in some palm trees to line the outfield.
Also, with the new and added seating, fan capacity jumped from the original 6,500 to 8,500 and they've made available standing room only tickets for the boardwalk area.
They even lowered the left field scoreboard to make it part of the outfield wall thereby adding more seats overlooking left field.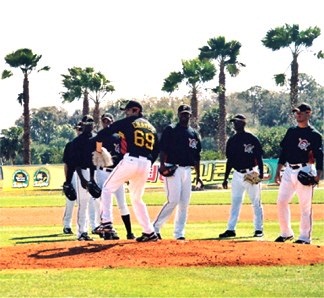 Great Pirate names of the past that have played at McKechnie Field and practiced at "Pirate City" include "Hall of Famers:" Roberto Clemente, Willie Stargell and Bill Mazeroski.
With the Pittsburgh Pirates in his rookie year, 1986, home run king Barry Bonds also trained at Pirates City.
And coincidentally, the player to hold the title of home run king just prior to Barry Bonds, the great Hank Aaron, arrived in Bradenton for spring training with the Milwaukee Braves in 1956.
How's all that for Florida spring training history!
Baseball spring training workouts take place at Pirate City and start around 9 a.m. and are free and open to the public.
Dates and times are deemed to be correct, however they were provided by the Pirate's office and are subject to change without notice, according to the Pirates.
Click here for the 2021 Pittsburgh Pirates Spring Training Game Schedule and Pirates Spring Training Tickets.

Directions: To get to Pirate City From South (Sarasota): Travel North on US 301. Cross S.R. 70 and make a right onto 38th Ave. East. Make first left onto 27th St. E. and Pirate City is a mile up the road. From Interstate 75: Exit I-75 at S.R. 64 West (exit 220 if traveling south, exit 220B if traveling north). Proceed west towards Bradenton and make a left on 27th Street East. Pirate City is approx. a mile on the left.
Pirate City - 1701 27th St E - Bradenton, FL 34208. Parking has been free.
To get to McKechnie Field From South (Sarasota): Take Route 41 North to Cortez Road, go straight onto Business 41 and turn right onto 17th Ave. West. Ballpark is located at intersection of 17th Avenue West and 9th Street West. From Interstate 75: Exit I-75 at S.R. 64 West (exit 220 if traveling south, exit 220B if traveling north). Go west on Route 64 to 9th Street West and turn left to the ballpark.
McKechnie Field, now LECOM Park, is located at: 1611 9th Street W., Bradenton, Florida. Located 1/2 mile West of Highway 41 on 9th Street West at 17th Ave. West.

To Baseball Spring Training Florida Main Page

Escape-to-Sarasota Florida Home