Pops Sunset Grill...
Good Food, Water Views and Great Sunsets!

Pops Sunset Grill is one of those out of the way places that you just have to try when you come to the Sarasota, Florida area.
It's nestled in along the Intracoastal Waterway in nearby Nokomis, a short drive from Sarasota.
More than "nestled in", it looks like Pops was "squeezed in" along the Intracoastal Waterway in Nokomis, but this establishment really predates much of the construction that has gone on around it over the years.
Pops Sunset Grill sits right on the water with a spectacular view of the waterway.
If you want to imagine that you're "Sittin' on the dock of the bay" or "wasting away in "Margaritaville," or "way down in Kokomo," this is the place to do it and no one's going to stop you.
In January, 2019 a part of the old Pops came down in place of a new part; a 3 floor Tiki Bar and Bou-Tiki which is absolutely beautiful.
With thatched Tiki straw roof and airy, wide open views under roof, you can still have a panoramic view of the intracoastal waterway on which Pops is located.
The new 3 floor addition includes two dining floors and a bar plus expanded souvenir boutique.
It's all very new, very appealing and very inviting. The new addition replaced the old two story north side of the Pops location.
Now, there are a total of 3 bars at Pops as the one inside has been renovated also, as well as a makeover for their kitchen.

The Pops Sunset Grill menu has evolved as well and many of the old favorites have been replaced by new choices, all still ranging from seafood to burgers to wood fired pizza. But they've eliminated some of my favorites like the Turkey Panini, their Shrimp Scampi and a few others in favor of new choices but they always feature nice specials and a great All American Burger.
I had a nice grilled salmon filet, one of the night's specials, on a recent trip.

The below menu review will be updated at some point, but until then it will still give you a flavor of Pop's Sunset Grill in Nokomis. Well worth trying.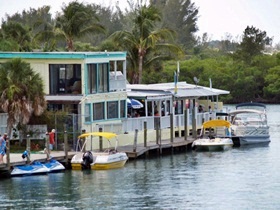 This is that kind of place!
It's a friendly crowd and there's full bar service along with both indoor and outdoor seating.
I like to hang out there at the bar or at a table in the courtyard with friends over a pitcher of beer while enjoying a cigar.
On the way into the entrance to Pops, just off the Bar you'll find the courtyard area with picnic tables and dining tables. It's nice - outdoor, open and airy.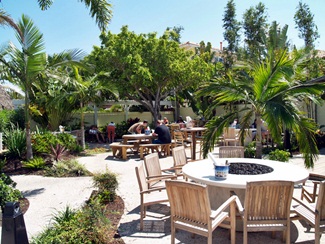 There's also a band stand for live music as well as a couple of raised deck dining areas which look like fun vantage points from which to dine.
From any waterfront vantage point at Pops Sunset Grill you'll be able to watch large motor yachts and small boats sailing up and down the waterway.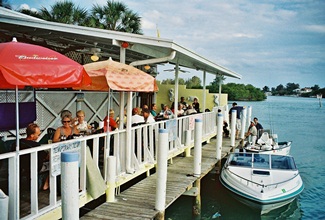 You'll see the nearby Albee Road drawbridge raise and lower. You'll spot Pelicans, Snowy Egrets; occasionally a Great Blue Heron will land on the dock next to the outdoor dining area. A number of birds come by looking for generous and sympathetic diners.
You might also spot a dolphin or two working his way through the intracoastal waterway near Pops Sunset Grill.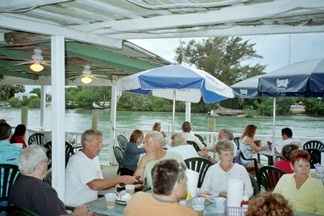 No extra charge for the sunset at Pops even though
it's called the "Sunset Grill."

Most of what's on Pops Sunset Grill menu would not be categorized as "gourmet prepared" food. That's not what they do at Pops nor why you go.
They DO have good food but you go for the food AND location and atmosphere, the scenery, being right on the water and a little bit of what's left of old Florida.
It's one of the few remaining restaurants in Sarasota, and its surrounding area, where you can actually dine on the water and get a good meal at a fair price.
There's a wide menu to select from, including seafood and steam pots, a grouper Reuben, burgers and much more. The food is good, tasty and filling.
There are menu items in all price ranges.
When I go for lunch I will usually have a basic burger basket, which is a standard burger and fries.

I also like their Turkey, Bacon, Swiss Club Panini, which comes with bacon, Swiss cheese and tomato with a side of fries.
It's a delicious sandwich, served good and hot, along with fries that are mildly seasoned (Old Bay Seasoning, perhaps?).
On one recent occasion my lunch companion had soup and salad, starting with Pops Clam Chowder about which she said, "My Chowder was very good. Texture was smooth and rich. Plentiful clams and seasoned perfectly."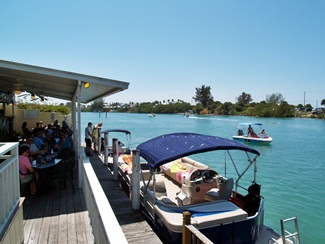 As far as Pops' Mediterranean Style House Salad she said it was "very fresh and plentiful with green pepper, red onion, cucumbers, Romaine lettuce and feta cheese.
I requested ranch dressing, but it generally comes with a vinaigrette dressing. It was also served with pita squares and hummus. It was very refreshing and the presentation was attractive. I would rate it as a 9 out of ten."
You might check Pops Sunset Grill lunch and dinner specials board, too; sometimes they have a delicious BBQ pulled pork sandwich on special, or grilled salmon, or other seafood treat.
There's also a Grilled or Blackened Chicken Breast sandwich and "fresh catch of the day" specials that you can order "blackened."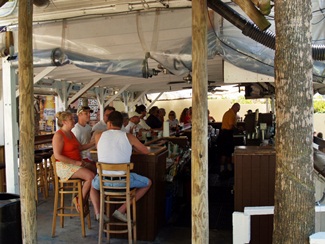 If you're really into seafood, Pops Sunset Grill is the place to check out an original "Steamship Pot!"
The one at the top price is enough for two and includes your choice of two of the following: 24 shrimp, 24 clams, 24 oysters, 2 lbs mussels, 2 lobster tails and each steam pot comes with corn on the cob, red bliss potatoes, onions, carrots and celery "fresh from the steamer with drawn butter and spicy cocktail sauce." This is a true seafood lover's feast!
A number of "wood burning grill" selections have been added on the ever evolving menu. At this writing there are features such as Grilled Mango Rubbed Shrimp, Grilled Chicken Barbeque, Grilled Salmon and Surf and Turf, Ribs and more. 
Additionally you can select from about a half dozen brick oven baked Pizzas which feature a "super thin flat bread crust." And there's a selection of about a half dozen "Pops in Paradise" burgers from which to choose.

With lots of appetizers from which to select, too, you might try some buffalo wings, coconut shrimp or conch fritters, fried pickles or calamari, nachos or black beans and rice, which I hear from my lunch companion, is fantastic.
There's plenty more on Pops' menu to try, too, including a Salmon B.L.T. which I have yet to try, but it looks very tempting. Maybe next time.
The menu at Pops has been evolving much more quickly over the past couple years with some nice additions and changes. I think that's a good thing.

Perhaps they'll bring back an old favorite of mine; their version of Shrimp Scampi in a garlic, butter and white wine sauce. It was a tasty, light dish that I miss at Pops Sunset Grill.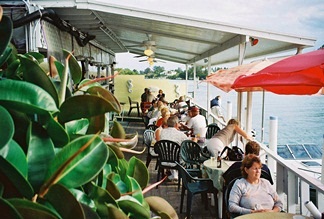 Add your favorite glass of wine or a beer and, voila', you've got everything you need to enjoy the sunset over the gulf, over a delicious dinner.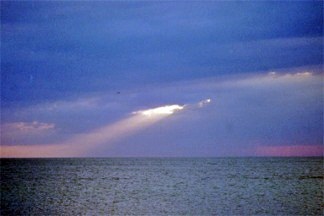 One of the few Sarasota restaurants left on the water, I always enjoy my time at Pops Sunset Grill. I think you will too.
One note: During peak season it can be extremely busy and the wait can be long for a table as diners come by both land and water. Plan ahead.
What's your favorite Sarasota dining spot? What's the best meal you've had there? Let others know about your recommendations by writing your own Sarasota Dining Review. Click here to share your favorite!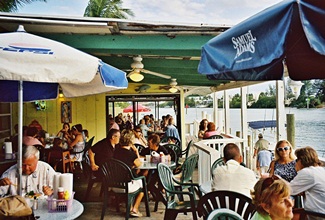 Hours: Open daily for lunch and dinner.

Directions: It's a little tricky finding Pops Sunset Grill. From Sarasota, travel south on U.S. Rt. 41 (Tamiami Trail) to Nokomis.
Turn right onto Albee Road. Follow Albee Road to just before the drawbridge that goes over to Casey Key and Nokomis Beach.
Turn left before the drawbridge at Gulf Harbor Marina and head straight past the boat marina storage building, back into one of the two parking lots that you'll see in front of you.
You're now in the parking lots of Pops Sunset Grill. Mind you, parking is not always the best here. You may want to find another nearby parking location, now that you've found Pops successfully. (941) 488-3177

From Pops Sunset Grill to Sarasota Restaurants Main Page

Escape-to-Sarasota-Florida Home