Rosebuds Steak and Seafood House
Fine dining in a rose adorned dining room!
Rosebuds Steak and Seafood House should be on your menu if you're looking for a wonderful Sarasota dining experience, in a nicely appointed restaurant!
During busy season, there's usually a waiting line at the entrance, so you may want to think about reservations, which they do accept.
Nicely decorated with warm wood tones and fresh roses throughout the restaurant, this Sarasota dining spot has been a very popular one since 1995, just a few minutes south of the Palmer Ranch area of Sarasota on Rt. 41.
This Restaurant provides not only great atmosphere and service, but gourmet food as well.
You'll find Angus beef, fresh seafood, and veal, chicken, pasta and more on the menu and homemade, warm, baked bread on your table.
There are definitely enough choices on their extensive menu to make a meal to remember at one of the best Sarasota restaurants in the sun coast area.
On a recent trip to Rosebuds Steak and Seafood House I had the sirloin steak and fried shrimp combination dinner. (You can add shrimp to almost any dinner to make a nice combination).
This sirloin steak was a thick, hand-cut piece of beef, as thick as a Fillet Mignon! Flavorful, tender and grilled just right, the steak was served with a baked potato and fresh vegetables, along with the fried shrimp.

I was quite pleased as I had been on an earlier dinner trip when I ordered the grilled Atlantic salmon. On both trips I had experienced the same quality food preparation and service from a professional and experienced service staff.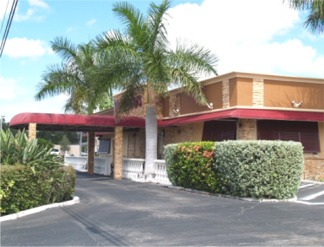 Rosebuds Steak and Seafood House

On my most recent dining visit there were 4 others in my dinner party, 3 of whom were out of town visitors looking for a good meal after a hard day on the golf course.
The others in my party had a pork chop dinner that I wished I had ordered instead of the steak, because the pork chops were generously sized and beautifully grilled and when the shrimp was also ordered, it was a great looking, mouth-watering combination.
Someone else in my party ordered one of the daily specials that featured steak ka-bobs and shrimp and another in our party ordered the sirloin steak dinner, as I had.

While there were some "discriminating" diners in our party, no one walked away disappointed with their dinner selections or the level of service, although next time I might order the pork chops and shrimp combination!
Rosebuds also runs a Lobster special from time-to-time. They call it "Lobster Mania" and you can get a 1 lb Live Maine Lobster for $15.99 and add a Rib Eye Steak to the order for a total of $23.99.
There's also full bar service, an extensive wine list and 24 wines by-the-glass available.
On the occasions I've dined here the service has always been exceptional due to an experienced wait and support staff.

With daily specials, home baked bread and hand cut steaks along with chicken, chops, seafood, veal, pasta and more, all served in a very attractive, comfortable, rose-filled dining room.
Among the best restaurants in Sarasota and the surrounding Sun Coast area, Rosebuds can provide you an evening of fine food and dining.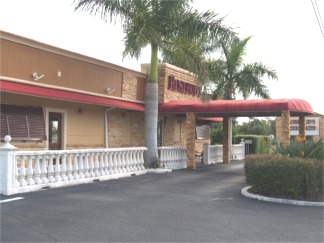 What's your favorite Sarasota dining spot? What's the best meal you've had there? Let others know about your recommendations by writing your own Sarasota Dining Review. Click here to share your favorite!

Hours: Rosebuds Steak and Seafood House is open Tuesday through Sunday from 4 p.m. to 10 p.m. and there's an early bird dinner menu from 4:00 - 5:30 p.m. except holidays. Happy Hour in the lounge is 4:00 - 7:00 p.m. Reservations are accepted at (941) 918-8771 (During "season" they're open on Monday).
Directions: From Sarasota follow U.S. Rt. 41 south to Osprey. The restaurant is just south of Oscar Scherer State Park on the east side of Rt. 41 at 2215 S. Tamiami Trail.

Rosebuds Steak and Seafood House to Sarasota Restaurants main page

To Escape-to-Sarasota Florida Home