The Sandbar Restaurant
Just steps from the water on Anna Maria Island
with a view to die for!
Like in a picture postcard, The Sandbar Restaurant sits right on the beach - in Anna Maria Island's city of Anna Maria.
On the northern side of the island in a picturesque setting looking out on the sparkling Gulf of Mexico, which is just steps away from your table, this is one of the kinds of places you come to Florida for.
Our visit to was on a hot, bright, Florida sunshine filled Labor Day. The place was packed this Holiday; both outdoor deck and indoor dining room and bar.
Yes, it was crowded but due to either good timing or good luck, perhaps a little of both, we "sneaked in," compared to others, with only a 15-20 minute wait at about 1:30 pm. After we were seated the waiting time increased to about an hour.
Did I mention it was hot?
Well, to combat the heat in the summer months The Sandbar Restaurant's outdoor deck has numerous fans strategically placed around the deck, on the ground and from the ceiling, that keeps the breeze flowing. But it was still hot; after all it was normal early September weather in Florida!
While we were settling in at our table and cooling down with some iced tea, which was quickly served to us, we could see some of the orders being delivered to other nearby tables and they all looked tantalizing.
While perusing the lunch menu we found some nice surprises other than the standard "beer & burger" fare.

Anna Maria Island Restaurants - My Review of
The Sandbar Restaurant
Many of the lunch entrée descriptions were very tempting. Let me give you an idea:
For example there was a "Seafood Mar Vista" comprised of sautéed shrimp, scallops and fresh fish with garlic herb butter, white wine, mushrooms, red and green peppers and artichoke hearts served over linguine! ($15.99) That all sounded terrific. (And I'll be going back for that!).
But I had spied a dish on another table as we were being seated that I wanted to investigate; A "Turkey Bacon Club:" Roasted turkey breast, bacon and Swiss cheese between layers of your choice of bread or a Croissant, with lettuce, tomato and mayo. ($9.99)
Now I LOVE turkey, but seem to only get to have it at Thanksgiving Holiday time, so if I occasionally see it on a menu in this form, I'll treat myself to it. That's what I ordered. It came on 4 skewers with a load of French fries - very appealing and a nice presentation. And delicious. I would order it again.
My lunch partner had the Sandbar Crab Pasta Salad ($10.99) and was delighted with this old Anna Maria Island favorite. Filled with chunks of crab and white fish then tossed with Sea Shell Pasta and served with fresh fruit, she found it to be pleasing and delicious and plenty for her.
The menu, on our visit, was eclectic enough to offer a "Buffalo Burger" of 97% fat free buffalo grilled the way you like it, as well as escargot on the appetizer menu.

Suffice it to say that there were plenty of appealing and creative choices on the Sandbar Restaurant's lunch menu.

There's also an "Early Bird" menu, a "Deck Menu," and a "Dinner Menu" with menu prices ranging from $8.99 for a Bali Chicken Sandwich to $27.99 for a 10 ounce Filet Mignon.
The dinner menu also features sandwiches as well as more seafood, beef, poultry and pasta entrées including a delicious sounding "Shellfish Pasta" ($22.99) featuring gulf shrimp and scallops over linguine in a lobster cream sauce.
As I mentioned above, the menus here at The Sandbar Restaurant on Anna Maria Island are much more than just burgers. They are quite creative and extensive and include a variety of seafood items for both lunch and dinner, although you can get a simple Sandbar Steak Burger ($8.99 for a half-pounder!) and beer if that's your heart's desire.
You can also enjoy Sunday Brunch from 10 a.m. - 1 p.m. with both new and traditional menu selections such as Gulf Coast Benedict; fried grouper, poached egg, spinach, tomato and hollandaise served with potatoes, Smoked Salmon Eggs Benedict, Shrimp and Grits, the Islander Breakfast which features pan seared grouper, Stuffed French Toast and more.  Kick back with some mimosas, a sparkling berry sangria or a coconut punch and chill with live jazz music. Dine inside or out. Brunch menu items are from $9.99 - $15.99.
The Sandbar Restaurant also has full bar service and all your favorite tropical concoctions from Margaritas to Caribbean Breezes that you can enjoy with live music from 6 p.m. - 9 p.m. on Friday, Saturday and Sundays.
If you like the thought of lunching or dining right on the beach, where with some tables you can swirl your toes in the sand, this is the place for you.
You can watch the boats anchoring off the beach, the guys and girls on the beach, the sparkling water of the Gulf of Mexico right before your eyes and toes or just people-watch in general.
In conclusion: The Sandbar Restaurant is in a great location with a delightfully ambitious menu.
The Sandbar Restaurant, on Anna Maria Island, is definitely worth the scenic drive from Sarasota and a good choice amongst other Sarasota Restaurants in the Suncoast region as well as a fun experience.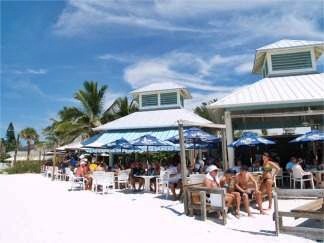 What's your favorite Sarasota dining spot? What's the best meal you've had there? Let others know about your recommendations by writing your own Sarasota Dining Review. Click here to share your favorite!

Directions: The scenic route: From downtown Sarasota, drive across the Ringling Bridge onto St. Armand's Key; follow Rt. 789 around St. Armand's Circle to Longboat Key. Follow Gulf of Mexico Drive north across Longboat Key and across the draw bridge onto Anna Maria Island.
Once on Anna Maria Island simply follow Gulf Drive North all the way to Spring Avenue and the Sandbar Restaurant. From downtown Sarasota it's about an hours' drive. 100 Spring Avenue - Anna Maria, FL 34216 - (941) 778-0444
Hours: Daily from 11:30 a.m. - 10:00 p.m. -- Early Bird Special: Inside Dining Only: 4:00 p.m. - 5:30 p.m. Sunday brunch: 10 a.m. - 1 p.m.
Tip: There's an additional parking lot off site about a block south on the west side (gulf side) of the street.
Tip: Since you're heading out on a road trip from the Sarasota area why not allow an extra hour or so to stop and explore the shops in Bradenton Beach on Bridge Street?
It's at the intersection of the roundabout at Gulf Drive South/Rt. 789 and Bridge Street at the far south end of Anna Maria Island.

From Sandbar Restaurant to Sarasota Restaurants Main Page

Escape-To-Sarasota-Florida Home