Simons Coffee House and Deli
Impressive homemade soups, fresh made sandwiches,
wraps and salads..
Simons Coffee House and deli makes it into my Sarasota Dining Guide because it is a quaint little place to grab a delicious, inexpensive whole food breakfast or lunch.
I "discovered" this busy, but fun, little cafe while I was shopping for a car on a Saturday afternoon and stopped in for lunch and was quite impressed.
Since then I've been back for lunch numerous times, taking along and introducing friends, to Simons.
Because of its popularity lunch hour at Simons had become very busy and service got a little hectic because it had been a relatively small establishment.
So to solve that they expanded so that they now have more room to serve their customers.
In early 2019, Simon's began staying open Tuesday through Saturday evenings from 5 p.m. - 9 p.m. for dinner hours under the name "Tyler's at Night" and they feature craft beer and wine. Same location as Simon's but it transforms itself for the evening.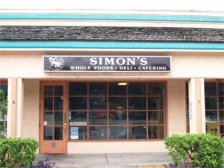 The big draw to Simons Coffee House is the food: The food is good and it's prepared fresh right there on the spot each day.
Now I know a lot of other restaurants in Sarasota prepare their food fresh daily also, but there's just "something" about Simons that I and a lot of others like.
Plus there are new specials on the menu each day too.
The main reason I keep going back is because they have a really delicious hot pressed sandwich called a "Panini."
One Panini, in particular, the "Santa Fe," is my favorite and it is fantastic: turkey, bacon, cheddar cheese, mayonnaise and barbecue sauce. The barbecue sauce is just enough to add a little "zing."
This is a great sandwich and it's served with a cold side dish, chips or fruit.

I usually order the cold side dish, because it's usually some sort of fresh, home made deli salad, like the garden pasta salad I've had there, which they make and serve occasionally. It's outstanding. The only trouble is they don't have it everyday because they'll make a new one the next day.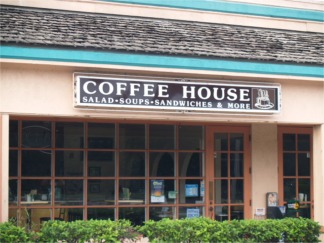 Simons also has home made soups. My lunch companion recently had a daily special of a half-sandwich and black bean soup that reportedly was outstanding. The soup selections change daily also.
While the menu at Simons is not huge, it does cover a lot of ground and there are more than enough choices; from 5 styles of Panini sandwiches, assorted wraps and cold sandwiches, to 7 different salads to select from including a Caesar Salad and a Greek Salad, you'll most likely find something tempting to order.
You'll also find Vegan and Vegetarian dishes for breakfast and lunch at Simons and they use organic produce when it's seasonally available.
You can also get your Cappuccino, Mocha or Latte here along with a selection of Health Drinks from Organic Carrot Juice to various Fruit Smoothies.
I've never eaten breakfast at Simons but they have a selection of breakfast sandwiches, pastries, fruit muffins and scones as well as omelets, vegan scrams, wraps and more. My guess is that breakfast would equal the quality of lunch at Simons.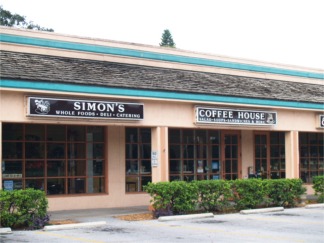 Simons Coffee House and Deli is a fast paced place where you can relax and have a good, tasty meal while watching the restaurant staff hustle and bustle around you.

You have your choice of indoor or outdoor café style seating at Simons and take out is also available.

Out of all the Sarasota restaurants I've been to I always enjoy my visits to Simons and I think that you might like it too, if you like good whole food prepared fresh.
The prices are reasonable, service is good and there are a number of homemade menu items and daily specials that are well worth trying.
Hours: Simons Coffee House and Deli is open Monday – Saturday from 8 a.m. to 3 p.m. and closed Sundays.
Enjoy!
What's your favorite Sarasota dining spot? What's the best meal you've had there? Let others know about your recommendations by writing your own Sarasota Dining Review. Click here to share your favorite!

Directions: Follow U.S. Rt. 41 (also known as the Tamiami Trail) to the shopping strip plaza across the street from Sarasota Memorial Park. The address is 5900 S. Tamiami Trail, Sarasota, FL

From Simons Coffee House to Sarasota Restaurants Main Page

Escape-to-Sarasota-Florida Home