Cha Cha Coconuts
Inside or Curbside Dining right
on St. Armand's Circle!

Cha Cha Coconuts is a fun experience.
Cha Cha's is a small casual bar and restaurant with indoor and outdoor seating directly on the sidewalk at St. Armand's Circle.
You can watch the cars and the peeps pass as you munch on food and sip on tropical drinks.
Talk about atmosphere, and an open air setting, if you happen to select and then get lucky enough to get an outdoor umbrella table!
You can feel the "Jimmy-Buffett-Island-Vibe" here, especially with music pumping out of the indoor part of the Cha Cha Coconut's restaurant and bar. You may hear island music, tropical music, reggae, a live band..who knows? But it will be fun.
Yes, sometimes it's loud, noisy and crowded, especially during the height of "season" and during the Sarasota Offshore Racing Festival Week and Sarasota Boat Races, as all of St. Armand's Circle is usually buzzing with activity and crowds.
It just makes it more fun to be at a place like Cha Cha Coconuts during times like these! After all, besides food, it is also about atmosphere. This is not a hoity-toity, high brow kind of place. So, hey, 'Mon - lighten up yourself!'
Now, about the food: Cha Cha Coconuts will provide you with a Caribbean/Floribbean cuisine and menu. That's a combination of Florida and Caribbean. (But you probably already figured that out!)
My personal preference is to sit outdoors because I think it's much more fun to sit in the open-air sidewalk cafe under an umbrella-covered table, if you can get one.
With an outdoor table you can take in all the sights and sounds of St. Armand's Circle, along with a quickly ordered and served cold drink, on a steamy afternoon or evening while waiting for your lunch or dinner to be served; a great way to pass the time while waiting for your food order.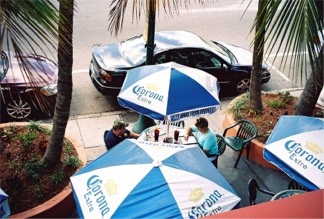 While we're talking about a nice outdoor café atmosphere and good food, we're not talking "gourmet" food with "gourmet" prices. But the food is quite good and mostly moderately priced.
Cha Cha Coconuts

When I stop here for a bite it's mainly for the "outdoor cafe atmosphere" and the burgers or Cuban sandwiches, which are "pressed" sandwiches.
If you've never had a Cuban sandwich, you're in for a real treat: usually a Cuban sandwich features pork, salami, ham and Swiss cheese on pressed Cuban bread, hot, along with pickles and mustard. It's quite a tasty treat and comes with Island fries (a little spicy but delicious!) here.
I've had Cuban Sandwiches at a number of Sarasota restaurants and around the Suncoast and the Cuban Sandwiches here stand up well to those I've had elsewhere. They really hit the spot.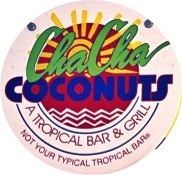 Cha Cha Coconuts on St. Armand's Circle
Their menu has enough of a good variety of reasonably priced selections from which to choose that you're bound to find something you'll like in your price range.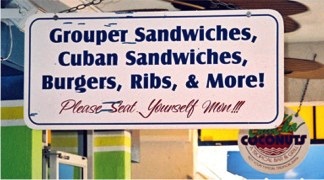 In fact the highest priced item on the menu is the Blue Mountain Voodoo Ribs for $16.95, a house specialty and they say the recipe comes from the Blue Mountains of Jamaica. "Hey Mon - Lighten up yourself and ENJOY!"
There is also a selection of about 5 varieties of burgers priced from $6.95 - $7.95 as well as "Island Sandwiches" like The key West Mahi Sandwich with a Canjun twist to it for $9.65, Jamaican Jerk Chicken for $7.95 along with Lime Garlic Merzula "Cozumel" for $8.95.
You can even get a Caribbean Steak for $14.95. It's marinated in Caribbean spices, grilled and served with onion sticks. Yum.
If you're looking for something less than a full meal or burger there are some tasty appetizers on which to munch as well; everything from Calypso Chicken Wings to San Juan Nachos, Island Fries, Bahamian Conch Fritters and Big Bamboo Garlic Shrimp and more.
They also serve Salads and Soups including traditional Black Bean Soup.
There's full bar service available which includes Tropical Drinks you might expect like a Pina Colada, the "Jamaica Me Crazy," Rum Runners, Bushwhackers, Hurricanes, Daiquiris and more. You can also get wine and beer here.
There's also a kids menu and a carry out and delivery service.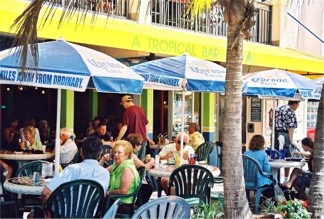 What's your favorite Sarasota dining spot? What's the best meal you've had there? Let others know about your recommendations by writing your own Sarasota Dining Review. Share your favorite here!

Cha Cha Coconuts on St. Armand's Circle is indoor and outdoor, casual, fun, and mostly inexpensive with friendly, usually fast service.
I always enjoy myself here. Try the Cuban Sandwich!
And, don't forget to "Smile Mon - You're in Sarasota!"
You'll have a fun time.
Directions: From Sarasota, take Rt. 41 through the Bay front/downtown area of Sarasota over the John Ringling Bridge (southwest) to St. Armand's Circle. Park in one of the free lots behind the shops on St. Armand's Circle.

From Cha Cha Coconuts to Sarasota Restaurants Main Page

Escape-to-Sarasota-Florida Home