Baltimore Orioles Fan Fest 2009
The first ever Sarasota-Baltimore Orioles Fan Fest took place on Saturday November 14, 2009 at Ed Smith Stadium in Sarasota, Florida.
Under clear blue Florida skies filled with sunshine and warms smiles and a comfortable 75 degrees, about 2,500 fans attended the 'official' meet and greet between the "new hometown" fans and a small contingent of Sarasota's new spring training team, "The O's."
The Orioles will be carrying on Sarasota's 85 year tradition of hosting spring training teams for the next 30 years under an agreement signed in July, 2009.
From a Sarasota Military Academy color guard to a pair of sisters with a perfect harmony acapela rendition of the National Anthem to Orioles of the present and past, and of course, the Baltimore Orioles team mascot, it was great to see part of the new Sarasota spring training team.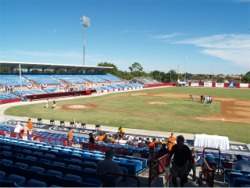 The Baltimore Orioles baseball organization was generous with freebies: Orioles caps, hot dogs, soda, beer for adults and Orioles commemorative pennants.
It was plenty to put fans in a festive mood in the new "Birdland" here in Sarasota ("Birdland" is anywhere Orioles fans are present, which makes it even bigger than Camden Yards. It's a state of mind).

More on the Baltimore Orioles Fan Fest

The master of ceremonies for the Fan Fest event was Orioles broadcaster Gary Thorne, who also just so happens to be a Sarasota area resident. "How nice," he remarked that the Orioles are now having spring training in "my home town!"
The Orioles' new spring training home, Ed Smith Stadium, will begin undergoing renovations following the 2010 spring training season. Scheduled improvements include a covered concourse and the addition of an upper level concourse.
Also speaking to the crowd was Louis Angelos, son of Peter Angelos who owns the Baltimore franchise, saying that further enhancements for Ed Smith Stadium are still in the design stage but he promised a facility "radically different" from its current state.
Click Here for the 2021 Baltimore Orioles Spring Training Schedule & Spring Training Tickets.
Ceremonies on the field were followed by a Fan Forum. Oriole's manager Dave Trembley and Orioles Hall of Fame member as well as co-broadcaster, Jim Palmer, plus 4 Orioles players were all on hand to answer questions from fans seated and lined up along the first base dugout.

The Fan Fest afternoon wrapped up with a fun event for youngsters: a "Kids run the bases" for all fans 14 and under. And 2 autograph stations featured Orioles Nolan Reimold, Brad Bergesen, Adam Jones and Jim Johnson.

There were also generous prizes from the O's to the new fans: Autographed memorabilia, spring training season tickets and a baseball trip to Baltimore including a couple of night's hotel, airfare and game tickets to the Orioles Park at Camden yards.
All in all, the first ever Orioles Fan Fest in Sarasota was a home run.

From Orioles Fan Fest to Baseball Spring Training Florida main page