Rotten Ralphs -
a Waterside
Anna Maria Island Restaurant

with Great Views.
This Rotten Ralphs location on the Bradenton Beach City Pier closed in 2013 and moved to 5942 34th St. W. in Bradenton and is now simply known as "Ralphs" and is open Monday through Sunday from 11 a.m. to 9 p.m

What could possibly be appealing about an eatery with the name Rotten Ralphs?
Well, we decided to find out.
On the first day of spring, while my mom and dad were spending the month of March in nearby Venice, Florida, we decided to take a road trip up to one of the waterside Anna Maria Island restaurants for part of the day, for lunch.
Having previously been to Anna Maria Island Florida on Labor Day, I recalled a place we said we would like to come back to and check out on the Historic Bridge Street Pier.
That place was Rotten Ralphs!
Waterside Anna Maria Island Restaurants – Rotten Ralphs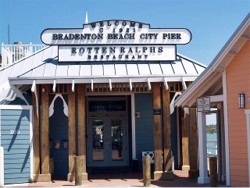 After a scenic drive north, up Gulf of Mexico Drive on Longboat Key and across the bridge and on to Anna Maria Island we soon came to historic Bridge Street in the community of Bradenton Beach.
The street is about 2 blocks long with a couple restaurants and diners, quaint shops and souvenir shops on both sides of the street.
There's also a vacant lot that serves as the back drop for an open air market on Saturday mornings. They have everything from fresh fruit and vegetables to crafts and music.
After we strolled through the open air market and the Bridge Street shops we walked out the Bridge Street Pier to Rotten Ralphs.
Now, this is 'high season' in Florida with the confluence of winter snowbirds, regular vacationers and spring breakers. So it can be quite busy when going out to lunch or dinner and waits can be quite long.
But my plan was to beat the crowds and the traffic. So I timed our road trip so that we would arrive in Bradenton Beach about 1:30 p.m, and we did. Tack on about another half-hour or more of a walking tour and it was time for lunch.
Anna Maria Island Restaurants - Rotten Ralphs

When we arrived  we pretty much had our choice of prime outdoor, on the deck, "real estate" (seating). We selected a table with a wonderful view of the harbor and, over our shoulder, the Cortez Street Bridge between Bradenton and Bradenton Beach.
You really couldn't ask for a better view. So far Rotten Ralphs wasn't looking so rotten!
Once seated, drink orders were taken for our foursome and menus were handed out. We were here for lunch, but I noticed on the menu that they also serve breakfast here. Nice to know.
Perusing the menu I noticed lots to choose from: from Escargot appetizers to Clam Chowder and Seafood Gumbo, Crab Cakes, Shrimp, Nachos and Oysters Rockefeller, to Grouper Sandwiches, Burgers and Chicken Sandwiches, Salads and even home style meals like Roast Beef and Meatloaf!
There were lots of moderately priced choices on the menu on our visit.
There also was a high end on the menu with everything from a Fisherman's Platter for $23.99, plus Grouper, Scampi, and Chicken Dishes to a Rotten Ralph Steak for $20.99, and several pasta choices in the $12 - $14 price range.
It was a really well rounded menu with various prices ranges and the bonus: great outdoor views on the water.
Rotten Ralphs in Bradenton Beach on
Anna Maria Island Florida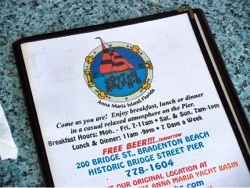 Our friendly waitress brought our lunch order - it seemed like in seconds-flat! And it all looked great as it was being delivered to our table.
Ma was having the Seafood Gumbo, home made, a meal in itself and just $7.35. She said it was very good and filling.
Dad, I and Cindy went for the all you can eat Fish and Chips for $9.99.
They were light, flaky Pollock fillets dipped in batter, golden fried, served with lightly seasoned French fries (Old Bay Seasoning perhaps?) – These were large, tasty fillets.
The Fish and Chips were filling and came with a side of cole slaw. Add some malt vinegar and tarter sauce along with a couple beers, mix in a beautiful outdoor waterside view, top it off with a clear, bright, not-a-cloud-in-the-sky, sunshine-filled 75 degree Florida afternoon and it just doesn't get any better.
So what did we find "rotten" about Rotten Ralphs? Actually, nothing!
We had timed our arrival for after the lunch hour rush, were seated immediately, served promptly by a friendly waitress and we all enjoyed our lunches and the great waterside view.
I would say it was time and money well spent.
Next time we go, I'll probably have the Fish & Chips again!
What's your favorite Sarasota dining spot? What's the best meal you've had there? Let others know about your recommendations by writing your own Sarasota Dining Review. Click here to share your favorite!

Directions: The scenic route: From downtown Sarasota, drive across the Ringling Bridge on to St. Armand's Key; follow Rt. 789 around St. Armand's Circle to Longboat Key. Follow Gulf of Mexico Drive north across Longboat Key and across the draw bridge on to Anna Maria Island. Once on Anna Maria Island simply follow Gulf Drive North to Bridge Street (just north of Coquina Beach at the "roundabout") in Bradenton Beach and turn right and head straight toward the Bridge Street Pier. From downtown Sarasota it's about an hours' drive.
Hours: Daily from 7:00 a.m. - 9:00 p.m. seven days a week.

From Rotten Ralphs to Sarasota Restaurants Main Page

Escape to Sarasota Florida Home