The Saltwater Cafe
Over 300 menu selections from which to choose!
The Saltwater Cafe is a friendly restaurant, family owned and always ranked at the top in local "favorite Sarasota restaurants polls."
Co-owner and Executive Chef, Chef Rolf prepares many of his selections with a European flare, most likely due to his Swiss heritage.
Its location is in Nokomis, just south of Sarasota and has much to offer. Ready?
With over 300 items, the voluminous menu is most likely the largest single menu of all Sarasota restaurants and of neighboring areas.
It may take you a good half hour to look it over and decide on your order! Bring your reading glasses, because the menu is mostly smaller print!
In July, 2018 The Saltwater Cafe in Nokomis, Florida, closed.

Their announcement read: "Regretfully, after 22 amazing years Saltwater Cafe is closing its doors. Thank you to all our customers for allowing us to serve you. And thank you to all our staff for your dedication and hard work. It has been a pleasure serving you and we are grateful to everyone who supported us."

--- They have opened a new restaurant: Chef Rolf's New Florida Kitchen, 2001 Siesta Drive, Sarasota, FL.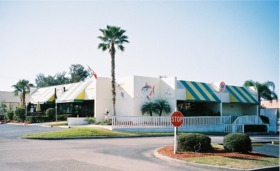 There are great selections of every kind here, from the simplest to gourmet, from inexpensive to pricey.
If you can't find something to order from this menu of 300 choices you're either not hungry or too picky!
Seriously, though, I think about the only thing they don't have on the menu is cotton candy!
Here's a favorite of mine at The Saltwater Cafe in Nokomis: The Cedar Plank Herb Crusted Baked Salmon Filet. After it's seasoned and prepared, the salmon filet is baked in the oven on an untreated cedar wood plank, which infuses the salmon with a truly unique and delicious flavor. It's yummy.
The seafood menu is extensive. There are seafood samplers, scampi, steam pots, trout, soft shell clams, grouper, crab cakes, lobster and more. There's also a "fresh catch fish of the day" that you can have grilled, baked or broiled.
Plus there's a raw bar, open daily from 4 p.m. to 5:30 p.m, that features fresh seafood including Florida oysters and clams!
The Saltwater Cafe is consistently voted in annual local polls as the best place for seafood.
To your dinner entrée The Saltwater Cafe also adds homemade Swiss Bread, fresh vegetables and your choice of Potato Au Gratin, Jasmine Rice, Seasoned French Fries, Garlic Mashed Potatoes or Pasta!
The Saltwater Cafe Menu; Hundreds of Choices

There are also choices for "land lubbers:" Veal, Chicken, Duck, Lamb and Pork, even Ossobuco, served with a Merlot wine sauce!
With a variety of Steaks, all Angus Certified beef, you can choose from Filet Mignon "French Style," Cajun Rib-eye Steak, Roast Prime Rib and a 14 oz New York Steak "Café de Paris" which is served with their secret steak butter!
There are even some old traditional entrées on the menu: Meatloaf, Chicken Francaise and Calves Liver!
Their menu also features soups, like Lobster Bisque, Clam Chowder and Florida Gumbo and salads, too, from Caesar to Asian plus sandwiches, from Grilled Chicken to Portabella Mushroom and half pound Gourmet Burgers in a half dozen varieties.
Not to be outdone, they also make and serve Gourmet Pizza, either Traditional or White Pizza!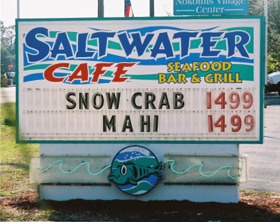 Well, I think you get the idea, by now, that they have you covered for just about any craving you might have. Not to mention that there are always daily lunch and dinner specials too.
And Chef Rolfe and the Saltwater Cafe in Nokomis also plan daily "All You Can Eat" specials including Snow Crab, Prime Rib, a Fish Fry and more, with prices starting at only $11.99.

There's also a Sunday Brunch from 11:30 a.m. to 2:30 p.m. with very creative menu features like: Four Cheese Omelet, Smoked Salmon, Prime Rib and Eggs, Maine Lobster Eggs Benedict (Market Price), Southern Style Eggs Benedict, Crab Cakes and more.
With your Sunday Brunch entrée you get your choice of a glass of house Champagne or Mimosa.
I have not experienced all of their 300 items on the menu, but what I have had here, over the years from simple, to gourmet, has not disappointed.
They even make a great burger (well done to my liking) and roast beef French Dip sandwich stuffed with roast beef and served with au jus to dip your sandwich in, either of which goes great on the outdoor patio with the fries included with the sandwiches and a cold draft beer.
Whatever you're hungry for you're sure to get a satisfying meal at the Saltwater Cafe, one of the top Sarasota restaurants in my Sarasota Area Dining Guide.
There's also full bar service available, with a Happy Hour from Noon - 7 p.m. and again from 9:30 p.m. - close!
Both the bar seating area and dining room fill up quickly during high season and there's often times live entertainment in the bar on weekends.
With terrific food, from inexpensive sandwiches to pricey gourmet meals, an extensive wine list, and a professional, attentive staff, you'll surely have a lunch or dinner you'll enjoy.
What's your favorite Sarasota dining spot? What's the best meal you've had there? Let others know about your recommendations by writing your own Sarasota Dining Review. Click here to share your favorite!

I particularly like the front patio with the umbrella tables on mild days and evenings. You can sit, eat, drink and watch people and the goings on all around you.
The Saltwater Cafe, one of our fine Sarasota restaurants, opens at 11:30 a.m. daily. Lunch and dinner reservations are always welcome. 941-488-3775
Directions: From Sarasota take U.S. Rt. 41 south to Nokomis, just past the Laurel Road intersection to the Nokomis Village Shopping Center. The Saltwater Café is on the west side of Rt. 41 and located in front of Nokomis Village.

From Saltwater Cafe to Sarasota Restaurants

Escape-to-Sarasota-Florida Home